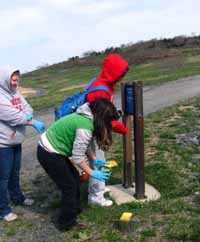 Every year in April, the Massachusetts Department of Conservation (DCR) organizes Park Serve Day in parks across the Commonwealth. At the Boston Harbor Islands, the National Park Service and Island Alliance work with DCR to recruit volunteers to tackle special projects.
In 2012, 89 volunteers came to Spectacle and Peddocks Islands to spruce up the islands for opening. The volunteers cleared trails, replaced fencing, cleaned the beach and visitor center. The volunteers worked a total of 442 volunteer hours (the equivalent of 4 staff people working full-time for almost 3 weeks). In the afternoon, in celebration of National Park Week, DCR, Boston Harbor Island Alliance, and NPS hosted Junior Ranger Day on Spectacle Island. Families came out to the islands at a very reduced rate of $5 per person. Youth engaged in "Let's Move Outside!" and environmental stewardship activities, and had the opportunity to earn badges as official Junior Rangers.
In 2011, 83 volunteers braved the cold and wind to come out and prepare Spectacle Island for the busy season. Participants included 35 youth of all ages (from toddlers to Northeastern University students) that came out with their family, their Boy and Girl Scout troop, their day camp, or their school. Volunteers cleared 1/4 mile of brush, painted tent blocks, refurbished signs, transplanted 30 plants, cleaned the beach and visitor center. Together, the group contributed 374 volunteer hours to the park, equivalent to 3 full-time staff people working over 3 weeks. In the afternoon, volunteers were joined by 140 families participating in a Let's Move Outside program where youth had the opportunity to become official Junior Rangers. Over 70 new environmental stewards earned their badge.

In 2010, more than 50 volunteers, including 35 youth from the Island Ambassadors, the Boy Scouts and Suffolk University, swarmed over Spectacle Island, clearing brush from a mile long trail on the north drumlin, removing protective tree collars from maturing trees, and cleaning the beaches near the dock. The Visitor Center also got a thorough cleaning, making it ready for the onslaught of visitors that would arrive when the boats start running for the season. Volunteers also gathered phenology data and participated in the Marine Invasives Monitoring Collaborative study (MIMIC). All in all, volunteers contributed 212 hours to remove 85 bags of trash that DCR loaded onto its work boat to transport to the mainland for proper disposal. Next year, organizers hope to boost their numbers, but they will have to arrange for additional water transit as the boat to and from the island was at capacity!
In 2009, our largest volunteer effort to date, 393 volunteers contributed 1965 hours over two days planting beach grass on Spectacle Island. more...