Bird Checklist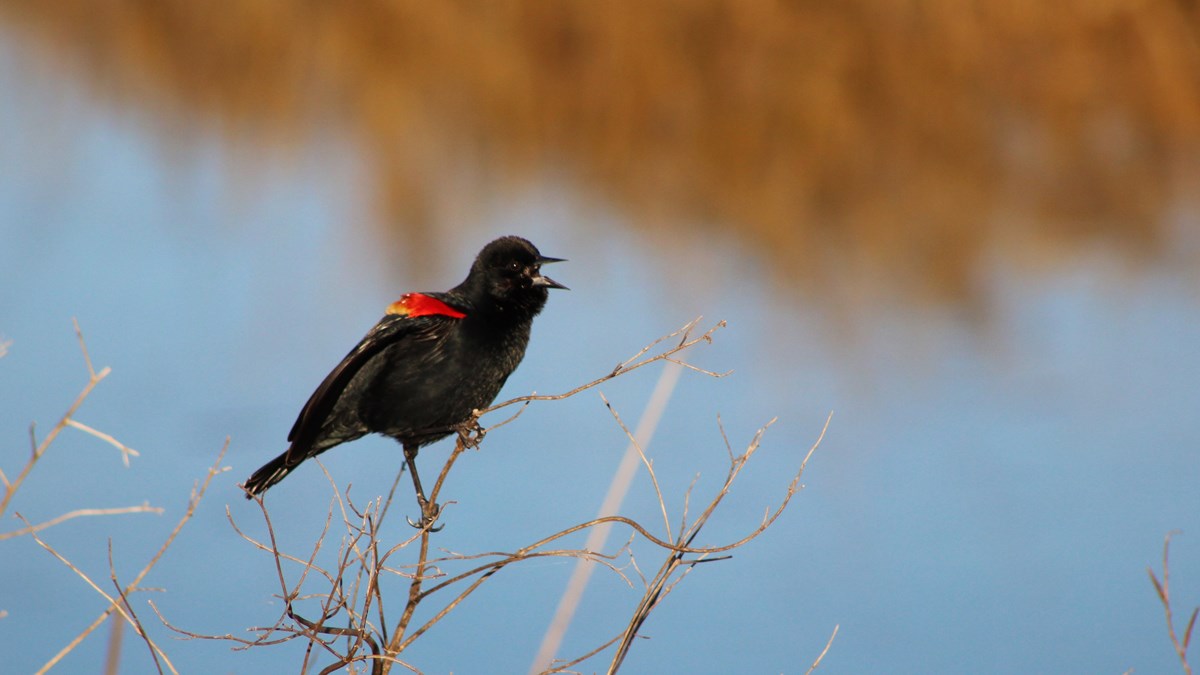 Birds of the Big Thicket
This bird checklist shows the abundance, seasons, and habitat of each bird known to inhabit the Big Thicket region.

► Download a printable copy of the bird checklist
Guide to Checklist Symbols
Abundance
The occurrence of some species varies significantly from north to south within the preserve area, and the occurrences shown assume that all areas of the preserve were visited.
A – Abundant: A common species which is very numerous.
C – Common: Certain to be seen in suitable habitat.
U – Uncommon: Present, but not certain to be seen.
R – Rare: Seen at intervals of 2 to 5 per year.
* Nests in the preserve or vicinity.
Seasons
Some species may be present for only a short period within the indicated season.
SP – Spring
SU – Summer
FA – Fall
WI – Winter
Habitats
AE – Aerial
F – Mixed hardwood forests
GR – Grassland
M – Marshes, wet edges
O – Open areas
PI – Upland pine
S – Shorelines
TH – Thickets
OW – Open water (oxbows, bayous, swamps, streams, reservoirs)
Swans, Geese, and Ducks
| | SP | SU | FA | WI | Habitat |
| --- | --- | --- | --- | --- | --- |
| Greater white-fronted goose | | | | U | OW, GR |
| Snow goose | | | | R | AE, O |
| Canada goose | | | | R | AE, O |
| Wood duck* | C | C | C | C | OW |
| Gadwall | | | | U | OW |
| American wigeon | | | | U/C | OW |
| Mallard | R | | | R | OW |
| Mottled duck* | R | R | R | R | OW, S |
| Blue-winged teal | R | | R | R | OW, S |
| Northern shoveler | R | | R | C | OW |
| Green-winged teal | | | | U/C | OW |
| Canvasback | | | | C | OW |
| Redhead | C | | C | U | OW |
| Ring-necked duck | | | | U/C | OW |
| Lesser scaup | | | | C | OW |
| Bufflehead | | | | R | OW |
| Hooded merganser | | | | C | OW |
| Ruddy duck | | R | | C | OW |
Pheasants, Turkeys, and Quail
| | SP | SU | FA | WI | Habitat |
| --- | --- | --- | --- | --- | --- |
| Northern bobwhite* | R | R | R | R | TH |
Grebes
Storks
Cormorants
| | SP | SU | FA | WI | Habitat |
| --- | --- | --- | --- | --- | --- |
| Double-crested cormorant* | C | | R | A | OW |
Anhinga
| | SP | SU | FA | WI | Habitat |
| --- | --- | --- | --- | --- | --- |
| Anhinga* | U/C | C | U/C | U/C | OW |
Pelicans
| | SP | SU | FA | WI | Habitat |
| --- | --- | --- | --- | --- | --- |
| American white pelican | U | R | U | C | OW |
Bitterns and Herons
| | SP | SU | FA | WI | Habitat |
| --- | --- | --- | --- | --- | --- |
| American bittern | R | | R | R | S |
| Least bittern* | | R | | | M |
| Great blue heron* | C | C | C | C | S |
| Great egret* | C | C | C | C | S |
| Snowy egret* | C | C | C | C | S |
| Little blue heron* | C | C | U/C | U/C | S |
| Tricolored heron* | R | R | R | R | S |
| Cattle egret | C | C | C | | O, S |
| Green heron* | C | C | U/C | | M, S |
| Black-crowned night heron | | | | U/C | S |
| Yellow-crowned night heron | C | C | U/C | | S |
Ibises
Vultures
| | SP | SU | FA | WI | Habitat |
| --- | --- | --- | --- | --- | --- |
| Black vulture* | A | A | A | A | AE, O |
| Turkey vulture* | A | A | A | A | AE, O |
Kites, Eagles, and Hawks
| | SP | SU | FA | WI | Habitat |
| --- | --- | --- | --- | --- | --- |
| Osprey | U | | U | C | S |
| American swallow-tailed kite* | U/C | U/C | | | AE, OW |
| White-tailed kite | | | | R | O, GR |
| Mississippi kite | R | R | R | | AE |
| Bald eagle | R | | | C | AE, OW |
| Northern harrier | | | | C | GR |
| Sharp-shinned hawk | U | | U | U | F, PI |
| Cooper's hawk* | R | R | R | U | F, PI |
| Red-shouldered hawk* | C | C | C | C | AE, F |
| Broad-winged hawk | U | U | U | | AE, PI |
| Swainson's hawk | C | U | U | | GR, O |
| Red-tailed hawk | U | R | U | C | AE, O |
Falcons
| | SP | SU | FA | WI | Habitat |
| --- | --- | --- | --- | --- | --- |
| American kestrel | R | | U | C | O |
| Merlin | | | | R | F, PI |
Rails, Gallinules, and Coots
Plovers
| | SP | SU | FA | WI | Habitat |
| --- | --- | --- | --- | --- | --- |
| American golden-plover | R | | | | M |
| Killdeer* | C | C | C | A | O, S |
Sandpipers and Phalaropes
| | SP | SU | FA | WI | Habitat |
| --- | --- | --- | --- | --- | --- |
| Spotted sandpiper | | | | U | S |
| Greater yellowlegs | C | R | U | C | M, GR |
| Upland sandpiper | R | | R | | GR |
| Wilson's snipe | R | | R | U | M, TH |
| American woodcock | R | | R | U | F, PI |
Gulls and Terns
| | SP | SU | FA | WI | Habitat |
| --- | --- | --- | --- | --- | --- |
| Bonaparte's gull | | | | R | OW |
| Franklin's gull | R | | R | | OW |
| Northern pintail | | | | U | OW, M |
| Ring-billed gull | | | | R | OW |
| Herring gull | | | | R | OW |
| Caspian tern | | | | U | OW |
| Black tern | U | | U | | OW |
| Forster's tern | U | U | U | C | OW |
Pigeons and Doves
| | SP | SU | FA | WI | Habitat |
| --- | --- | --- | --- | --- | --- |
| Rock pigeon | C | C | C | C | O |
| Eurasian collared-dove | U | U | U | U | O |
| White-winged dove | U | U | U | U | O |
| Mourning dove* | A | A | A | A | O, TH |
| Inca dove* | R | R | R | R | O |
Cuckoos
| | SP | SU | FA | WI | Habitat |
| --- | --- | --- | --- | --- | --- |
| Yellow-billed cuckoo* | C | C | C | | PI, F |
Roadrunners
| | SP | SU | FA | WI | Habitat |
| --- | --- | --- | --- | --- | --- |
| Greater roadrunner* | U | U | U | U | TH |
Owls
| | SP | SU | FA | WI | Habitat |
| --- | --- | --- | --- | --- | --- |
| Eastern screech owl* | C | C | C | C | PI, F |
| Great horned owl* | U | U | U | U | PI, O |
| Barred owl* | C | C | C | C | F |
Goatsuckers
| | SP | SU | FA | WI | Habitat |
| --- | --- | --- | --- | --- | --- |
| Common nighthawk* | U | U | U | | AE, O |
| Chuck-will's widow* | R | R | R | | AE, O |
Swifts
| | SP | SU | FA | WI | Habitat |
| --- | --- | --- | --- | --- | --- |
| Chimney swift* | A | A | A | | AE |
Hummingbirds
| | SP | SU | FA | WI | Habitat |
| --- | --- | --- | --- | --- | --- |
| Ruby-throated hummingbird* | C | C | | | F, TH |
| Rufous hummingbird | R | | | R | F, TH |
Kingfishers
| | SP | SU | FA | WI | Habitat |
| --- | --- | --- | --- | --- | --- |
| Belted kingfisher* | C | U | C | C | OW |
Woodpeckers
| | SP | SU | FA | WI | Habitat |
| --- | --- | --- | --- | --- | --- |
| Red-headed woodpecker* | C | C | C | C | O, F |
| Red-bellied woodpecker* | A | A | A | A | PI, F |
| Yellow-bellied sapsucker | R | | R | A | F, PI |
| Downy woodpecker* | A | A | A | A | F, PI |
| Hairy woodpecker* | U | U | U | U | F, PI |
| Northern flicker* | C | R | C | C | PI, O |
| Pileated woodpecker | C | C | C | C | F, PI |
Flycatchers
| | SP | SU | FA | WI | Habitat |
| --- | --- | --- | --- | --- | --- |
| Olive-sided flycatcher | U | | U | | PI, TH, F |
| Eastern wood pewee* | C | U | C | | F, PI |
| Yellow-bellied flycatcher | R | | R | | F |
| Acadian flycatcher* | C | C | C | | F |
| Eastern phoebe | C | | C | C | TH, W |
| Vermilion flycatcher | | | | R | |
| Great crested flycatcher* | C | C | U | | PI, F |
| Eastern kingbird | U | U | U | | O |
| Scissor-tailed flycatcher | R | U | R | | O |
Shrikes
| | SP | SU | FA | WI | Habitat |
| --- | --- | --- | --- | --- | --- |
| Loggerhead shrike* | R | R | R | U | O |
Vireos
| | SP | SU | FA | WI | Habitat |
| --- | --- | --- | --- | --- | --- |
| White-eyed vireo* | A | A | A | R | TH |
| Yellow-throated vireo* | A | A | C | | PI, F |
| Blue-headed vireo | U | | U | C | F, PI |
| Warbling vireo | R | R | R | | F |
| Philadelphia vireo | R | | | | O |
| Red-eyed vireo* | A | A | A | | F, PI |
Jays and Crows
| | SP | SU | FA | WI | Habitat |
| --- | --- | --- | --- | --- | --- |
| Blue jay* | A | A | A | A | PI, F |
| American crow* | A | A | A | A | F, PI |
| Fish crow* | C | C | C | C | S |
Swallows
| | SP | SU | FA | WI | Habitat |
| --- | --- | --- | --- | --- | --- |
| Purple martin* | A | A | | R | AE, O |
| Tree swallow* | R | | R | U | AE, OW |
| Northern rough-winged swallow | U | | U | | AE, OW |
| Bank swallow | U | | U | | AE, OW |
| Cliff swallow | R | | R | | AE, OW |
| Barn swallow* | U | U | U | | AE |
Chickadees and Titmice
| | SP | SU | FA | WI | Habitat |
| --- | --- | --- | --- | --- | --- |
| Carolina chickadee* | A | A | A | A | PI, F |
| Tufted titmouse* | A | A | A | A | F, PI |
Nuthatches and Creepers
| | SP | SU | FA | WI | Habitat |
| --- | --- | --- | --- | --- | --- |
| Red-breasted nuthatch | R | | R | R | PI |
| White-breasted nuthatch* | R | R | R | R | F |
| Brown-headed nuthatch* | C | C | C | C | PI |
| Brown creeper | U | | R | U | F, PI |
Wrens
| | SP | SU | FA | WI | Habitat |
| --- | --- | --- | --- | --- | --- |
| Carolina wren* | A | A | A | A | F, PI |
| House wren | U | | U | U | TH |
| Winter wren | R | | R | R | F, TH |
| Sedge wren | R | | R | U | M, GR |
Kinglets and Gnatcatchers
| | SP | SU | FA | WI | Habitat |
| --- | --- | --- | --- | --- | --- |
| Blue-gray gnatcatcher* | C | U | C | C | R, PI |
| Golden-crowned kinglet | U | | U | C | F, PI |
| Ruby-crowned kinglet | C | | C | A | F, PI |
Thrushes
| | SP | SU | FA | WI | Habitat |
| --- | --- | --- | --- | --- | --- |
| Eastern bluebird* | C | C | C | A | O |
| Veery | R | | | | F, TH |
| Gray-cheeked thrush | R | | R | | F, PI |
| Swainson's thrush | R | | R | | F, PI |
| Hermit thrush | R | | | C | F, PI |
| Wood thrush* | U | U | U | R | PI, F |
| American robin* | C | U | C | A | O, TH |
Mimic Thrushes
Starlings
| | SP | SU | FA | WI | Habitat |
| --- | --- | --- | --- | --- | --- |
| European starling* | U | U | U | U | O |
Pipits and Wagtails
| | SP | SU | FA | WI | Habitat |
| --- | --- | --- | --- | --- | --- |
| American pipit | | | | R | M |
Waxwings
| | SP | SU | FA | WI | Habitat |
| --- | --- | --- | --- | --- | --- |
| Cedar waxwing | U | | | C | PI, F |
Warblers
| | SP | SU | FA | WI | Habitat |
| --- | --- | --- | --- | --- | --- |
| Ovenbird | U | | U | | PI, F |
| Worm-eating warbler* | U | R | U | | PI, F |
| Louisiana waterthrush* | U | U | U | | F, S |
| Northern waterthrush | R | | | R | TH, S |
| Black-and-white warbler* | U | C | U | R | PI, F |
| Blue-winged warbler | R | | | | TH |
| Prothonotary warbler* | C | C | C | | F |
| Swainson's warbler* | C | C | C | | F |
| Orange-crowned warbler | U | | R | C | F, TH |
| Kentucky warbler* | U | C | U | | PI, F |
| Common yellowthroat* | U | U | U | U | TH, S |
| Hooded warbler | C | A | C | | F, TH |
| American redstart* | U | R | U | R | F |
| Northern parula warbler* | A | A | R | | F, PI |
| Magnolia warbler | U | | R | | F, PI |
| Bay-breasted warbler | R | | | | F, PI |
| Blackburnian warbler | R | | | | F, TH |
| Yellow warbler | R | | R | R | M, TH |
| Chestnut-sided warbler | R | | | | F, PI |
| Blackpoll warbler | R | | | | F, PI |
| Palm warbler | | | | R | M, TH |
| Pine warbler* | A | A | A | A | PI |
| Yellow-rumped Myrtle warbler | A | | C | A | TH |
| Yellow-throated warbler* | C | C | U | | F, PI |
| Prairie warbler* | U | C | R | | TH |
| Black-throated green warbler | R | | R | | PI |
| Wilson's warbler | R | | R | R | TH |
| Yellow breasted chat* | C | C | U | | TH |
Sparrows
| | SP | SU | FA | WI | Habitat |
| --- | --- | --- | --- | --- | --- |
| Eastern towhee | U | | U | U | TH |
| Bachman's sparrow* | U | U | | R | PI |
| Chipping sparrow* | C | U | U | A | PI |
| Field sparrow | | | | C | TH |
| Vesper sparrow | | | | R | GR |
| Lark sparrow | | | | R | GR |
| Savannah sparrow | | | R | R | GR |
| Grasshopper sparrow | | | | R | GR |
| Henslow's sparrow | | | | R | GR |
| LeConte's sparrow | | | | R | GR |
| Fox sparrow | | | | U | TH, F |
| Song sparrow | | | | C | TH, S |
| Lincoln's sparrow | | | | U | TH |
| Swamp sparrow | | | | C | S, TH |
| White-throated sparrow | A | | | A | PI, TH |
| White-crowned sparrow | R | | | R | F, TH |
| Dark-eyed slate-colored junco | | | | C | PI |
Tanagers
| | SP | SU | FA | WI | Habitat |
| --- | --- | --- | --- | --- | --- |
| Summer tanager* | C | C | C | | PI, F |
| Scarlet tanager | R | | | | F |
Cardinals and Grosbeaks
| | SP | SU | FA | WI | Habitat |
| --- | --- | --- | --- | --- | --- |
| Northern cardinal* | A | A | A | A | TH |
| Rose-breasted grosbeak | R | | | | TH |
| Blue grosbeak* | U | C | U | | TH |
| Indigo bunting* | C | C | C | | TH |
| Painted bunting* | U | C | U | U | TH |
Blackbirds
| | SP | SU | FA | WI | Habitat |
| --- | --- | --- | --- | --- | --- |
| Red-winged blackbird* | C | C | C | C | S, O |
| Eastern meadowlark* | C | C | C | C | GR |
| Rusty blackbird | | | | R | M |
| Brewer's blackbird | | | | R | O |
| Common grackle* | C | C | C | C | O |
| Great-tailed grackle | U | U | U | U | O |
| Brown-headed cowbird* | C | C | C | C | O |
| Orchard oriole* | U | U | U | | O, TH |
| Baltimore oriole | U | | U | | OW |
Finches
| | SP | SU | FA | WI | Habitat |
| --- | --- | --- | --- | --- | --- |
| Purple finch | | | | U | F, PI |
| House finch | U | U | U | U | |
| Pine siskin | | | | U | PI, F, TH |
| American goldfinch | C | | C | A | PI, F |
| Evening grosbeak | R | | | R | PI, F |
Weaver Finches
| | SP | SU | FA | WI | Habitat |
| --- | --- | --- | --- | --- | --- |
| House sparrow* | U | U | U | U | O |
Last updated: May 8, 2021