Elliott Key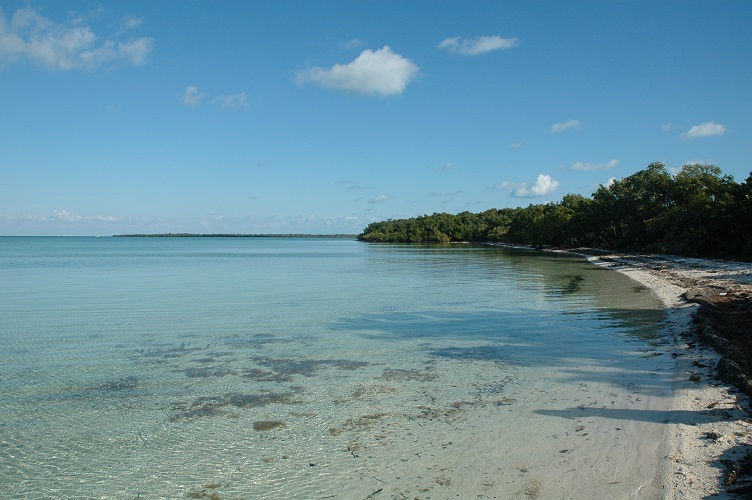 The largest island in the park was once a thriving community of pioneers engaged in pineapple farming, sponging, wrecking or other pursuits. Today the island offers camping, picnicking, swimming, wildlife watching and a hiking trail.
Camping - the campground is located on the Biscayne Bay side. Camping is first-come, first-served. Reservations are not accepted.
Picknicking - tables and barbecue grills are available in the campground and marina.
Restrooms - cold water showers are available. Fresh drinking water is located outside the building. It is recommended that you bring your own fresh water, just in case the generator breaks down.
Swimming - the designated swim area is near the campground (north of the harbor).
Hiking - a mile-long loop trail starts near the campground. Also, "spite highway" runs approximately six miles down the center of the island. It affords a good opportunity to see a variety of habitats in the martime forest.
Fishing - permitted from the maintenance dock (south of the harbor) or from the shoreline outside of the swimming area and no-wake zone. Fishing regulations apply.
Things to Remember -
Mosquitoes may be prevalent year round.
Pack out all trash.
There is no backcountry camping. Camp in designated areas only.
There are no sales facilities.
Elliott Key harbor is approximately 2½ feet at low tide. Low tide is calculated by adding three hours and 25 minutes to the low tide at Government Cut.
Boats may dock among 36 slips.
An overnight docking fee of $25 is assessed between 6:00 p.m. and 6:00 a.m. (including two tents and up to six people). Self-register at the kiosk by the harbor edge.
A group campsite is located on the ocean side of the island, approximately a third of a mile walk from the harbor and restrooms. Call 786-335-3609 to reserve the group campsite. A fire ring is located here. This is the only location in the park where an open ground fire is permitted.
Pets on a leash are permitted in the developed areas of Elliott Key. Pets may not be left unattended.


Last updated: June 21, 2017