News Release
Watercolorist Kim Heise Opens Mutualism Exhibition in Biscayne National Park Gallery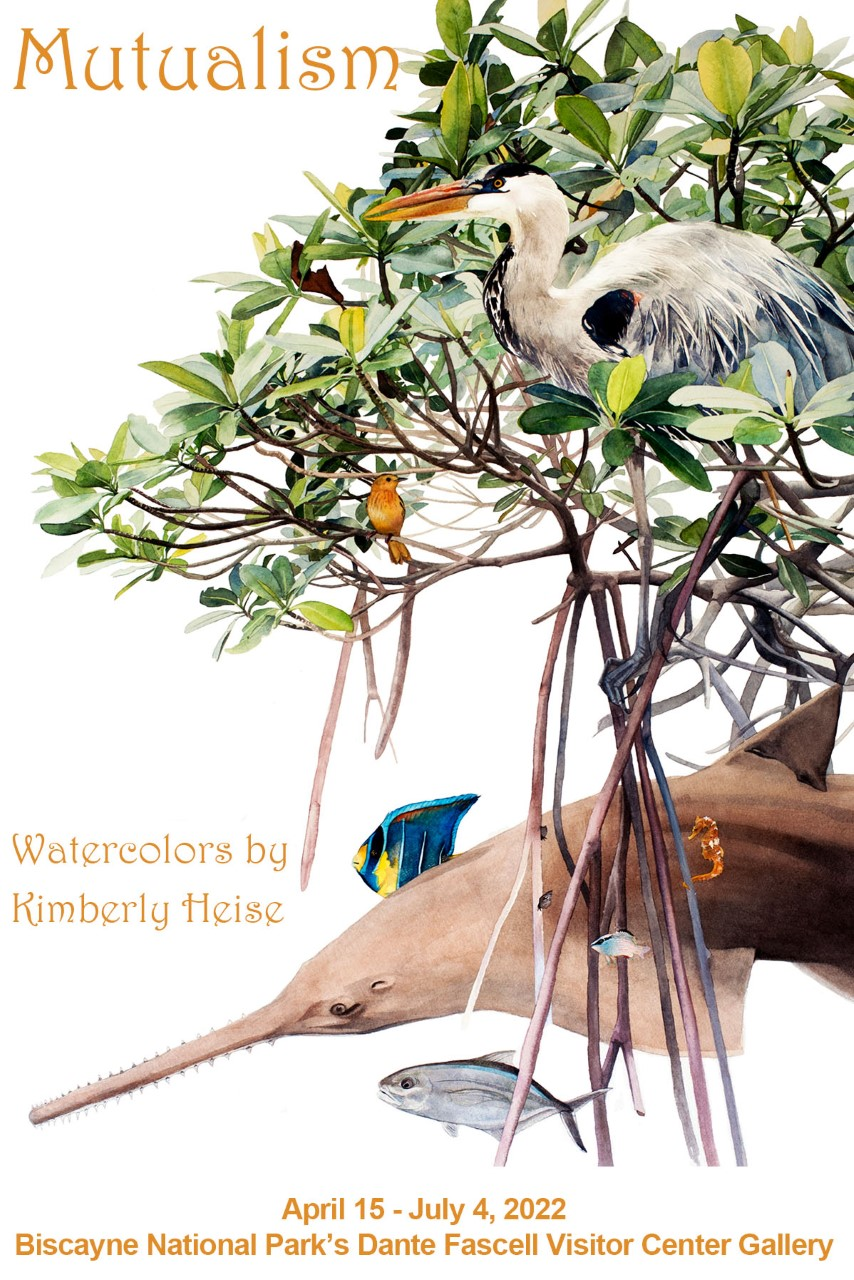 News Release Date:
April 11, 2022
Contact: Gary Bremen, 305-338-6584
Park to Host "Meet the Artist" Reception on April 16 
HOMESTEAD, Fla. – On April 16, Biscayne National Park will open Mutualism, an exhibition of Delray Beach artist Kim Heise's new watercolor paintings celebrating the ties that bind some of Florida's most unique flora and fauna.  
The park will launch the exhibition with a "Meet the Artist" reception on April 16 from 6 to 9 p.m. as part of its "Park After Dark" event. The opening reception will feature a talk by the artist, light refreshments, tables from the Dade County chapter of the Florida Native Plant Society, Fairchild Tropical Botanic Garden and Bound by Beauty, as well as a virtual reality opportunity from Florida International University and the Miami Blue chapter of the North American Butterfly Association. Outside, there will be a campfire, s'mores and telescopes in celebration of Miami Dark Sky Week 2022, all set against the backdrop of a full moonrise over Biscayne Bay. Park grounds will remain open until 10 p.m. on opening day.
Heise's paintings feature pairs and groupings of animals and plants native to Florida, emphasizing the connectedness of species. "As a watercolorist in South Florida, my goal is to celebrate local native plants and animals and their relationships, from the well-loved Florida panther to the inconspicuous "weed" in your lawn that also happens to be an important host plant to four native butterflies," said Heise. 
Mutualism is part of the park's Community Artists Program, started in 1997 as an outlet for the works of artists who are inspired by the beauty of Biscayne National Park. Over the years, the gallery has hosted over 100 exhibitions featuring photography, paintings and drawings in a variety of media, fiber, clay, printmaking and sculpture. The program is made possible by The Alliance for Florida's National Parks. 
Mutualism will be on display through July 4 from 9 a.m. to 5 p.m. at the park's Dante Fascell Visitor Center. Gallery Admission to both the gallery and associated activities are free.  
For more details about the exhibition, visit the park's website at www.nps.gov/bisc or contact park ranger Gary Bremen at 305-338-6584. For regular updates from the park, follow us on Facebook and Instagram @BiscayneNPS.   
Last updated: April 11, 2022