News Release
Convoy Point and Black Point Jetties to be Closed for Repairs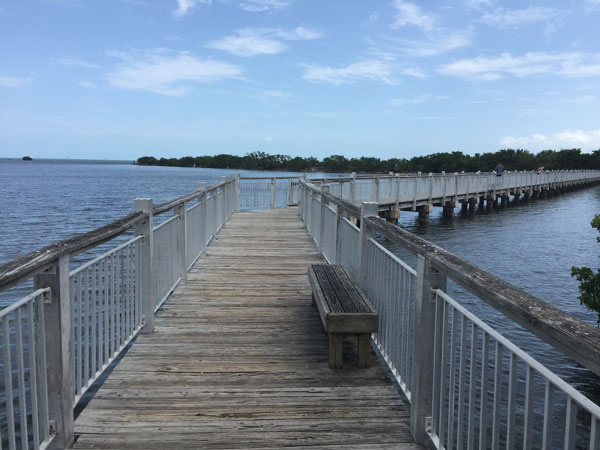 News Release Date:
July 18, 2021
Contact: Dani Cessna, 305-283-1979
HOMESTEAD, Fla. — Biscayne National Park today announced the anticipated closure schedules due to storm recovery project work on the jetty trails at Convoy Point and Black Point.
For the safety of our visitors and the construction crew, the following closures are in place and areas will remain closed until the storm recovery project work is completed:
Black Point Jetty Trail – Closed to the public in late July. Estimated project completion date is Late November 2021.
Convoy Point Jetty Trail – Closed to the public in early August. Estimated project completion date is March 2022.
The Dante Fascell Visitor Center and Biscayne National Park grounds at Convoy Point will remain open for the duration of the project.
"The projects at Convoy Point and Black Point jetties are to restore integrity, improve safety, and increase storm resiliency while enhancing accessibility and recreational opportunities for visitors," said Penelope Del Bene, superintendent of Biscayne National Park.
This project, and over 100 others across the Caribbean and southeastern United States, is supported by $207 million in supplemental funds allocated through Public Law 115-123 for national park units significantly impacted by hurricanes Harvey, Irma and Maria. Design considerations include improved sustainability to address relative sea level rise and increased storm intensity.
In September 2017, both Black Point and Convoy Point jetty trails sustained significant damage from Hurricane Irma. At the Black Point jetty trail, the NPS will replace 6,340 square feet of shoreline revetment to restore and stabilize and protect the shoreline. The park will also restore, regrade, and compact 21,500 square feet of gravel trail surface.
At the Convoy Point jetty trail, the 4,320 square feet of hardened trail, between the existing boardwalk and fixed bridge to the jetty, will be replaced with boardwalk. The jetty repairs will include the addition of fill materials to restore the shoreline and walking surface elevations, and revetment will be placed to match the toe of the existing revetment. Additionally, the boardwalk will be extended approximately 50 feet beyond the fixed bridge to provide ABAAS accessibility to the jetty.
Photo Credit: NPS Photo
Photo Caption: The Convoy Point footbridge and jetty trail was damaged by Hurricane Irma.
Last updated: July 18, 2021