News Release
Inspired by Diatoms: Rick Cohen's Diatomaceous Dreams Opens in Biscayne National Park Gallery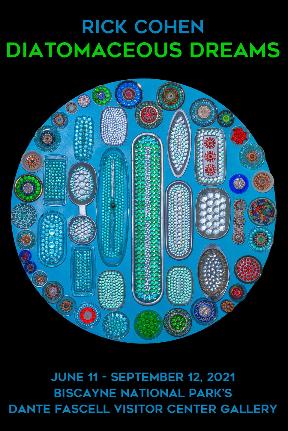 News Release Date:
June 3, 2021
Contact: Gary Bremen, 305-338-6584
HOMESTEAD, Fla. - Diatomaceous Dreams, a show of Native Miamian Rick Cohen's found-object assemblage sculptures inspired by single-celled aquatic plants, is the newest exhibit in Biscayne National Park's Dante Fascell Visitor Center Gallery. The exhibit is on display from 9 a.m.- 5 p.m. daily from June 11 through Sept. 12.
Cohen uses bottle caps, marbles, jewelry-findings, plates and other objects in large and intricate patterns that are reminiscent of the plants that provide up to half of the oxygen we breathe.
Special events associated with the exhibit include a virtual event at 6 p.m. on June 14 with Florida International University's Dr. Evelyn Gaiser called "Why Diatoms Matter," and an opportunity to meet the artist and view actual diatoms under a microscope at a timed-entry reception with social distancing on Sunday, June 27 from 1-3 p.m. 
Diatoms are single celled organisms surrounded by a cell wall composed of silica. "Their architecture can be complex and aesthetically beautiful, and is what inspired me to create my art," said Cohen. "I'm not attempting to recreate biologically accurate models but rather present through assemblage sculptures my interpretation of the fascinating shapes and structures of these important life forms." Several of the works on display contain plastic seashore flotsam and jetsam, recovered from the shoreline of Biscayne National Park. 
Both special events are free of charge, but the virtual "Why Diatoms Matter" program is presented with the assistance of the Biscayne National Park Institute and requires pre-registration at www.BiscayneNationalParkInstitute.org/Diatoms/ 
Diatomaceous Dreams is part of the park's Community Artists Program, started in 1997 as an outlet for the works of artists who are inspired by the beauty of Biscayne National Park. Over the years, the gallery has hosted over 60 shows featuring photography, paintings and drawings in a variety of media, fiber, clay, printmaking and sculpture. The program is made possible by The Alliance for Florida's National Parks, with additional support from the Biscayne National Park Institute.
For more details about the exhibit, visit the park's website at www.nps.gov/bisc or contact park ranger Gary Bremen at 305-338-6584. For regular updates from the park, follow us on Facebook, Twitter and Instagram @BiscayneNPS.   
Last updated: June 8, 2021