News Release
The BIG Picture: Biscayne National Park Gallery Exhibit Features BIG Art on BIG Topics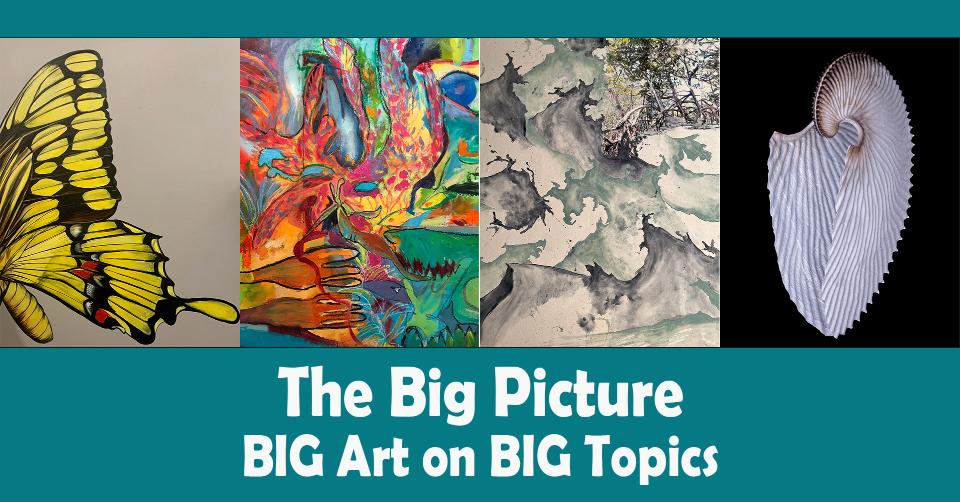 News Release Date:
January 6, 2022
Contact: Gary Bremen, 786-338-6584
HOMESTEAD, Fla. – A new art exhibit, "The BIG Picture: BIG Art on BIG Topics," is now on display at the Biscayne National Park Dante Fascell Visitor Center Gallery. The artworks from artists DaveL, Sarah Ernst, Kelsy Patnaude and Pete Wintersteen share artistic interpretations and representations on park issues like endangered species, ocean acidification and sea level rise.
The exhibit is on daily display from 9 a.m. to 5 p.m. from Jan. 7 through April 3, 2022. Additionally, the park will host a Meet the Artists reception as part of its "Park After Dark" events from 6 p.m. to 9 p.m. on Saturday, Jan. 15. Admission to both the exhibit and reception are free and open to the public.
Virginia artist, Sarah Ernst, uses mixed media and oil paints to create contemporary abstracts. In this exhibit, Ernst chose to focus on the plight of endangered species. Rhode Island artist and competitive sailor, Kelsy Patnaude, draws on inspirations from both sea and photography to fashion immersive panoramas using photo transfer and oil on canvas to highlight global sea level rise. Photographer and Biscayne National Park Ranger, Pete Wintersteen, uses dozens of layers of individual photographs to create oversized prints with intricate detail. Using seashells as subjects, Wintersteen expresses how an increasingly acidic ocean impacts marine life. And local favorite, Dave "DaveL" Lavernia, is a South Florida Cuban-American muralist, painter and tropical street artist who created five pieces for the exhibit featuring limbs of several Biscayne endangered species who are "out on a limb."  
The Big Picture is part of the park's Community Artists Program, which began in 1997 as an outlet for artists who are inspired by the beauty of Biscayne National Park to display their work. Over the years, the gallery has hosted some 100 shows featuring photography, paintings and drawings in a variety of media, fiber, clay, printmaking and sculpture. The program is made possible by the Florida National Parks Association and The Alliance for Florida's National Parks.
For more details about the exhibit, visit the park's website at https://www.nps.gov/bisc or contact Park Ranger Gary Bremen at 305-338-6584. For regular updates from the park, follow us on Facebook, Twitter and Instagram @BiscayneNPS. 
Last updated: January 10, 2022