Be A Junior Ranger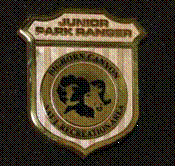 Junior Ranger Program

Bighorn Canyon's Junior Ranger Program is a great way for children, as well as their parents, to experience the park. By completing several different activities, the whole family will learn about:
the Yellowtail Dam
the history of the Bighorn Canyon area
a wide variety of wildlife
The Junior Ranger program booklets can be picked up at the Bighorn Canyon Visitor Center in Lovell, Wyoming, Crooked Creek Contact Station, Afterbay Contact Station or Yellowtail Dam Visitor Center in Fort Smith, Montana.

When the booklets are filled out, the children can return them to any of the above sites to receive their Junior Ranger badge (pictured to the right) and become an official Bighorn Canyon Junior Ranger.
If you will not be visiting the park, but would like to complete the program click here: for a downloadable Bighorn Canyon Junior Ranger Program (PDF file - 2.08 mb in size).
Once you complete the program fill it out and mail it back to:
Bighorn Canyon National Recreation Area
c/o Interpretation
20 Highway 14A East
Lovell, WY 82431
You will receive your official certificate and badge plus a park brochure. Go for it!


Last updated: August 6, 2021