Yellowtail Dam Visitor Center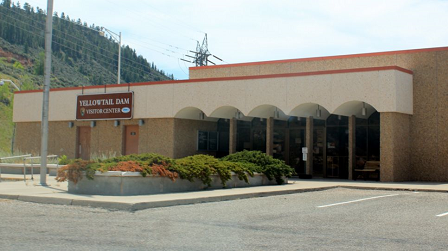 Opend from Memorial Day Weekend to Labor Day Weekend.
Friday to Monday.
8:30 to 4:30 pm.
Phone
406-666-9961
Location
Fort Smith, Montana. Continue through the town of Fort Smith and past the government housing, NPS Headquarters and the Bureau of Reclamation building. Continue up the hill to the parking lot for the Visitor Center
Closures
Due to National Security Issues, tours into the dam are no longer available. Access is not allowed on top of the dam.

Films on request
"The Land of the Bighorn" 20 minutes
"Geology of Bighorn Canyon" 12 minutes
"Erosion on the Bighorn" 5 minutes
"Buildup on the Bighorn" 20 minutes
"Building of the Dam" 32 minutes
Exhibits
Construction and Workings of the Yellowtail Dam
The Unique Geology of Bighorn Canyon
Robert Yellowtail, Crow Tribal Leader
Crow Tribe and Famed Leader Chief Plenty Coups
History of Bighorn River and Bighorn Lake
Fishing Bighorn Lake
Available Facilities
Accessibility
The visitor center is wheelchair accessible.
Last updated: June 9, 2023