Improved Dirt Roads in Big Bend National Park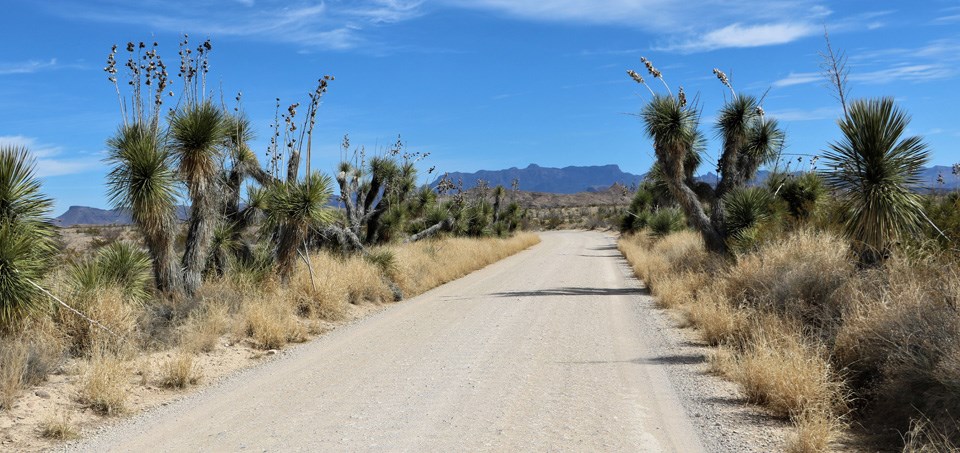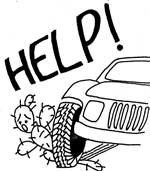 Protect Big Bend. Always stay on established roadways. OFF ROAD DRIVING IS PROHIBITED.
All vehicles must be street legal. No "off-highway" vehicles allowed.
The effects of off-road driving last up to 50 years, and result in compacted soils, heavy erosion, and destroyed vegetation.
Thank you for helping to keep Big Bend National Park's ecosystem healthy.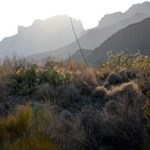 Dagger Flat Auto Trail
This seven-mile road (14 miles round-trip) winds eastward to a small valley with a forest of giant dagger yuccas. This road is typically open to most vehicles, and is also good for mountain biking. Speed limit on this narrow road is 25 mph: allow two hours round-trip. Sandy areas or muddy conditions may exist seasonally; rain makes this road difficult to drive or impassable. Please inquire about current road conditions.
Road Guide to Dagger Flat Auto Trail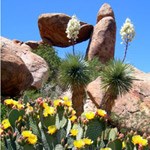 Grapevine Hills Road
Travel 6.4 miles down this road to access the Grapevine Hills trailhead. Here, the 2.2 mile round-trip Grapevine Hills Trail leads to the picturesque Balanced Rock. Geologically, Grapevine Hill is a laccolith—a mushroom-shaped igneous intrusion that domed the rocks above, and was later exposed by erosion. The road is very rough and will require sturdy vehicles with HIGH Clearance. The gravel road begins 3.3 miles west of Panther Junction on the north side of the road. Beyond the trailhead, the road usually requires 4 wheel drive, especially after any rainfall.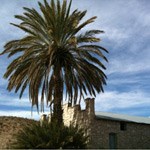 Hot Springs Road
This two-mile gravel road descends a rough, narrow wash to the Hot Springs Historic District. Ruins of J.O. Langford's resort are located nearby. From the trailhead, the hot springs is 0.5 mile round-trip. There is also a one-mile loop from the hot springs that circles the bluff above; a third trail leads to Daniels' Ranch in Rio Grande Village, three miles to the east.
Note: Motor homes and oversize vehicles are prohibited on the one-way sections of the Hot Springs road.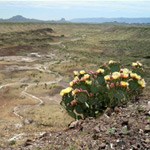 Old Maverick Road
The Old Maverick Road runs between Maverick Junction and Santa Elena Canyon. It is a 14-mile improved dirt road that passes along the Terlingua Creek badlands on the west side of the park. A number of historic sites are located near the road that you may visit as you gradually descend to the Rio Grande and Santa Elena. While usually passable for most vehicles, this road tends to be rough and washboarded; the fourteen miles takes around an hour to drive. This road is subject to high water and flooding following rainstorms.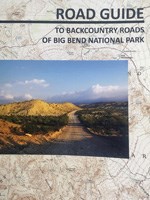 Road Guide
Guide to Backcountry Roads of Big Bend National Park
Available through the Big Bend Natural History Association bookstore, this 25-page, full-color guide to the highlights and natural/cultural history of Big Bend as experienced along the backcountry roads. Thoroughly revised mile by mile, this new edition now includes GPS coordinates as well as mileage logs along with information for mountain bikers, color photographs throughout, maps of the Glenn Spring and Mariscal Mine historic areas, and more roads!


Last updated: January 7, 2022