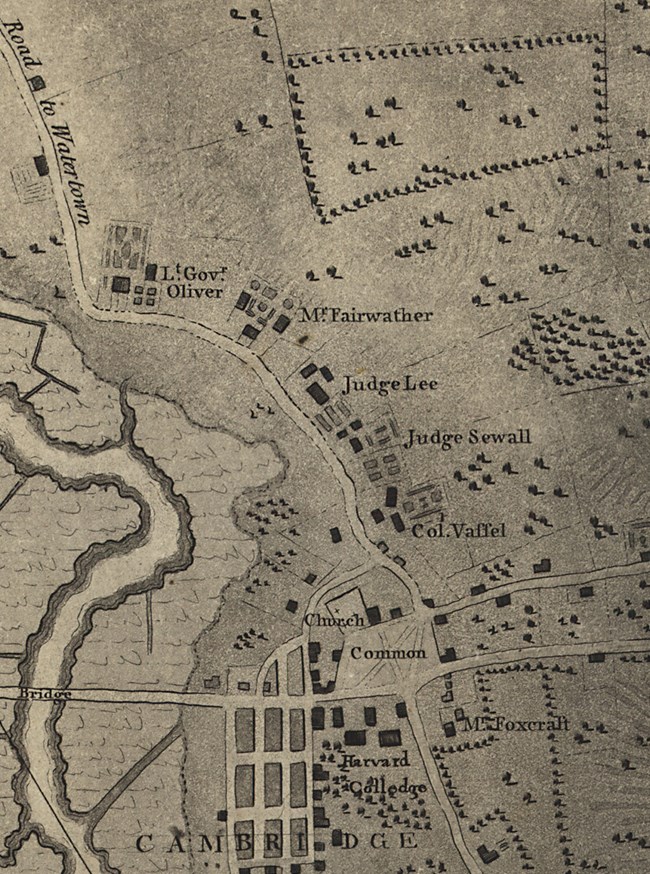 In 1759, John Vassall built a grand Georgian-style mansion along the Road to Watertown as a statement to the world of his incredible wealth. This wealth was derived from the family's involvement in the sugar industry in Jamaica. As the sugar industry was dependent on the labor of enslaved Africans, so too was Vassall's lifestyle. In addition to the enslaved workers on his plantations abroad, Vassall also enslaved Africans at his estate in Cambridge, Massachusetts.
Unfortunately, details about these enslaved individuals and their lives during the fifteen years of Vassall's residence are sparse. We know that in 1774, when the Vassalls evacuated their home in the face of revolutionary unrest, seven enslaved people remained: two men (Malcolm and William), two women (Cuba and Dinah), and three children (James and two unnamed "small boys"). These individuals likely served as domestic servants in the house and laborers in the orchards, garden, small farm, and stables on the estate. Such a large number of enslaved servants was extremely unusual in colonial Massachusetts. Although slavery had long existed in the colony, and would persist into the new nation, it was far more common for one or two people to be enslaved on an estate or in a household. Seven enslaved servants on a single property reflected the enormous wealth of the Vassalls.
One of the women enslaved by John Vassall was named Cuba. Cuba had likely been born on the island of Antigua in the Caribbean, and was enslaved there with her mother, Abba, by Isaac Royall Sr. When Royall moved in 1737 from Antigua to his estate in Medford, Massachusetts, he brought along Cuba, Abba, and 28 other enslaved individuals. In 1739, Isaac Royall's daughter, Penelope, married Henry Vassall, the uncle of John Vassall. Upon her marriage, Penelope brought Abba, Cuba, and four of Cuba's siblings with her as property to her new home in Cambridge (now 94 Brattle Street). Cuba met a man there named Tony, who was Henry Vassall's enslaved coachman. The exact details of his early life are unknown. He was born somewhere in the Spanish Empire around 1713. As a young adult, he ended up in Jamaica, where he was purchased by Henry Vassall. When Henry moved to Massachusetts, he brought along Tony and several other enslaved servants.
Tony and Cuba had several children together. However, the family was separated in 1769 upon the death of Henry Vassall. Henry's widow kept Tony and two of the children (James and Dorinda) at her estate, but she sold two young boys and Cuba, who was apparently pregnant, across the street to her nephew, John. A few months later, in May 1769, Cuba gave birth to a son named Darby. Within a few years, Darby was sold to George Reed of Woburn. For the next five years, Tony, Cuba, and their children were divided between several different estates, in some cases separated only by the width of a street. Despite their close physical proximity, it is unclear how much interaction Tony and Cuba were allowed to have with each other or their children.
In 1774 increasing unrest and threats of violence, culminating in the Powder Alarm of September, forced the neighborhood's elite residents to flee their homes for Boston where they could feel safe with the presence of the British Regulars encamped there. John Vassall and Penelope (Royall) Vassal were among those who fled, leaving behind on their properties some of their enslaved servants, including Cuba and Tony. The departure of their owners cast the immediate future of the enslaved into doubt. What was their status? Would they be free or would someone return to claim ownership of them? These questions remain difficult to us, despite the benefit of nearly 250 years of hindsight. What we know occurred was that Cuba remained on the estate with one of her children and was joined by her husband, Tony. The summer of 1775 also saw the return of Tony and Cuba's young son Darby, who came back to Cambridge following the death of his master after the Battle of Bunker Hill. Although their future was in great flux and we cannot know their thoughts, the family was finally able to be together.
For nearly nine months, George Washington used the John Vassall mansion as his home and headquarters. During this time, Cuba and Tony and their family remained in a small dwelling on the estate, tending to three-quarters of an acre of land for their own support. Tony was paid for occasional labor on both the John Vassall Estate and the Isaac Royall Estate in Medford, which had also been confiscated for use by the colony and army.
Darby Vassall, who lived into his 90s and became a well known figure in Cambridge for his first-hand tales from the American Revolution and the early days of the nation, often recounted his remembrances of General Washington. One of those stories was of the day he first encountered the newly arrived commander: He reported that he was perhaps six or seven years old and swinging on the gate when General Washington approached him. Discovering that Darby belonged to the estate, Washington instructed him to go inside the house and make himself useful. Darby asked the General what he might be paid for such work. Washington refused to pay him anything. For the rest of his life, Darby always remarked that Washington was "no gentleman" for expecting a boy to work for no wages.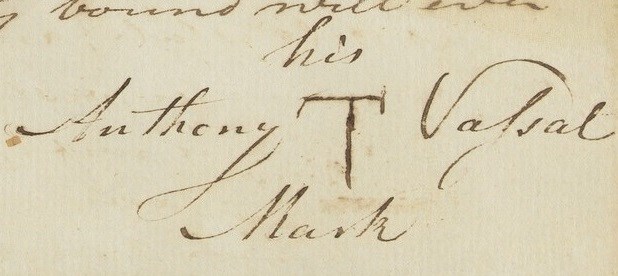 In 1780, the Massachusetts General Court, which had authorized the seizure of properties abandoned by Loyalists, was preparing to sell the John Vassall Estate to private owners. Tony and Cuba, who had begun to use the surname Vassall by this point, were facing eviction. They petitioned the General Court to be allowed to remain on their small corner of the estate and continue to cultivate around an acre of land. They requested this land because their legal owners, who would have otherwise provided for their subsistence, were absent. The petition reads, in part,
The earlier part & vigour of their lives is spent in the service of their several masters, and the misfortunes of war have deprived them of that care & protection which they might otherwise have expected from them—the land Your Petitioners now improve is not sufficient to supply them with such vegetables as are necessary for their family use, and their title is so precarious that they can't depend on a continued possession of the same— they might however promise themselves a tolerable subsistence by their industry & attention, if this Honble Court would grant them a freehold in the Premises and add one quarter of an acre of adjoining land to that which they now improve.
That petition was denied. Tony and Cuba then petitioned for a pension instead, which explained,
though dwelling in a land of freedom, both himself and his wife have spent almost sixty years of their lives in slavery and that though deprived of what makes them now happy beyond expression yet they have ever lived a life of honesty and have been faithful in their master's service…. [One hopes] that they shall not be denied the sweets of freedom the remainder of their days by being reduced to the painful necessity of begging for bread.
This petition was successful and Tony was subsequently awarded an annual pension of 12 pounds. That same year, the family was evicted, and their whereabouts for the next several years are unknown.
We are able to pick up their story six years later. After being evicted from the John Vassall Estate, Tony Vassall was able to purchase a house at what is now the corner of Shepard Street and Massachusetts Avenue in Cambridge. He cared for horses and worked as a farrier, earning enough money to purchase five acres of land a few years later. He passed away on September 2, 1811, at the age of 98; his wife, Cuba, passed away the following year on September 16, 1812.
Tony and Cuba's sons, Darby and Cyrus, moved to Boston and become heavily involved in the black community of Beacon Hill. In 1796, they became founding members of the African Society, a mutual aid association for the community. Darby married Lucy Holland in 1801 and they had eight children together. Cyrus died in 1812 . That same year, Darby joined activist Primus Hall in a petition for a school for the neighborhood's black children, two decades before the construction of the Abiel Smith School. In 1825, he was the second vice president of an event celebrating the anniversary of Haitian independence. He was also the guest of honor at the 1858 commemoration of the Boston Massacre, attending as a "living relic of the coloured population of revolutionary days."
In 1843, Darby was presented a "pass" by Catherine Graves Russell, the granddaughter of Henry Vassall, the man who had enslaved Darby's parents. The pass allowed Darby and his family to be buried in the single tomb under Christ Church in Cambridge—the tomb of Henry Vassall. Darby passed away on October 12, 1861, at the age of 92, and was buried there three days later, on the 100th anniversary of the church's opening. Obituaries and death notices were published throughout the city and region. A particularly notable obituary was written by the renowned activist William Cooper Nell and published in the Liberator. Nell wrote of Darby:
Mr. Vassall was favored with a wonderful memory, and it was deemed a privilege with many persons, from different walks in life, to avail themselves of his conversational reminiscences of Boston and vicinity, in the olden time.
Darby was not the only member of the family to leave a mark on the community. In 1816, Tony and Cuba Vassall's daughter Catherine and her husband Adam Lewis purchased a triangular lot in Cambridge on the corner of Garden Street and Concord Street near the Cambridge Common. This family formed the nucleus of a small black community in Cambridge known as "Lewisville" after the many Lewis family members who lived there or had ties there. They lived in an area loosely bounded by Shepard Street and Follen Street (north to south) and Garden Street to Massachusetts Avenue (west to east).
In a time when racial discrimination was increasing and there was a lack of economic opportunity for people of color, many of the Lewis family members were active in the abolitionist and civil rights movement. In 1826, Adam Lewis's brother, Quaku Walker Lewis, was one of the founders of the Massachusetts General Colored Association, which later merged with the New England Anti-Slavery Society. After the Fugitive Slave Act of 1850, people of color were at risk of being claimed as runaway slaves with little legal recourse. Many African Americans fled the country to safer territory in Canada or joined the "Back to Africa" movement to create new communities in places such as Liberia. In 1858, another Lewis brother, Enoch, formed the Cambridge Liberian Emigrant Association. Contributions to this effort were solicited; in October 1858, the poet Henry Wadsworth Longfellow recorded donating $10.00 for "Negroes to Liberia." In November of that year, Catherine and Adam Lewis, as well as 21 other black Cambridge residents, joined a larger group that sailed for Liberia. Their intention was to establish "civil and religious liberty" and create "a nation among nations, like the Pilgrim Fathers." At this time, we don't know much about what happened to the group after they reached Liberia. The departure of the Cambridge Liberian Emigrant Association spelled the beginning of the end of the Lewisville community. The black population in the neighborhood decreased, from the six black families in 1850 who remained after the mass exodus to just three black families twenty years later. As the Lewisville community disappeared, so too did much of its public memory, although descendants of the original Lewis family remained in the area up through the 1970s. In the late 20th century, historians working on a history of Old Cambridge noticed an unusually shaped plot of land along Walker Street. Further investigation revealed this plot had once housed a tomb for various Lewis family members. When the land was sold in 1877, the tomb was removed and the human remains transferred to the Cambridge Cemetery. The rediscovery of the tomb lot and the subsequent spread of Lewisville's history has opened new avenues of research that continue to reveal more about this important community. One thing is clear, the impact of the enslaved Vassalls and their descendants on the history and fabric of Cambridge is of far greater duration and resiliency than that of their namesakes.
Sources
Batchelder, Samuel Francis. Notes on Colonel Henry Vassall (1721–1769), His Wife Penelope Royall, His House at Cambridge, and His Slaves Tony & Darby. Cambridge, Mass.: 1917.
Bell, J.L. "George Washington's Headquarters and Home, Cambridge, Massachusetts: Longfellow House-Washington's Headquarters National Historic Site Historic Resource Study." National Park Service, February 29, 2012.
Longfellow House Bulletin 16.1 June 2012. (PDF)
Maycock, Susan E. and Charles Sullivan. Building Old Cambridge: Architecture and Development. Cambridge, Mass.: MIT Press, 2016.
Nell, William Cooper. The Colored Patriots of the American Revolution: With Sketches of Several Distinguished Colored Persons Boston: Robert R. Wallcut, 1855.
Nell, William Cooper. "Darby Vassall (Obituary)," The Liberator 31, no. 47 (November 22, 1861).
1780 Petition of Anthony Vassall and Coby Vassall, Massachusetts Anti-Slavery and Anti-Segregation Petitions; Massachusetts Archives Collection. v.186-Revolution Petitions, Harvard University - Collection Development Department, Widener Library, HCL. 1779-1780. SC1/series 45X. Massachusetts Archives. Boston, Mass.