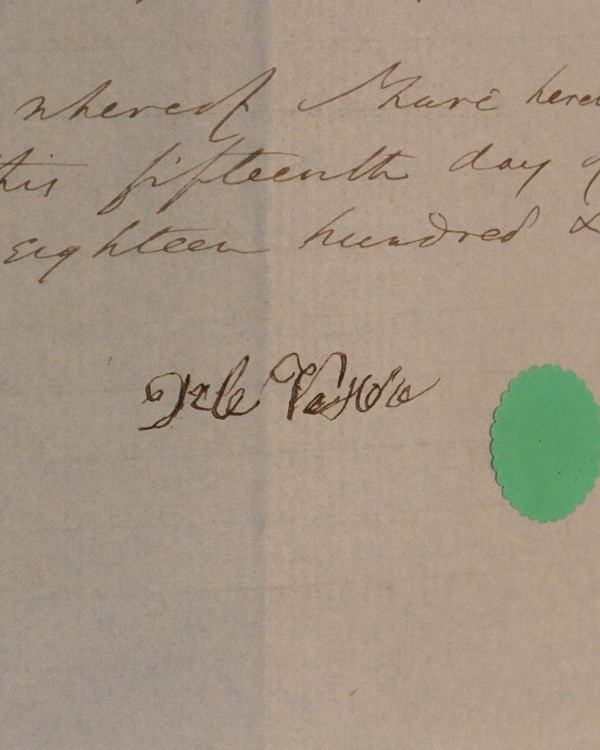 Significance:
Abolitionist, Civil Rights Activist
Place of Birth:
Cambridge, Massachusetts
Place of Death:
Boston, Massachusetts
Date of Death:
October 12, 1861
Place of Burial:
Cambridge, Massachusetts
Cemetery Name:
Christ Church Crypt
Darby Vassall was an active member of the Black Beacon Hill community and a dedicated abolitionist whose activism spanned the American Revolution to the earliest days of the American Civil War.
Darby Vassall was born in 1769 to Cuba and Tony Vassall, both enslaved by large land-owning families on Brattle Street in Cambridge. As a young child, he was given by his enslavers to George Reed of South Woburn.1 During the American Revolution, six-year-old Darby seized the opportunity for freedom, returning to live with his parents in Cambridge and, anecdotally, refusing to work without wages for George Washington in the home vacated by his enslavers. After the Revolution, his parents sought and received a pension, and raised their six children in Cambridge.
In1796, Darby and his brother Cyrus Vassall purchased property on May Street (now Revere Street) in Boston. There, they joined an established community of Black Bostonians on the north slope of Beacon Hill. That year, Darby and Cyrus Vassall were among 44 founding members of the benevolent "African Society" in Boston.2 The African Society used monthly dues and the proceeds from a quarterly "Charity Lecture" to support their members during illness and to provide death benefits to their families. In 1807 they took a mortgage to build a "New Brick mansion" on May Street. Over the next decade, Darby and Cyrus Vassall divided the lot, selling part to their brother-in-law, and built three adjoining houses.3 Darby Vassall is believed to have worked as a caterer in elite white Boston households.
Vassall married Lucy Holland in Boston in 1801.4 The baptisms, marriage, and deaths of five of their children were recorded at the Brattle Street Church: William (b. 1803), William (1805-1805), Frances Holland (1806-1885), Sally Campbell (1810-1811), and Richard Chardon (1814-1816).5 They had three other children, Charles Ward and Rhoda Crosby (both baptized at King's Chapel in 1804) and an unnamed child (1812-1813).6 Their only surviving child, Frances Vassall, married abolitionist Jonas W. Clark in January 1828; Lucy (Holland) Vassall died in December of the same year.
Vassall was civically active throughout his life. In 1812, Darby Vassall joined Primus Hall and four other men in petitioning the Massachusetts General Court to incorporate a permanent educational institution to serve "the children of themselves and other people of colour in this town." A decade later, their African School Association would result in the formation of the Abiel Smith School.
In 1825, Darby Vassall was the second vice president of an event celebrating the anniversary of Haitian independence, during which he gave the following toast: "Freedom—May the freedom of Hayti be a glorious harbinger of the time when the color of a man shall no longer be a pretext for depriving him of his liberty."7 He was active in supporting the New England Anti-Slavery Society, and was the guest of honor (described by Theodore Parker as a "venerable relic") at an 1858 abolitionist commemoration of the Boston Massacre.8 In 1861, with his daughter Frances and son-in-law Jonas Clark, 92-year-old Darby Vassall signed a petition aimed at protecting the Black community against the Fugitive Slave Act.
Darby Vassall died on October 12, 1861, at the age of 92. He chose to be buried in the tomb of the Henry Vassall family under Christ Church in Cambridge, receiving permission in 1843 from Catherine Graves Russell, the granddaughter of the man who had enslaved his parents. A notable obituary was written by the renowned activist William Cooper Nell and published in The Liberator. Nell wrote of Vassall:
He had an intelligent appreciation of the Anti-Slavery movement, and loved to speak with and of Wm. Lloyd Garrison and Wendell Phillips. ...Mr. Vassall was favored with a wonderful memory, and it was deemed a privilege with many persons, from different walks in life, to avail themselves of his conversational reminiscences of Boston and vicinity, in the olden time.9
---
Darby Vassall's story is featured as part of the online exhibit We Claim/Reclaim Space: Darby Vassall's Life and Legacy by Harvard & the Legacy of Slavery and the Museum of African American History. His burial in the Christ Church crypt was the focus of the 2022 art installation Here Lies Darby Vassall.
---
Footnotes
Samuel Francis Batchelder, Notes on Colonel Henry Vassall (1721–1769), His Wife Penelope Royall, His House at Cambridge, and His Slaves Tony & Darby (Cambridge, Mass.: 1917), 74.
William Cooper Nell [W.C.N.], "Darby Vassall," The Liberator, 31:47, 22 Nov 1861. Digital Commonwealth.
Massachusetts Land Records, Suffolk County Deeds, 387:123, 183:79, 183:92, 189:253, 196:243, 220:277.
"Massachusetts, Marriages, 1695-1910," Darby Vassal and Lucy Holland, 14 Jul 1801.  Index, FamilySearch (https://familysearch.org/pal:/MM9.1.1/FCQ1-F9D : accessed 18 Nov 2013),
Church in Brattle Square (Boston, Mass.), The Manifesto church: Records of the church in Brattle square, Boston, with lists of communicants, baptisms, marriages and funerals, 1699-1872 (1902). Internet Archive.
The births of both Williams, "Francis Son" [sic], Sally Campbell, and Richard Chardon are also recorded in Boston Town Records, formally titled Reports of the Record Commissioners of the City of Boston (Boston: Rockwell & Churchill, 1876-1905). Vol. 24, p. 352-355. Hathi Trust.
King's Chapel Register of Baptisms, reproduced in "Uncovering the Past: Exploring Black History through Primary Sources."
J.L. Bell, "George Washington's Headquarters and Home, Cambridge, Massachusetts." (National Park Service, 2012), 40.
"The Boston Massacre, March 5, 1770, Commemorative Festival in Faneuil Hall," The Liberator, 28:11, March 12, 1858, Digital Commonwealth.
William Cooper Nell [W.C.N.], "Darby Vassall," The Liberator, 31:47, 22 Nov 1861. Digital Commonwealth.
Last updated: February 16, 2023