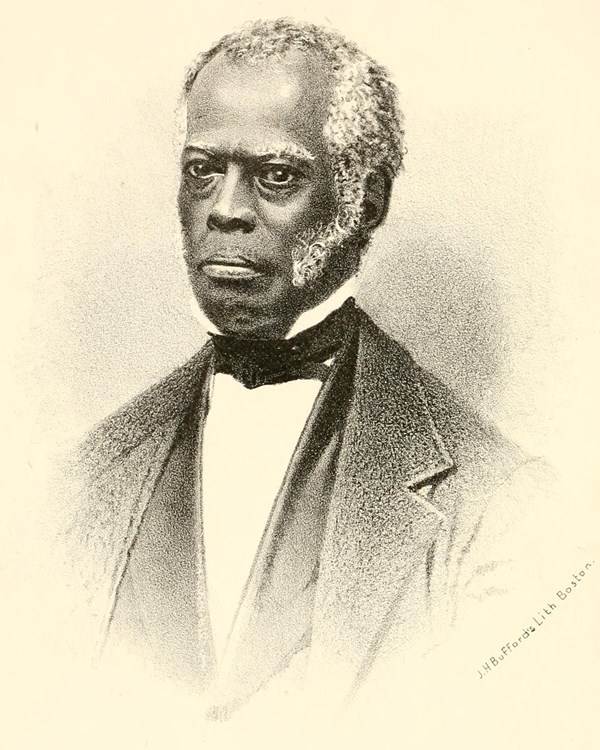 Place of Birth:
Raleigh, NC
Place of Death:
Manhattan, NY
Date of Death:
June 27, 1879
Born enslaved in Raleigh, North Carolina, Lunsford Lane became a successful businessman, author, and outspoken abolitionist in Massachusetts and New York.
In 1835 Lane was able to purchase his own freedom with money he earned from various enterprises. He then opened a store and purchased a house in Raleigh. Because of growing hostility towards free Blacks, in 1840 Lane had to flee to the North, leaving behind his wife and six children, still enslaved. Eventually he earned enough money to purchase their freedom as well.
In 1842 Lane wrote an account of his life, comprehensively titled The Narrative of Lunsford Lane, Formerly of Raleigh, N.C. Embracing an Account of His Early Life, the Redemption by Purchase of Himself and Family from Slavery, and His Banishment from the Place of His Birth for the Crime of Wearing a Colored Skin. "Published by Himself" in Boston, it sold many copies in America and England. Lane became an active member of the American Anti-Slavery Society. Founded in Philadelphia in 1833 and led by William Lloyd Garrison, the society considered slavery illegal, not only under the U.S. Constitution but also under natural law.
In the mid-1840s, Lunsford and Martha Lane moved to Cambridge, Massachusetts, where their seventh child was born. Their Cambridge neighbors in the 1850s included Benjamin F. Roberts, a Black printer, and the "Lewisville" community established by the Lewis and Vassall families who had been enslaved in colonial Massachusetts. Another famous neighbor, Henry Longfellow recorded a visit to his Brattle Street mansion on March 22, 1855, where they evidently had a long conversation:
Lundy Lane and old Mr. Vassall (born a slave in this house in 1769) came to see me. And stay so long that [Boston publisher James] Fields is driven away.
Last updated: February 16, 2023