The Early History of 105 Brattle Street
This
Georgian mansion
at 105 Brattle Street was built in 1759 for John Vassall Jr., a wealthy sugar plantation owner who enslaved hundreds of people in Jamaica and at least seven people on his estate in Cambridge. The Vassalls' wealth, and that of their neighbors, shaped the Cambridge landscape. When the loyalist Vassalls fled their Brattle Street residence in advance of the American Revolution, two of the people they enslaved - Tony and Cuba Vassall - seized freedom for themselves and their children. Explore the 18th century history of this site, a story of slavery and freedom, wealth and politics, architecture and the changing landscape.
Watch this brief video introducing the 18th century history of 105 Brattle Street, then use this page to explore further.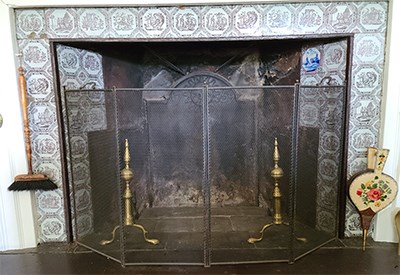 Early History Collections Highlight
Few objects remain in the home that speak directly to the experiences of the people enslaved here or those who enslaved them, but we can identify glimpses into the 18th century. The iron fireback in Alice Longfellow's bedroom includes the date 1759 along with the Vassall emblem of a sun. With a single exception, (the blue tile is later eighteenth-century Dutch tile) the tiles surrounding the fireplace were made between 1756-1757 - making them older than the house itself. Though their manufacturer, John Sadler, got his start printing books and newspapers and these tiles are from the "woodblock period," it is unlikely these relief prints were actually made using a woodblock. Instead, Sadler likely used a metal such as zinc. However, the "woodblock period" is notable because it was before Sadler began making tiles using the conventional copper plates. The tiles have a 'Louis XV' border rather than the standard '88 border' which Sadler used after 1765. No known fireplace group of this type survived in England, making this fireplace collection extremely rare. In addition to the completeness of the grouping, a few individual tiles are unusual in themselves. While most of the tiles are the standard rococo pair scenes, there is also a tile depicting a Chinoiserie fishing scene.
Last updated: March 21, 2023