Early Years

Rose Fitzgerald poses on the deck of the S.S. Cymric. ca 1908-1909

Mother of Nine

Rose Kennedy poses with 5 of her children: (L-R) Eunice, Kathleen , Rosemary (seated on the ground), John, and Joe Jr.

Later Years

Rose Kennedy poses in Hyannis Port, MA. July 1962.
"I have always enjoyed living and working, and I believe I have had a great life, I consider myself very lucky. I had a wonderful youth; my father gave me the stimulation of travel [and] zest - curiosity and interest and enthusiasm for life. My mother bestowed on me Faith and common sense. I fell in love young and married the man I loved, and lived a full life with him – from finance to the movies to politics to diplomacy. I have been ideally happy with my children."
-Rose Fitzgerald Kennedy
---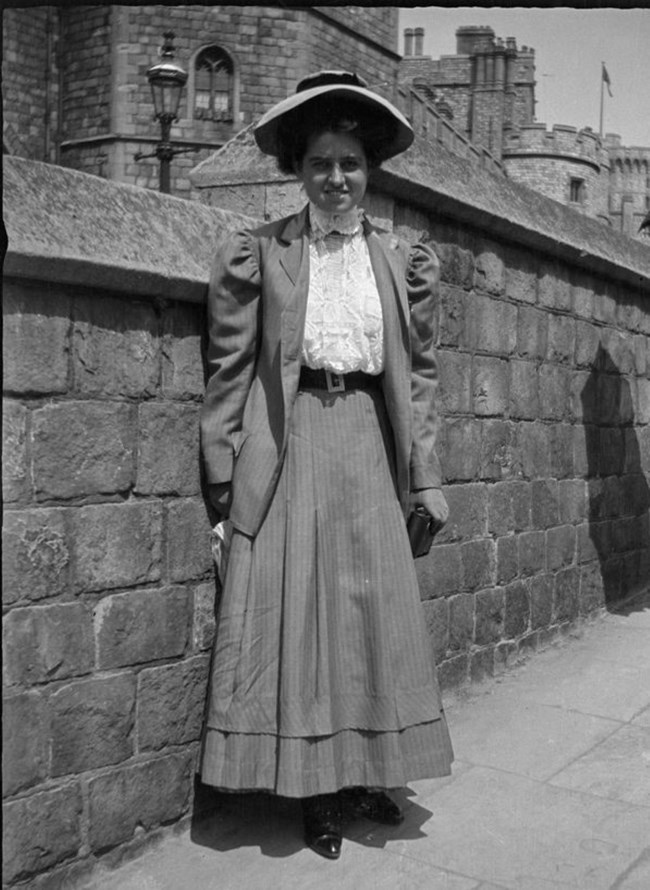 Early Life and Education
Rose Fitzgerald Kennedy was born on July 22, 1890 to John and Mary Josephine Fitzgerald. Her father was the first American-born Irish mayor of Boston and a prominent figure in Boston politics. As a young girl, Rose accompanied her father to his political rallies, playing the piano while he sang old Irish tunes. He instilled in Rose the importance of public service and gave Rose her first lessons in politics, which she eventually passed on to her children.
Rose was an excellent student and loved learning history, languages, and music. She was accepted to Wellesley College, but her father did not approve of the Protestant institution. Instead, Rose was educated at Blumenthal, a convent boarding school in the Netherlands. Here, Rose found the faith that would sustain her through great triumphs and tragedies.
When Rose returned to Boston, she served as her father's companion, traveling with him around the city and abroad. This early training prepared her both for her role as an ambassador's wife and for life on the campaign trail with her children.
Courtship and Marriage
Rose met Joseph Kennedy at Old Orchard Beach when she was seventeen years old. She would later say "I fell in love at seventeen and never fell out." Rose's father did not share his daughter's infatuation. He thought Rose was much too young for a serious suitor, so Rose and Joe hid their relationship with secret meetings. After Joe graduated from Harvard, he saved a local bank from failure and was in turn named the youngest bank president in the country, ending the couple's need for secrecy. Joe proposed, and the two were married on October 7, 1914, after 7 years of courting. After a honeymoon in West Virginia, the couple moved into their first home at 83 Beals St. in Brookline, Massachusetts.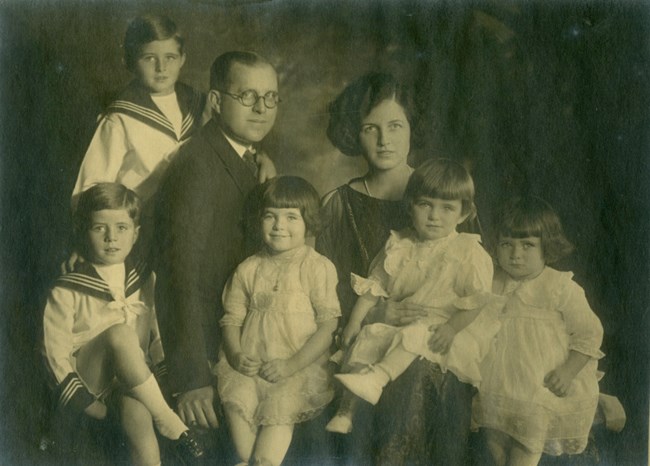 Mother of Nine Children
Rose's life changed drastically with her marriage to Joe Kennedy. No longer was she the Mayor's daughter, "the belle of Boston Irish society." On a daily basis, she was a housewife and a mother, discussing with her peers the best brand talcum powder rather than great works of art. Still, Rose funneled all her intelligence and spirit into motherhood. She would later say that "I was happy, optimistic, and proud. I had made up my mind to raise my children as perfectly as possible. What greater aspiration and challenge are there for a mother than the hope of raising a great son or daughter?"
First came Joseph Jr. (Joe Jr.) in 1915, and then John (Jack), Rosemary and Kathleen (Kick). By 1920, Rose had four children under the age of five. Her brood had far outgrown their Beals Street home, so in 1920, the family moved to a larger home in Brookline. There, Eunice, Patricia, and Robert (Bobby) were born. In 1927, Joe moved his family to Bronxville, New York. It was a drastic change for Rose, the native Bostonian. Still, she supported her husband and bore two final children, Jean and Edward (Ted). During these years, Rose traveled abroad frequently, balancing her role as mother of nine with her own passions.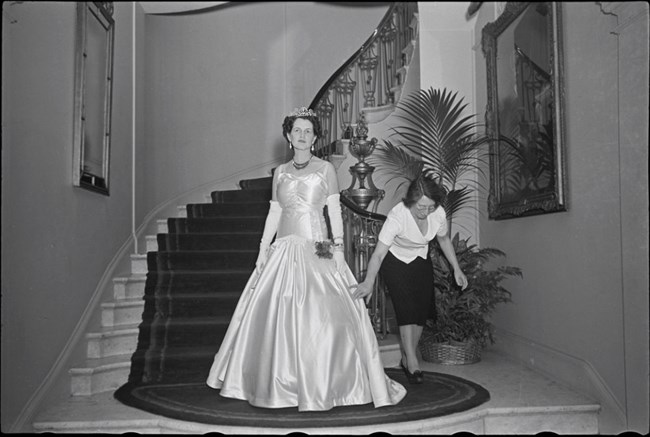 Wife of an Ambassador
In 1938, President Franklin Delano Roosevelt named Joseph Kennedy Ambassador to Great Britain, and the Kennedys relocated across the Atlantic to a new home. Rose's years in London were some of the best in her life. She dined with the Queen, attended functions with the aristocracy, and presented daughters Rosemary and Kathleen at Court. Rose even served as a diplomatic consultant for the State Department, writing to staff about the appropriateness of serving hot dogs at a picnic to the King and Queen.
Rose also used this time to travel extensively throughout Europe. In 1939, the Kennedy family was granted a private audience with Pope Pius XII at the Vatican in Rome. She would talk of this visit for years, calling it "one of the great thrills of my life." The Pope later named Rose a Papal Countess in recognition of her "exemplary motherhood and many charitable works," making her only the sixth woman from the United States to earn the title. With World War II looming, and Joe Kennedy's differing views from President Roosevelt, Joe resigned his ambassadorship on November 6, 1940. Joe Jr. and Jack would enlist in the Navy. Joe Jr. was killed in action on August 12, 1944.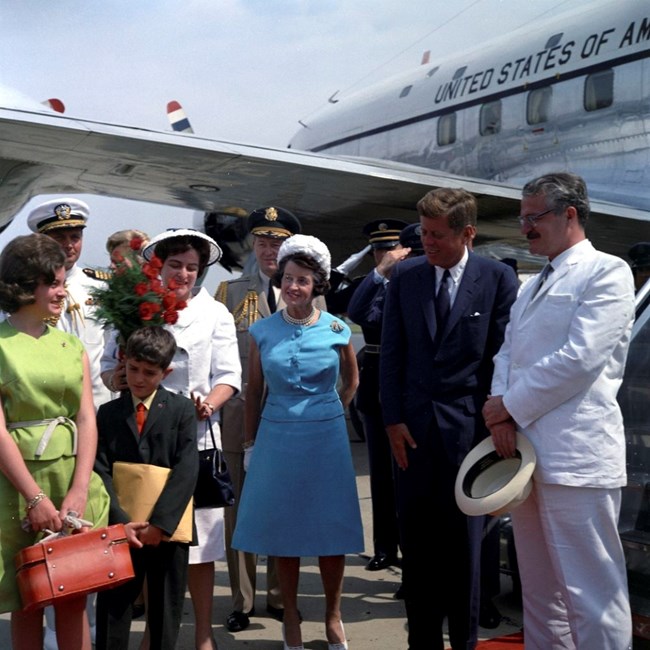 On the Campaign Trail
After the war, Jack decided to run for Congress in 1946, Rose supported his campaign. No stranger to politics, she used her Boston connections to help her son. The community still remembered her as the mayor's daughter, and she spoke at special rallies to adoring audiences about her years in Europe and the challenges of raising nine children. Her son Ted would say "Mother is superb in talking with a group. She knows what the audience's interests are likely to be. She has a feel for these things and also she has done her homework." With his family's support, Jack won the seat. A mere six years later, he turned his attention to the Senate.
During Jack's 1952 senate campaign, Rose found new space to campaign hosting teas and receptions to drum up new support. These "Kennedy Teas" were enormously successful. Rose, her daughters Eunice, Patricia, and Jean, and their cousin-in-law Pauline Fitzgerald hosted 33 teas for around 70,000 guests, nearly all of them women. Jack won the election by 70,737 votes. His opponent, Henry Cabot Lodge Jr., said: "It was those damn tea parties that beat me."
Eight years later, Rose embarked upon the most important campaign of her life- the 1960 presidential election. She traveled across the country to give speeches for her son, visting 14 states and making 46 appearances. Again, there were tea parties and house parties. No detail was too small — she wrote hundreds of notes to Jack, on everything from his speaking style, etiquitte, to his fashion. One such note read: "Dear Jack- Make sure your socks do not have holes in them." Jack was elected president on November 8, 1960.
She continued campaigning for her other sons, assisting with Ted's senate run in 1962 and Bobby's in 1964. Like Jack, she adopted new technology into her campaign efforts, hosting television specials like Coffee with the Kennedys. The new medium allowed her to reach millions of potential voters, and women across the country tuned in to see Rose give tours of her Hynannis Port home.
She also assisted with Bobby's presidential campaign, coaching her nervous son on public speaking. Now 77, she continued to travel across the county to speak at rallies. She was more popular than ever. Ted told of how "people would drive for hundreds of miles to see her dressed in one of her Paris creations and drive off in a state of complete captivation and rapture."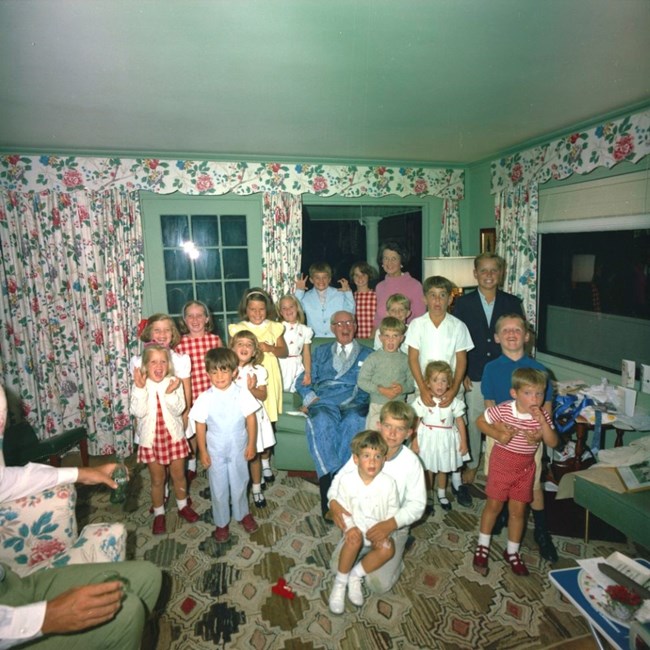 Later Years
"Willpower, just willpower and doing what's necessary is what keeps me going," Rose once said. After the deaths of her children, Joe, Kathleen, Jack, and Bobby, and the institutionalization of Rosemary, Rose clung to her faith. In 1961 her husband suffered a stroke and would die by the end of the decade. She rarely talked about her personal grief, but filled her time with charitable works. She was intimately involved in the Joseph P. Kennedy Jr. Foundation, named for her first-born son who had died during World War II. The Foundation continues to raise awareness, support, and funding for those with intellectual disabilities. In an era when intellectual disabilities were still largely hidden, Rose sought to bring them to the forefront, speaking on television and at events around the country.
She also served as the matriarch of her ever-growing family. She lived to be 104, seeing over a century of tragedies and triumphs. At her 100th birthday, her son Ted said, "In the chaos of our household, she was the quiet at the center of the storm, the anchor of our family, the safe harbor to which we always came."