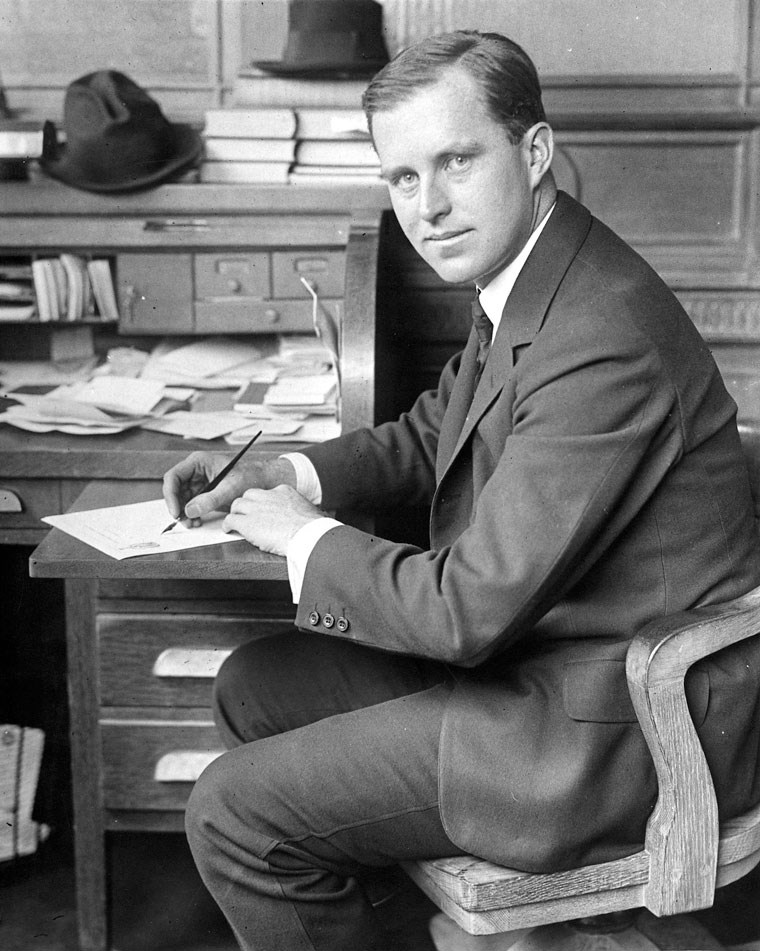 East Boston Roots
Joseph Patrick Kennedy was the first of three surviving children born to Patrick Joseph "PJ" Kennedy and Mary Augusta Hickey on September 6, 1888. From an early age, he was exposed to his father's successful business and political career. Amid the poverty of East Boston, Joseph Kennedy watched PJ Kennedy care for the Irish immigrant community he represented. This communal responsibility left PJ Kennedy well respected and a pillar of the community, but with sizable loans to his constituents. Margaret Louise Kennedy Burke, Joseph Kennedy's youngest sister, recalled, "We never sat down to supper but what [sic] the doorbell would ring and it would be someone down on their luck, coming to Papa for help."1 Joseph Kennedy concluded that it was money, not politics, that afforded power. As a teenager, Joseph Kennedy organized a neighborhood baseball team, raised donations for uniforms, rented an enclosed baseball field and then sold tickets to spectators. Joseph Kennedy's ambitions would carry him from one business to the next and by the mid 1950s, he was a multimillionaire.
---
1Duncliffe, "Irish Surge as Pat Pulls Strings," Boston Record-American, Jan. 7, 1964.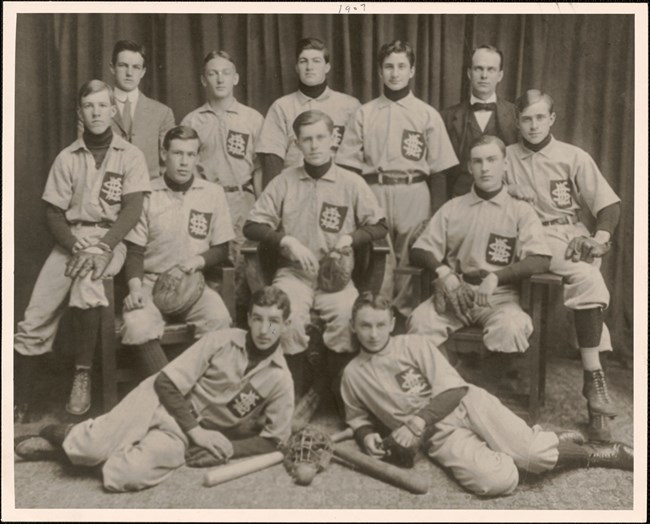 Crossing the Boston Harbor
At the age of 13, his father enrolled Joseph Kennedy in the, predominantly Protestant, Boston Latin School, a drastic change from the Catholic parochial schools he had attended prior. Boston Latin's appeal, while a public school, was as the school of choice for sons of the Boston elite, the Boston Brahmins. These classmates potentially offered Kennedy valuable social connections to the upper class of Boston. Kennedy proved popular among his peers and was elected as Colonel to the school's cadet regiment and class president in his senior year. His love of competition continued as he played baseball, basketball, and managed the football team. It was this well-rounded education that won him entrance to Harvard University despite his rather unimpressive grades.

Joseph Kennedy entered Harvard University in the fall of 1908. Ideally, Harvard could provide a young man with a fine education, further his social acceptance, and help establish future business associations. Still, Kennedy was Irish Catholic and the son of an East Boston ward boss and business owner. As a result, he would experience subtle, painful exclusions from the elite social circles that he courted.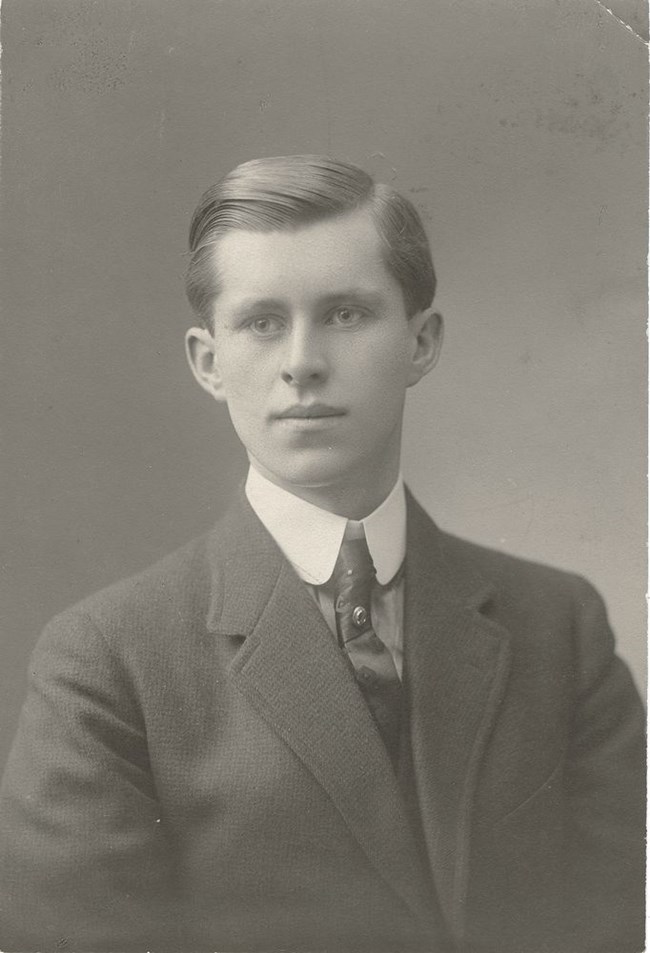 Banking on a Bright Future
After graduation, Joseph Kennedy found that ethnic prejudice precluded him from entering the banking industry at the same level as his Brahmin Harvard classmates. Looking for a way in, Kennedy became a state bank examiner, where he was able to develop connections and gain insight into the inner workings of the banking industry. Although he earned only $1500 a year (less than $35,000 in purchasing power today1) and worked long hours, Kennedy gained valuable insight and training. In 1914, he used those same skills to rescue a small local bank, the Columbia Trust Company, where his father was a board member. To reward Kennedy, the bank shareholders appointed him president. At the age of 25, Joseph Kennedy became one of the youngest bank presidents in the country, establishing his reputation as a man with a great future. These early banking experiences would would become the bedrock for his future financial sucess.
---
1
David Nasaw,
The Patriarch
, 33.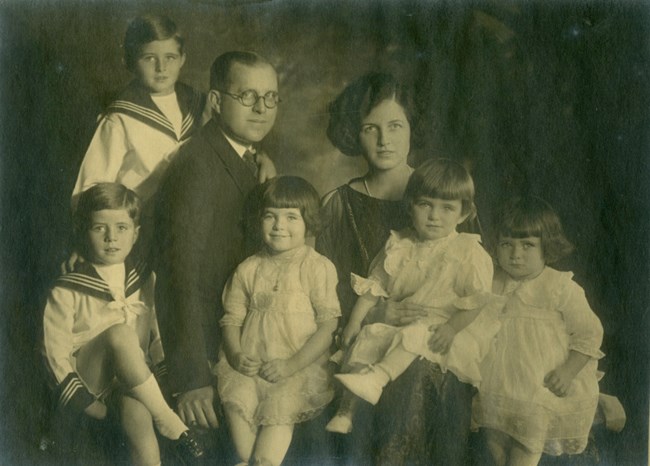 A Home in Brookline
With his bank presidency, Joseph Kennedy was finally recognized as an eligible suitor for Rose Elizabeth Fitzgerald. The two had been secretly courting for seven years despite the disapproval of her father, John F. Fitzgerald, the mayor of Boston. On October 7, 1914, Rose Elizabeth Fitzgerald and Joseph Patrick Kennedy married. After their honeymoon, they moved into their new home at 83 Beals Street, Brookline, Massachusetts. While only 5 miles from East Boston, Brookline was a world away from the Irish immigrant community in which he was raised. That next summer, their first child, Joseph Patrick Kennedy Jr. was born. Their second son, John Fitzgerald Kennedy, was born at the family home on May 29, 1917. Over time the family grew to include seven more children: Rosemary (1918), Kathleen (1920), Eunice (1921), Patricia (1924), Robert (1925), Jean (1928), and Edward (1932). Joseph Kennedy's children would become a central focus of his life. As Edward M. "Ted" Kennedy remembered, "Even when he was away from home, he made sure to get reports on our conduct… No matter how busy he was, he seemed to have a moment to listen." At home, Joe promoted lively political discussions at dinner, advocated a vigorous lifestyle, and fostered a competitive spirit among his sons and daughters. Believing it would help them become successful later in life, Joseph Kennedy continually pushed his children to excel in everything they did. As Robert "Bobby" Kennedy once wrote, he "called on the best that was in us. There was no such thing as half trying." By 1920, and with four children, the Kennedys relocated to a larger home in Brookline, only a few blocks away from Beals Street.

Following the United States entrance into World War I, Joseph Kennedy pivoted from finance to industry, taking the Assistant General Manager position at Bethlehem Steel's Fore River Shipyard in Quincy, MA. A major managerial undertaking, Fore River was already one of the largest shipyards in the country and work was booming due to the war. Joe returned to finance after the war and in 1926, he crafted a deal to purchase a production studio in the still-new movie industry. With his new business, Kennedy relocated the family from Brookline to New York. Over the next few years, a series of mergers, aquisitions, and independent productions made Kennedy, and his investors, very wealthy.
Joseph P. Kennedy Sr. is a very complicated figure with a variety of identities over the course of his life: a son, a brother, a student, a husband, a father, a financier, a film producer, and a public servant, but his wealth, his career, and indeed his entire life is often reduced to one-word: bootlegger. It has become part of the Kennedy family story. Ranger Jon explores the origins of this myth in an attempt to explain its continued persistence

Duration:

16 minutes, 50 seconds
Growing Wealth and Influence
Ambitious and industrious, Joseph Kennedy's business pursuits included Finance, Industrial Management, Media, Real Estate and Commerce. By the time the Kennedys left Brookline in 1927, Kennedy had already been succesful in the film industry and was a multimillionare. Retiring from the film industry in 1930, Kennedy's fortunes grew during the Great Depression, making profitable short sales of industries that were decimated by the economic downturn. His wealth would continue to grow. In November of 1957, Fortune magazine wrote an article of the richest Americans. Kennedy was estimated to have a fortune of between $200 million and $400 million, making him one of the 16 wealthiest Americans.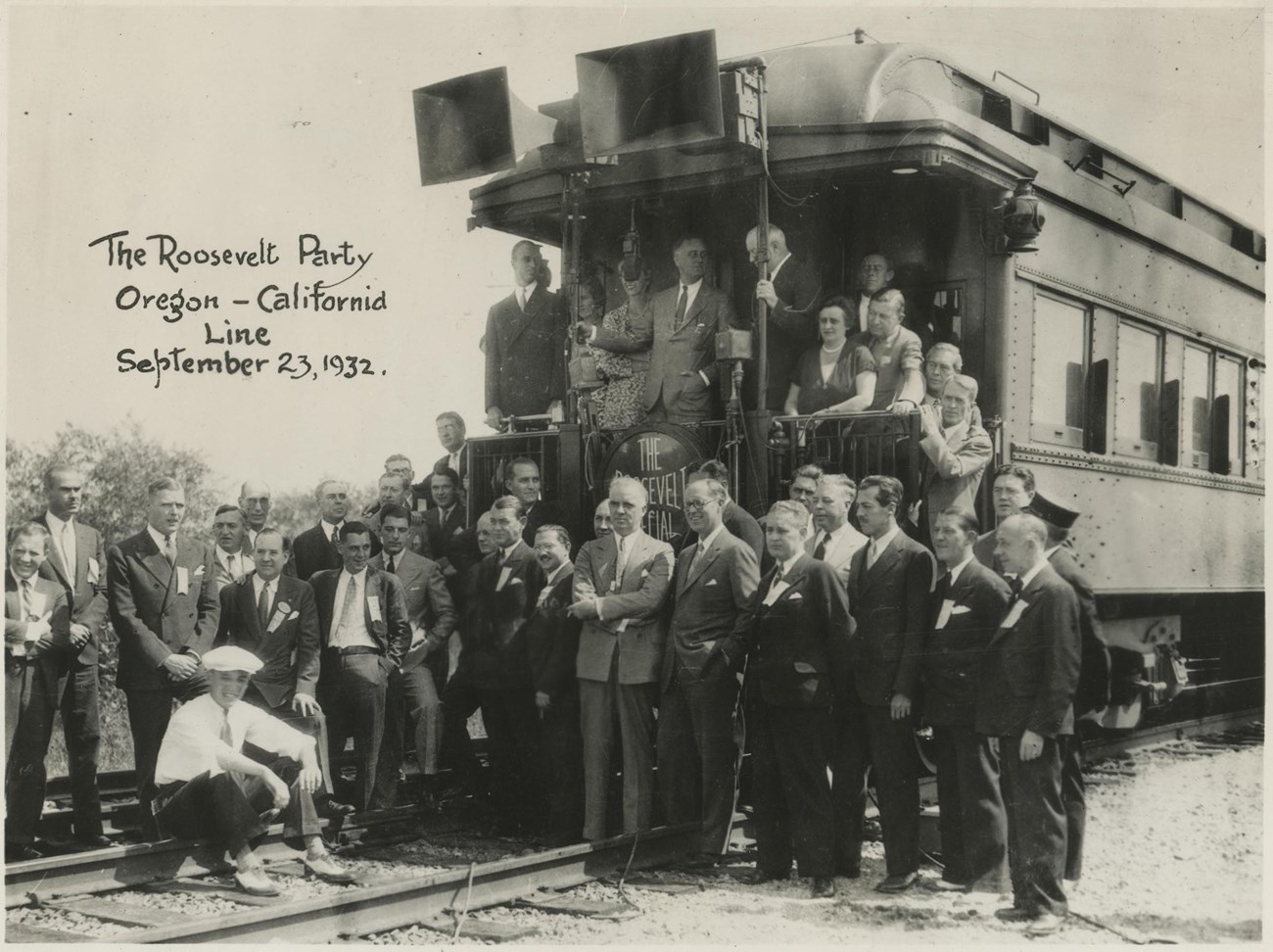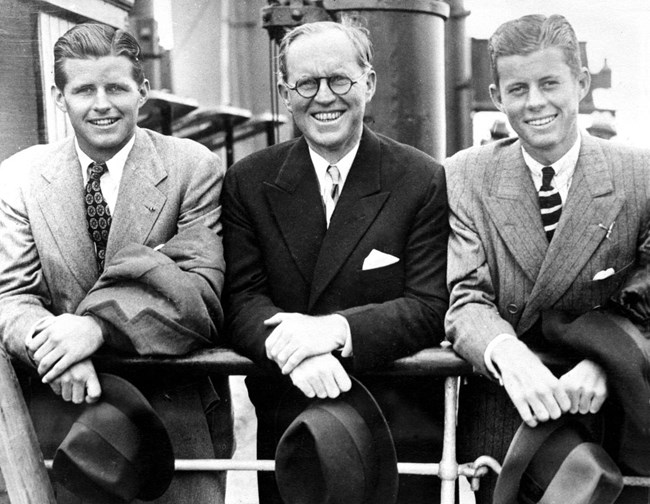 With his, as well as his children's and grandchildren's, economic future ensured, Kennedy returned to his father's world, politics. Kennedy supported Franklin Delano Roosevelt's presidential campaign in 1932, and Roosevelt rewarded Kennedy's loyalty by appointing him chairman of the newly established Securities and Exchange Commission. As chairman, Kennedy administered legislation governing the trade of stocks and bonds. Kennedy's insight and experience enabled him to constructively reform the industry, but he faced strict scrutiny with the growing distrust of bankers and investors due to the continued economic depression.

Roosevelt again recognized Kennedy's contributions by naming him Ambassador to the Court of Saint James (the formal title for the US Ambassador to the United Kingdom) in 1938. However, success as a businessman was not applicable training for the role of Ambassador. Kennedy's lack of experience quickly became apparent in the volatile pre-World War II European climate. Counseling appeasement with Germany, Ambassador Kennedy repeatedly made public statements supporting American isolationism. Failing to qualify these views as strictly his own, Kennedy left the mistaken impression that his comments were official administrative policy. In addition to alienating President Roosevelt, these comments were met with disapproval from both British and American citizens alike. With a loss of presidential support and war looming, Kennedy resigned his ambassadorship in 1940.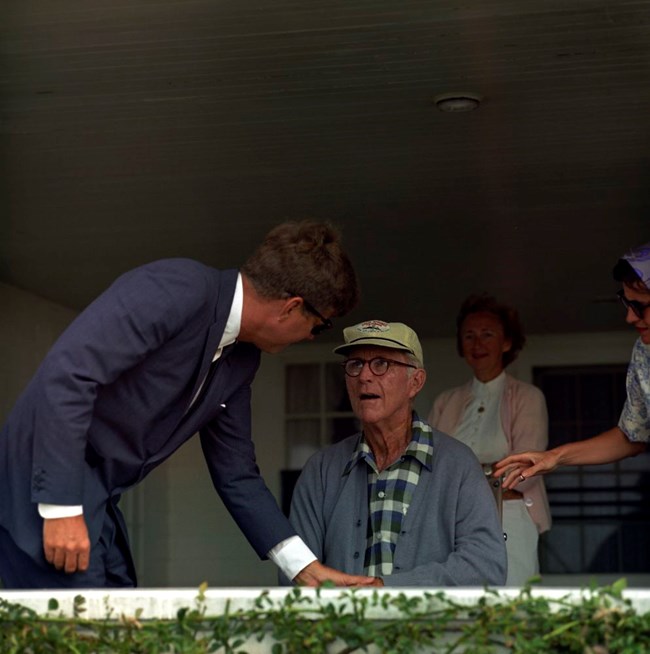 Late Life and Death
Joseph Kennedy had previously entertained higher political aspirations, but retreated from the public eye after his fallout with Roosevelt. Kennedy then refocused his fortunes to better serve his family long-term. He also began to use his wealth for philanthropic causes, primarily through the Joseph P. Kennedy Jr. Foundation.

Joseph Kennedy continued to focus his attention on his remaining children's goals and aspirations. While his early guidance prepared them for great success in life, his continual support and encouragement enabled them to achieve it. John F. Kennedy was elected President of the United States, Robert and Edward were elected as senators.

On December 19, 1961, Joseph Kennedy suffered a debilitating stroke that paralyzed the right side of his body and left him unable to speak. He died on November 18, 1969, at the age of 81.