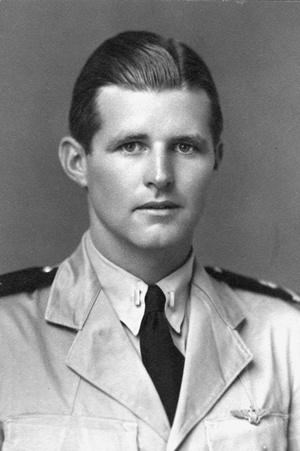 The eldest son of Joseph and Rose Kennedy, Joseph Patrick Kennedy Jr. was born on July 25, 1915 in Hull, Massachusetts.

In a family where expectations ran high, Mr. and Mrs. Kennedy had especially high hopes for their first child. Shortly after Joe Jr.'s birth, his grandfather John Fitzgerald, the former mayor of Boston, remarked to local newspapers that his grandson would grow up to be the first Catholic president of the United States.

While Joe Jr. would not live to fulfill his family's dreams, his short life was distinguished by ambition, bravery, and a strong commitment to family.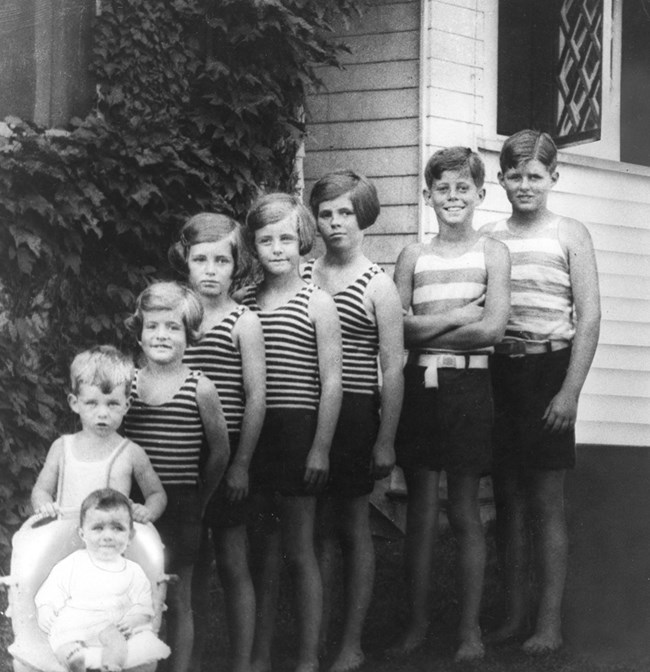 Childhood
Joe Jr. lived in Brookline, Massachusetts for the first twelve years of his life. His first five were spent at
83 Beals Stree
t, where his younger siblings
John
,
Rosemary
, and Kathleen were born. The family then moved to a larger home nearby.
In the seven years that followed, Joe gained three additional siblings:
Eunice
, Patricia, and
Robert
. Eventually, Joe would be the eldest of nine children. As an adult, John F. Kennedy reflected on this significant role that Joe held in their family. "Very early in life he acquired a sense of responsibility towards his brothers and sisters, and I do not think he ever forgot it."
Joe's sense of responsibility shaped his childhood in many ways. He worked hard to excel in both academics and athletics while attending the public Edward Devotion School (now known as Florida Ruffin Ridley) and the private Dexter School. He also served as an altar boy at St. Aidan's Church and was quick to defend his family when they were criticized for their Irish heritage or their Catholic faith. Yet Joe's childhood also had its lighter side. He and his younger brother John were often mischievous. In her memoir,
Mrs. Kennedy
remembered that once the boys saw a sign in a local restaurant that said, "No dogs allowed." They changed it to read "No
hot
dogs allowed" instead. They also started a secret club, initiating new members by sticking them with pins.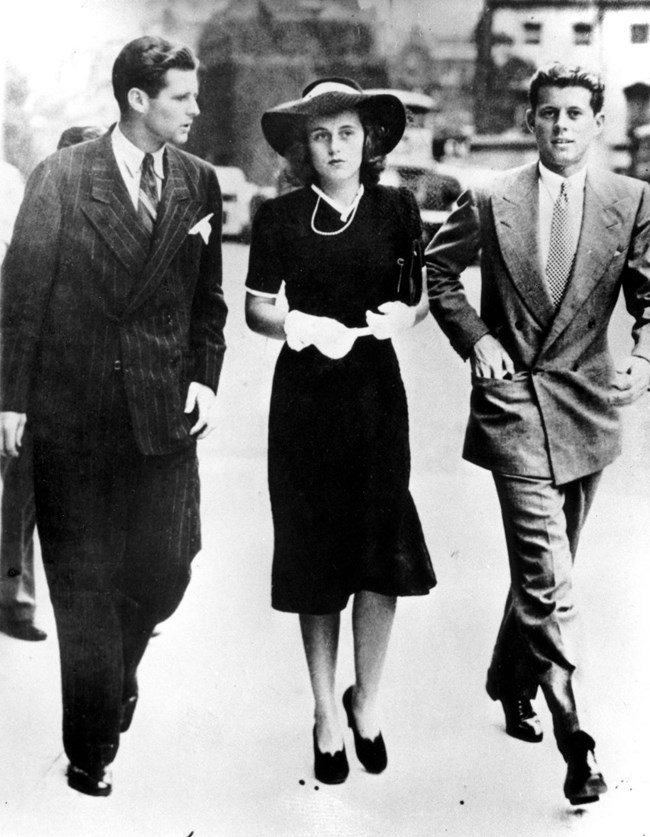 Young Adulthood
To prepare their eldest son for a career in politics, his parents sent him to The Choate School (now known as Choate Rosemary Hall), a prestigious preparatory school in Wallingford, Connecticut. At Choate, his mother recalled, "His grades were excellent. He entered enthusiastically into school activities and demonstrated qualities of leadership that brought high praise from his masters and, of course, made Joe and me very proud of him."
Joe Jr.'s success at Choate gained him admission to Harvard University, his father's alma mater. Before he enrolled, however, he spent a year studying at the London School of Economics with Professor Harold Laski. Under his tutelage, Joe learned economic theory and traveled throughout Europe to see how different economic systems functioned in practice.
After his year abroad, Joe enrolled at Harvard in 1934. Although he did not distinguish himself academically, he took advantage of the many extracurricular opportunities available to him by serving on the student council and becoming a member of the St. Paul Catholic Club, the Hasty Pudding Club, and Pi Eta. He also lived up to his father's sense of competitiveness by playing both football and rugby. When Joe graduated in 1938, he joined his family in London, where his father was serving as United States Ambassador to the Court of St. James in Great Britain. There he began his own political career.
In 1940, he distinguished himself by serving as a delegate to the Democratic National Convention, hopeful that he would run for office himself in a few years. On September 3, 1939, Joe walked to British Parliament with his brother Jack and his sister Kathleen to hear Prime Minister Neville Chamberlain declare war on Germany. World War II put Joe Jr.'s political aspirations on hold.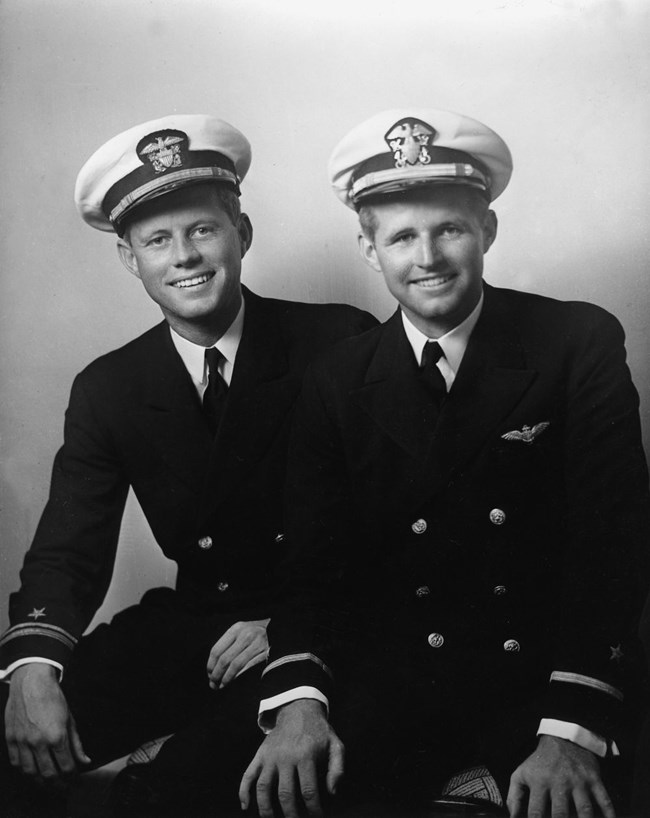 Military Service
Although
Joseph Kennedy Sr.
wanted to keep his sons out of the war, Joe Jr. recognized the opportunities that military service could provide. Accordingly, he left Harvard University before his final year of law school to begin officer training in the U.S. Navy. He became a naval aviator in 1942. Soon after earning his wings, Joe Jr. was sent to Britain in September 1943. He piloted land-based, PB4Y Liberator patrol bombers on anti-submarine details.
During his two tours of duty in the winter of 1943–1944, Joe Jr. was regarded as an experienced Patrol Plane Commander, a well-respected fellow officer, and an expert in radio control. He refused his earned leave and instead volunteered for the most dangerous special assignments. One of his squadron mates said that Joe "had everybody's unlimited admiration and respect for his courage, zeal and willingness to undertake the most dangerous mission."
Operation Aphrodite
In the summer of 1944, Joe Jr. volunteered for a secret bombing campaign with the code name "Operation Aphrodite." His mission was to fly over Normandy, France in a radio-controlled B-17 bomber to a German V-2 rocket launching site, arm the explosives stowed on board, and then parachute to safety before the plane exploded over the German target.

On the evening of August 12, Joe and his co-pilot Lieutenant Wilford John Willy departed from Royal Air Force Fersfield Station in Norwich, England. As the plane headed to the North Sea coast, Kennedy prepared the plane for detonation and radioed the agreed code "spade flush," his last words. Two minutes later, before both men were able to eject from the plane, the explosives ignited prematurely, killing Willy and Kennedy. The wreckage landed near the village of Blythburgh in Suffolk, England. The cause of the explosion was never concluded.

John F. Kennedy was recuperating from his own war injuries in the Chelsea Naval Hospital when he heard the news of Joe Jr.'s death. He told a close friend that "now the burden falls on me." To honor Joe, John created a memorial book for his family, titled We Remember Joe. John wrote, "His worldly success was so assured and inevitable that his death seems to have cut into the natural order of things."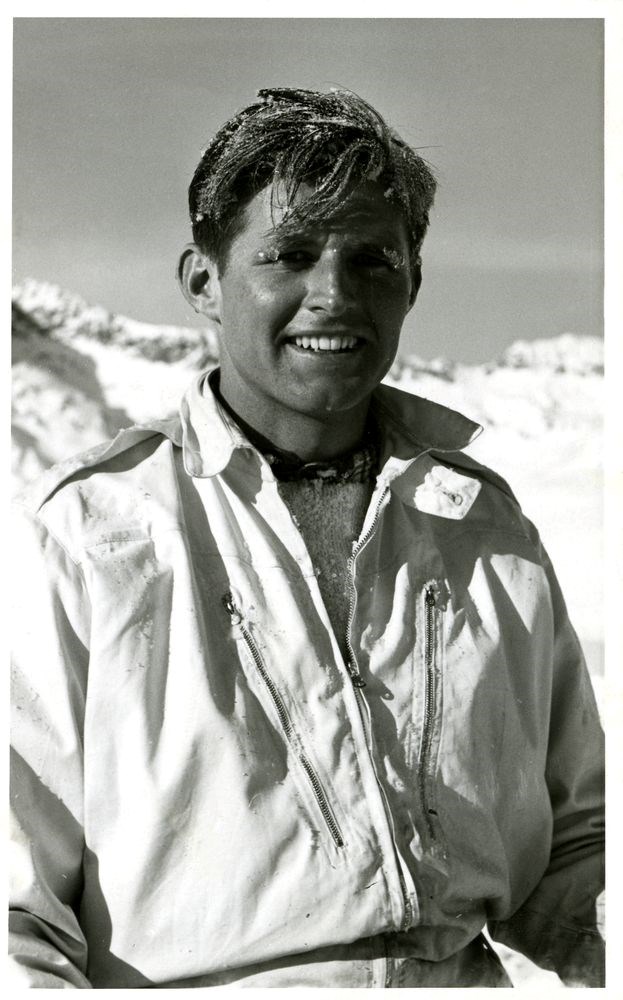 Commemoration
Joseph Patrick Kennedy Jr. was posthumously awarded the Air Medal and Navy Cross for his heroism. In December 1946, the Navy named a destroyer in his honor. Throughout her 27 years in service, the
U.S.S. Joseph P. Kennedy Jr. DD850
participated in the Korean War and in the U.S. naval quarantine of Cuba during the 1962 Cuban Missile Crisis, as well as various U.S. space missions, recovering
Gemini 6
and
Gemini 7
, until her decommission in 1973. Today she rests in Fall River, Massachusetts as part of the Battleship Cove Maritime Museum.
Mr. and Mrs. Kennedy honored their fallen son by creating the Joseph P. Kennedy Jr. Foundation in 1946. The foundation provides leadership in the field of intellectual disabilities and creates practical programs to benefit those with intellectual disabilities, their families, and their communities. Joe Jr.'s youngest brother, U.S. Senator Edward M. Kennedy, and his sister Eunice Kennedy Shriver led the Kennedy Foundation until 2009. Today, it continues to support and provide opportunities for individuals with intellectual disabilities.