Article
Plan Like a Park Ranger: Top 10 Tips for Visiting Haleakala National Park
There are countless opportunities for adventure, fun, sightseeing, and solitude in Haleakalā National Park. From the lush rain forests, to the rocky coastline, or the majestic overlooks of a volcanic landscape above the clouds— Haleakalā has a great deal to offer. But many national parks, including Haleakalā, are expecting an especially busy season in 2021. Therefore, trip planning is more critical than ever to help you make the most out of your visit.
So what's the best way to enjoy Haleakalā National Park? Know before you go! Here are our Top Ten insider tips for making the most out of your visit.
Why stop there?
Find more tips to #PlanLikeAParkRanger
Top 10 Tips for Your Visit to Haleakalā National Park
Put Safety First: Stay on trail and within designated viewing areas. This helps protect you from rockfall, cliff edges, and the native species and Hawaiian cultural sites. When viewing waterfalls, avoid swimming or going underneath the falls as rockfall and flashflooding can happen at anytime. At the Summit you will be at high altitudes, make sure to slow down, drink plenty of water, and to take your time. Cell service is limited so whether you're camping or day hiking, make sure you share your plans with a trusted friend or family who can keep tabs on you.

Dress the Part: Temperatures at the summit are much lower than down at the beach. You will be cold in beach wear, towels, and short sleeves. Wear warm layers, bring sunscreen, and stay hydrated. Weather conditions change quickly and without warning so be prepared for anything!
Make a Reservation: Sunrise reservations from Recreation.gov are required at the Summit District from 3 am to 7 am. Reservations can be made online up to 60 days in advance and are only valid for the day reserved. These tickets are released at 7 am HST. Some "last minute" reservations for any given day will be released 2 days (48 hours) in advance. Learn more about how best to plan for sunrise!
Camp Out: Whether you are staying in a drive up campground or backpacking into the remote wilderness campsites in Haleakala Crater, you can now guarantee you have a campsite in advance by visiting Recreation.gov. Campsites are available 6 months in advance.
Have a Backup Plan: Sunrise and sunset are extremely popular and you won't be the only one. Parking is very limited at the summit of Haleakalā, especially at Puʻuʻulaʻula at 10,023 feet and the Haleakalā Visitor Center at 9,740 feet. If parking lots are full, you may be turned away and will need to park at another location. Consider heading to Leleiwi Overlook at 8,840 feet or Kalahaku Overlook at 9,324 feet. If you were unable to get a sunrise reservation, no worries, there's still lots of great things to see and explore anytime of day!
Take a Hike: At the Summit you can wander through an alien forest at Hosmer Grove. The trail is .6 miles round trip, you have the chance to uncover the beauty of nonnative species, like the Mexican weeping pine coexisting with native Hawaiian species like the ʻŌhia Lehua tree. In the Kīpahulu District hike .5 miles through a forest in search of Makahiku Falls towering in the distance along the Pīpīwai Trail. Remember to stay on trail and follow all signage Donʻt get caught hangry- be sure to pack snacks, water, and layers! For more hikes, visit: Hiking - Haleakalā National Park (U.S. National Park Service) (nps.gov)
Be Informed: The Kīpahulu District is currently open daily from 9 am to 5 pm. The Summit District is always open. Reservations are required for sunrise but are not required for sunset or night sky viewing. Visitor centers are currently closed, but restrooms are still available. For more information, visit Basic Information - Haleakalā National Park (U.S. National Park Service) (nps.gov)
Drive Carefully: Drive carefully on the road, especially at night. Always obey park speed limits helping to keep you, others and our wildlife safe! Look out for 'u'au (Hawaiian Petrel), an endangered species of bird that is active at night and sometimes on roadways. Does your car have fuel? Gas up or charge your car before coming to the park. There is no gas refueling stations in the park and if you are heading to the Summit or the Kīpahulu make sure to have plenty of fuel.
Give yourself plenty of Time: Arrive early in Kīpahulu to hike the Pīpīwai Trail to Waimoku Falls. If you want to hike the 11-mile half loop at the summit from Keoneheʻeheʻe (Sliding Sands) Trailhead to the Halemauʻu Trailhead, you will need to make arrangements for a pick-up or have two cars. Start all hikes early give yourself ample time to finish before dark or District closure (for Kῑpahulu).
Stay Connected: Download the new free NPS app with tools to explore more than 400 national parks nationwide. Find interactive maps, tours of park places, on-the-ground accessibility information, and much more to plan your national park adventures before and during your trip. Download the NPS App in the iOS App Store and Google Play Store. Up to date information regarding closures and conditions is available at our park website www.nps.gov/hale and on our social media channels @haleakalanps.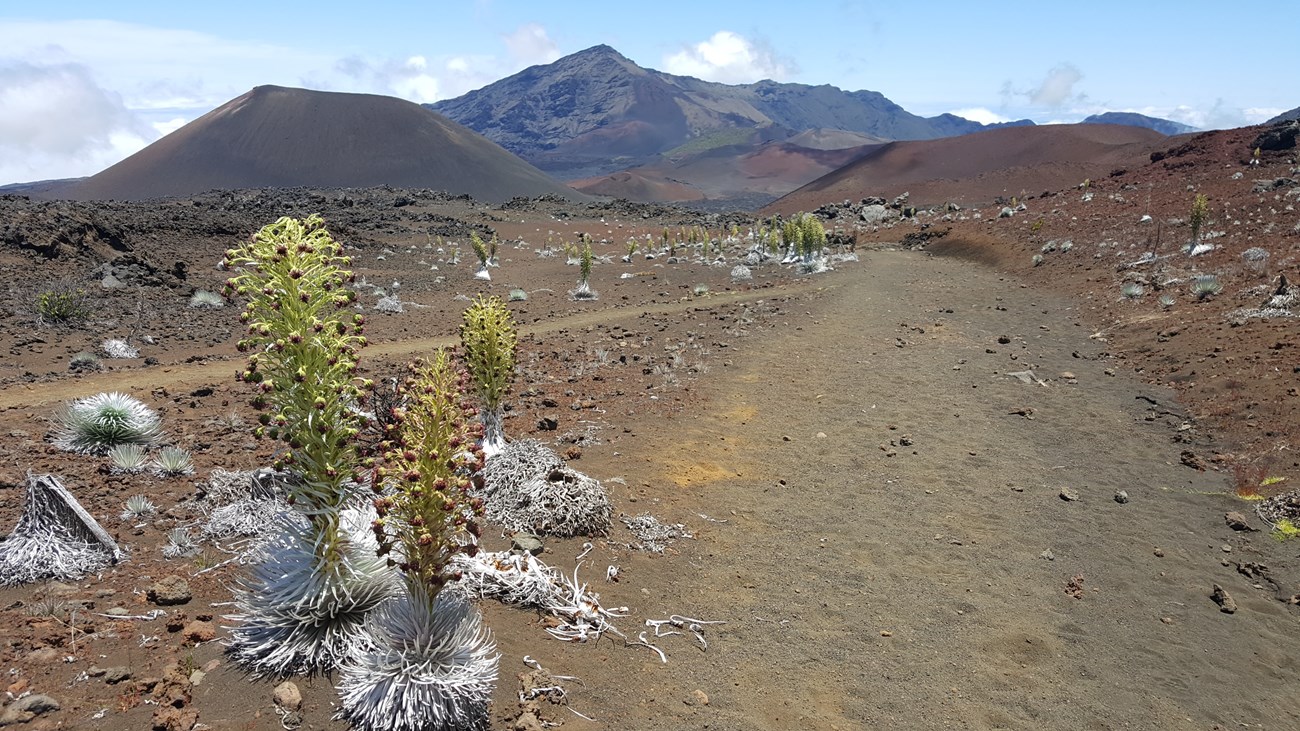 Last updated: July 12, 2022