Conservation Diaries: Cristóbal López , Cultural Resources Intern

Listen to this episode of Conservation Diaries as Cristóbal López shares his perspective as a Latino Cultural Resource Management Intern for the San Antonio Missions National Historical Park.

Credit / Author:

NPS

Date created:

01/03/2022
During the summer of 2021, Cristóbal López worked as a Cultural Resource Management Intern for the San Antonio Missions National Historical Park in San Antonio, Texas, under the Latino Heritage Internship Program. He is from the small town of Dublin, Texas, and is currently a graduate student at the University of Texas San Antonio working on his M.A. in History.
Both of his parents are immigrants from Mexico. Cristóbal says he wants to preserve the rich history and heritage of people such as his parents, whose stories tend to be lost, forgotten, or not included in certain narratives.
"I like to study and to write about kind of like the underrepresented classes that don't fit the grand narrative, the bigger narrative, usually overshadowed by other histories."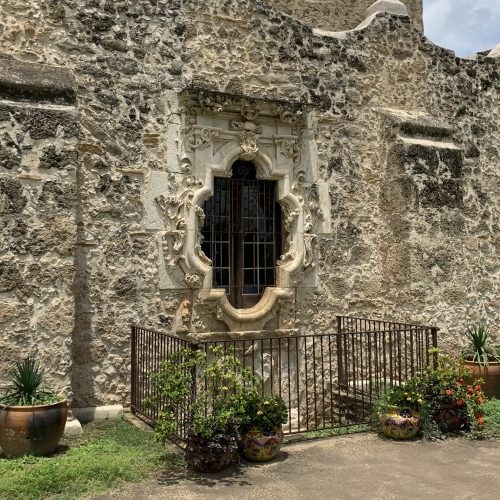 Cristóbal's job during the summer was to research the origins of the cemetery located in front of the church at Mission San José, one of the four missions of the park. The other missions are: Mission Concepción, Mission San Juan, and Mission Espada.
Mission San José is the most restored mission site offering a glimpse at what the mission sites would have looked like during the mission period. Cristóbal's goal was to try and figure out what happened to the rest of the cemetery and if there were more burials.
Right now there are only two graves. You can only read one of the headstones, because the other one has been weathered down. Juan J. Huizar is buried there. He is a descendant of a man named Pedro Huizar, the artist who is widely believed by the community to have carved the famous Rose Window.
Throughout the summer, Cristóbal conducted archival research at repositories in San Antonio such as the Texas A&M-San Antonio Archives, San Antonio Conservation Society Library, Bexar County Spanish Archives, and the San Antonio Missions National Historical Park's library.
"I started finding photographs of Mission San José from the late 1800s that depicted multiple burial plots in front of the church. The plots in the pictures were surrounded by little wooden fences that were common in Hispanic cemeteries found across the American Southwest. That was kind of like one of those big steps in my in my research."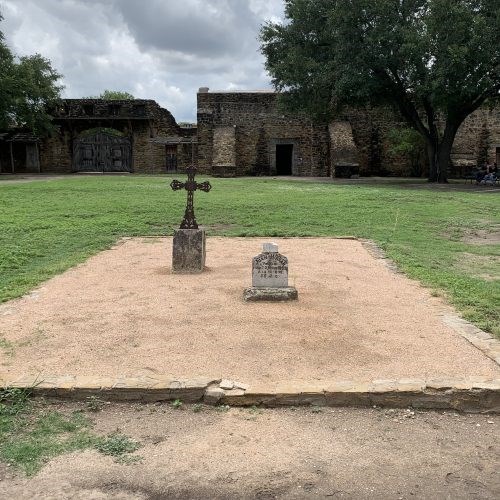 Another discovery during his research was finding Mission Espada's church records written by Father Francis Bouchu in the late 1800s. In those records Cristobal found evidence of burials being conducted at San José.
"There's about 21 entries that he recorded to have been buried at San José, including the name of Juan Huizar, and that coincides with the pictures that I found of burials there in front of Mission San José."
Cristóbal believes doing this sort of work is important because it brings closure to the descendants of those people, the mission descendants who do not know where their ancestors are buried.

"At least just being able to say, 'Hey, you know, they might have been here, or we do have evidence that they were here at some point...' I think that's important. And I think that just gives the families a lot of answers and a lot of closure."
With projects like this one, that involves the community and mission descendants, not everyone is going to relate to the work and the stories of these people. Cristóbal believes having people from different backgrounds who bring different perspectives, is important, especially when researching complex stories.
"It's important to have those different perspectives in the park and the different interpretations to see what we can come of it. How can we try not to prioritize one over the other and instead bring them together to produce the best projection of the park in its history."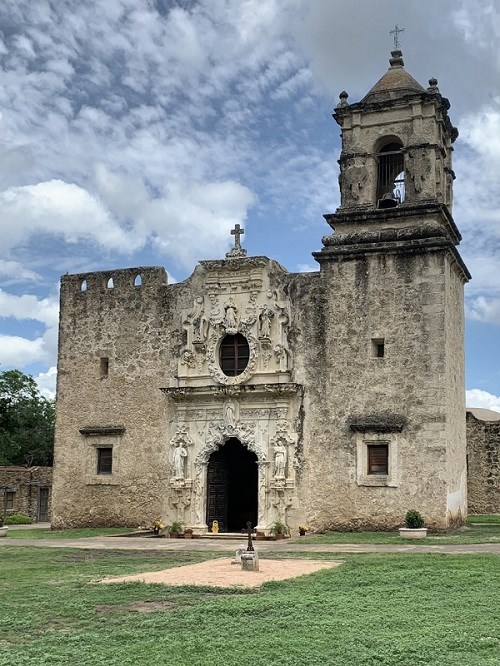 Cristóbal's advice for the Latinx youth and other underrepresented communities trying to get into the conservation and historic preservation fields: find a path that best suits you, your skills, and your passions, and have fun with it. He also wants young people to know that it's okay to reach out to people when you have questions. Whether it be your professors, supervisors, family, friends, or even himself, reaching out shows interest and helps establish the building blocks to wonderful relationships.
Cristóbal says he has learned the hard way that plans don't always go the way we would like. But in those moments, it is important to keep looking forward and to keep reaching for your goals.
"Find that niche that that you like, that motivates you, that you're interested in when it comes to conservation and preservation. And just run with it. Just go for it."
Many questions remain unanswered regarding the cemetery that Cristóbal had been researching. He believes it is important for the park to continue researching these, and other graves throughout the park. A detailed report of his research will be housed at the San Antonio Missions National Historical Park's library.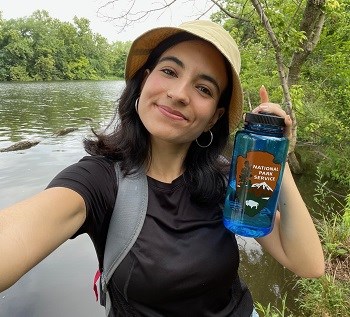 Meet the Host
Nicole Segnini created the Conservation Diaries podcast series in 2021 during her Latino Heritage Internship Program internship with the National Park Service's Office of Communications in 2021. Venezuelan-born, she knows firsthand Latinx communities' passion and commitment to conservation and wanted to engage the rising generation of stewards—of all cultural backgrounds—to picture themselves in conservation careers or working in the National Park Service. Nicole used her background and experience in journalism, social media influencer, and television news producer to create the Conservation Diaries podcast series to bring out the stories of youth in the National Park Service from their own perspectives.

"There are so many young people in underrepresented and minority communities across the country who care so much about conservation, historical preservation, nature, wildlife, the outdoors, and our beautiful parks, and I think it's important that we elevate and amplify their voices and their important work. They are working hard to protect and preserve our natural, cultural, historical, and recreational resources and I believe that work is usually overlooked. That's why I wanted to start something like this." - Nicole Segnini