Visiting in Winter

Winter at Arches is a peaceful time, without the crowds or scorching heat that can plague summertime visits. Ice, snow, and reduced park operations, however, can provide their own challenges for winter visitors.
Activities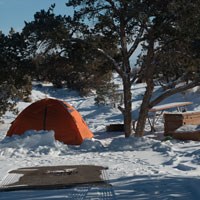 Camping
Between November and February, there are 25 sites at Devils Garden Campground, first-come, first-served. There are restrooms and drinking water at the campground. Collecting wood is prohibited. You can purchase firewood at the visitor center or in Moab.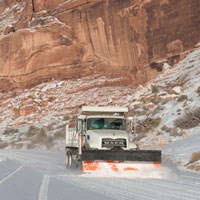 Road Conditions
After a snowfall, the park road might be closed for several hours for plowing. Park roads, parking lots, and pullouts can still be icy, especially in shaded areas. Check at the visitor center for the latest information on road conditions.

What about roads outside the park?
Check the Utah Road Weather Forecast or call 1-866-511-UTAH (8824) for road conditions outside the park.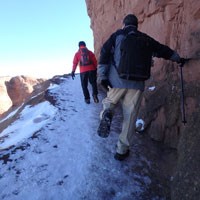 Trail Conditions
Most hiking trails remain open year-round. After a snowfall, popular trails like Delicate Arch quickly become slippery from packed snow and ice. We recommend traction devices and trekking poles. Drifting snow can cover trail markers, making even "easy" trails harder to follow. You can see updated photographs of trail conditions at the visitor center.
Weather
Winters are cold, with highs averaging 30 to 50 F (-1 to 10 C), and lows averaging 0 to 20 F (-17 to -6 C). Though large snowfalls are uncommon (except in nearby mountains), even small amounts of snow or ice can make local trails and roads impassable.
Loading weather forecast...
Last updated: July 24, 2021