Delicate Arch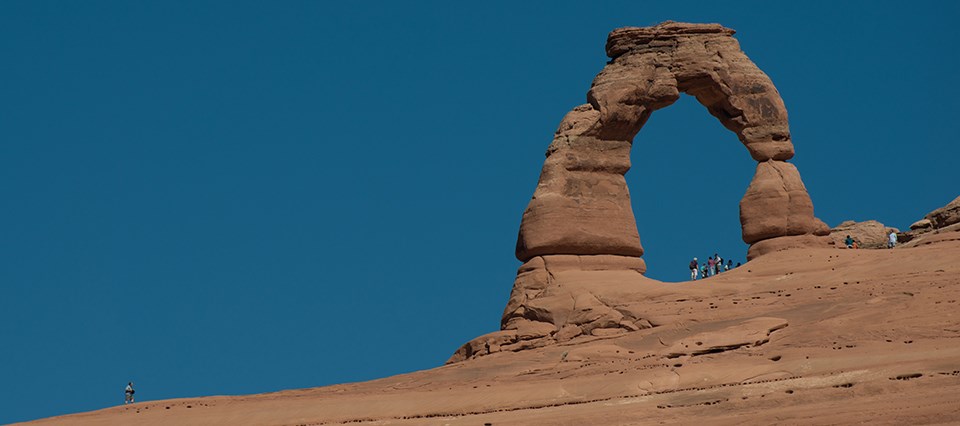 A Stone Icon
People come from all over the world to visit Arches National Park, and visiting Delicate Arch is on the top of many visitors' to-do lists. In a park with over 2,000 stone arches, this particular free-standing arch has become a widely recognized symbol of the state of Utah and one of the most famous geologic features in the world.
The light opening beneath the arch is 46 feet high and 32 feet wide, making it the largest free-standing arch in the park. It has had more than a few names in its history, from the colorful ("Cowboy's Chaps", "Old Maid's Bloomers") to the prosaic ("Salt Wash Arch"). The term "Delicate" first appeared in a January 1934 article about the Arches National Monument Scientific Expedition, which described it as "the most delicately chiseled arch in the entire area."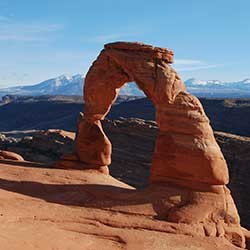 It's difficult to see Delicate Arch from the main park road; you must get out of the car to view it. At Lower Delicate Arch Viewpoint, you can walk a level 100 yards (91 m) to see the arch from one mile away. Nearby, the Upper Viewpoint (0.5 mi / 0.8 km walk with stairs) offers a slightly less obstructed view.
The trail to see Delicate Arch up close and personal is 3 miles (4.8 km) roundtrip and climbs 480 feet (146m). Along this steadily uphill trail, you'll also pass the Wolfe Ranch cabin and a wall of Ute Indian petroglyphs.

Carefully consider weather conditions (summer heat or winter ice) and your own health and fitness before beginning this hike. Rangers frequently rescue people who underestimated the trail's difficulty.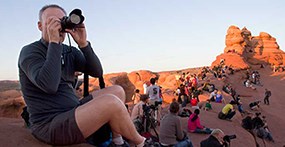 On very busy days, parking lot for the trailhead at Wolfe Ranch will fill. There is additional parking at the Delicate Arch Viewpoint parking lot. If you walk from the viewpoint, you will have to hike 1 mile (1.6 km) along the road to the trailhead. The total roundtrip hike distance increases to 5 miles (8 km). The trail can be very busy through much of the year. Sunset is a particularly busy time; sometimes hundreds of people will be at Delicate Arch for sunset.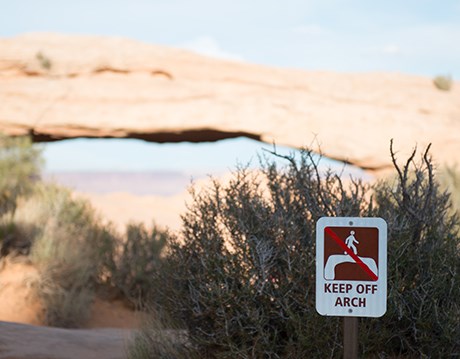 Protect your park. Protect yourself.
To protect the park, keep yourself safe, and allow everyone to enjoy their views of these geological formations, do not walk or climb on any arches.
Practice safe hiking. Avoid hiking in midday summer heat. Carry and drink water and eat salty snacks during your hike. Read more about staying safe.
Biological soil crust is a living groundcover that forms the foundation of high desert plant life in Arches and the surrounding area. This knobby, black crust is dominated by cyanobacteria, but also includes lichens, mosses, green algae, microfungi and bacteria. Soil crust binds sand and rock particles together which allows plants to establish their roots. They also provide desert plants moisture and nutrients in otherwise inhospitable environment. You can help preserve these fragile and unique life-forms by staying on established trails.
Your Safety
Consider your safety before attempting this hike during hot weather or winter ice.
Carry and drink water: 2-3 quarts (2-3 L) of water per person.
Bring sunscreen and a hat.
During winter, we recommend traction devices so you can walk through the final 70 yards of trail, which are often ice-covered.
Sunrise is just as beautiful as sunset, much cooler, and always less busy. You might find several hundred people at Delicate Arch for sunset, but just a handful for sunrise. Try to enter the park before 7 am. Get an early start, and beat the crowds. Sunrise and Sunset Times
Last updated: September 24, 2018