Park Avenue and Courthouse Towers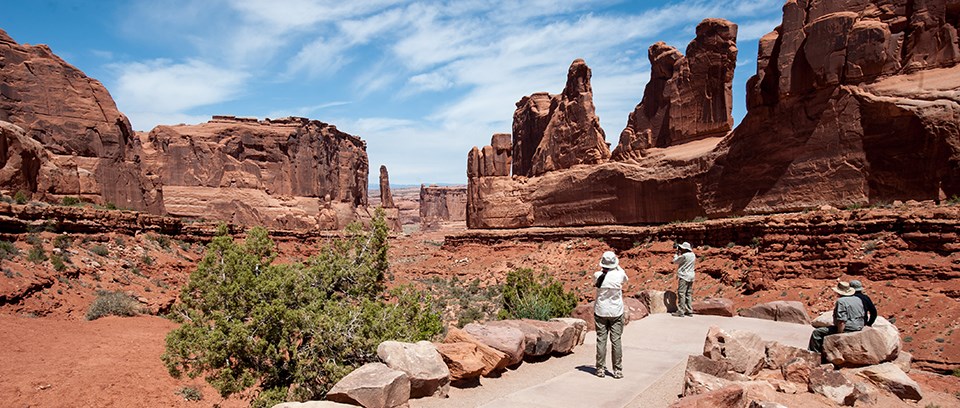 Distant Views and Soaring Towers
After passing the visitor center and climbing steeply along switchback roads, the first major area of the park you'll see is Park Avenue and the Courthouse Towers area. You can walk among massive monoliths and towering walls and see views of the nearby La Sal Mountains.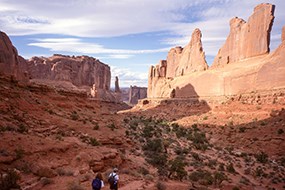 Park Avenue Viewpoint and Trailhead
The sheer walls of this canyon reminded early visitors of buildings lining a big city street. The viewpoint is paved and accessible for people using wheelchairs.
Beyond the viewpoint, the trail descends steeply into the spectacular canyon and continues one mile (1.6 km) to Courthouse Towers. For a roundtrip hike, retrace your steps along the trail rather than walking along the road.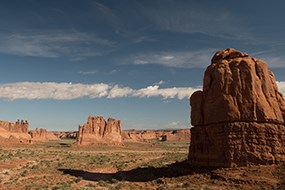 La Sal Mountains Viewpoint
Enjoy a 360-degree view from a relatively flat sandstone bench. See the La Sal Mountains to the east and distinctive formations like Three Gossips, Sheep Rock, and The Organ in the Courthouse Towers area. Look to the horizon for a view of Balanced Rock and The Windows Section.
Last updated: July 20, 2018