Balanced Rock

A Teetering Giant
Balanced Rock, one of the most iconic features in the park, stands a staggering 128 feet (39m) tall. While this formation may appear to be an epic balancing act, it's actually not balanced at all. The slick rock boulder of Entrada Sandstone sits attached to its eroding pedestal of Dewey Bridge mudstone. The exposure of these two rock strata layers are ideal for the formation of arches and balanced rocks.
Balanced Rock defies gravity but this won't always be the case. Eventually, the 3,600 ton (over 4 million kg) boulder will come tumbling down as the erosional process continues to shape the landscape. In the winter of 1975-76, Balanced Rock's smaller sibling "Chip-Off-the-Old-Block" collapsed (view Then and Now), proving that there is no better time than the present to see this awe-inspiring giant.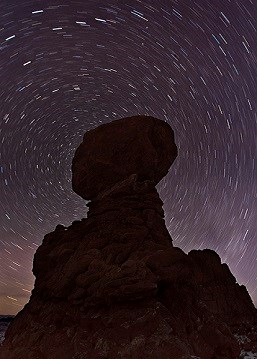 Unlike many of the other named features in the park, Balanced Rock can be seen from the park road. It is located 9.2 miles (14.8km) from the Arches Visitor Center. Although parking is limited, many visitors stop to complete the short hike (0.3mi / 0.5km roundtrip) around the rock's base for unusual and up-close perspectives.
At sunset, Balanced Rock becomes saturated in a
deep red-orange
making it a great place to end a fun-filled day in the park. This is also an ideal place for
stargazing
and night
photography
. Its location is just far enough from the city lights of Moab, Utah and provides whimsical rocky spires in the foreground.
A picnic area is located across from Balanced Rock to the west along a gravel road. The picnic area contains multiple picnic tables, covered canopy, vault toilet, and spectacular views of Salt Valley and Balanced Rock. We encourage you to leave no trace by using trash/recycling bins in the picnic area. Feeding wildlife can be harmful and is prohibited in the park.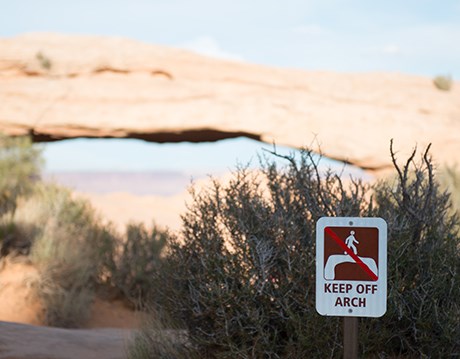 Protect your park. Protect yourself.
To protect the park, keep yourself safe, and allow everyone to enjoy their views of these geological formations, do not walk or climb on Balanced Rock or any arches.
Practice safe hiking. Avoid hiking in midday summer heat. Carry and drink water and eat salty snacks during your hike. Read more about staying safe.
Biological soil crust is a living groundcover that forms the foundation of high desert plant life in Arches and the surrounding area. This knobby, black crust is dominated by cyanobacteria, but also includes lichens, mosses, green algae, microfungi and bacteria. Soil crust binds sand and rock particles together which allows plants to establish their roots. They also provide desert plants moisture and nutrients in otherwise inhospitable environment. You can help preserve these fragile and unique life-forms by staying on established trails.
Cairns are the rock piles that you see along many of the trails in the park. They are carefully placed by rangers to mark the route. Building your own cairn may be tempting but consider the how that may impact other hikers. "Cairn clutter" can be confusing to others on the trail. It can also damage park resources and impair the natural beauty of the park.
Last updated: September 24, 2018