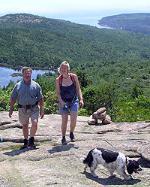 Guidelines
Emergency phone: 911
Be prepared. While hiking remember to bring:
Water; at least 20 oz (.6 L)
Map
Adequate clothing (rain jacket and warm layers)
First aid kit
Flashlight
General Guidelines:
Be careful while walking near cliff ledges.
Tell someone your plans.
Remain in one place if you become separated from your group.
Check for ticks. Wear long pants and use insect repellent.
Poison ivy is found throughout Acadia. Learn to identify and avoid it.
Drive safely and wear your seatbelt at all times.
Do not drink and drive.
When in doubt, ask a ranger first!