News Release
What to Expect in Acadia National Park in October and November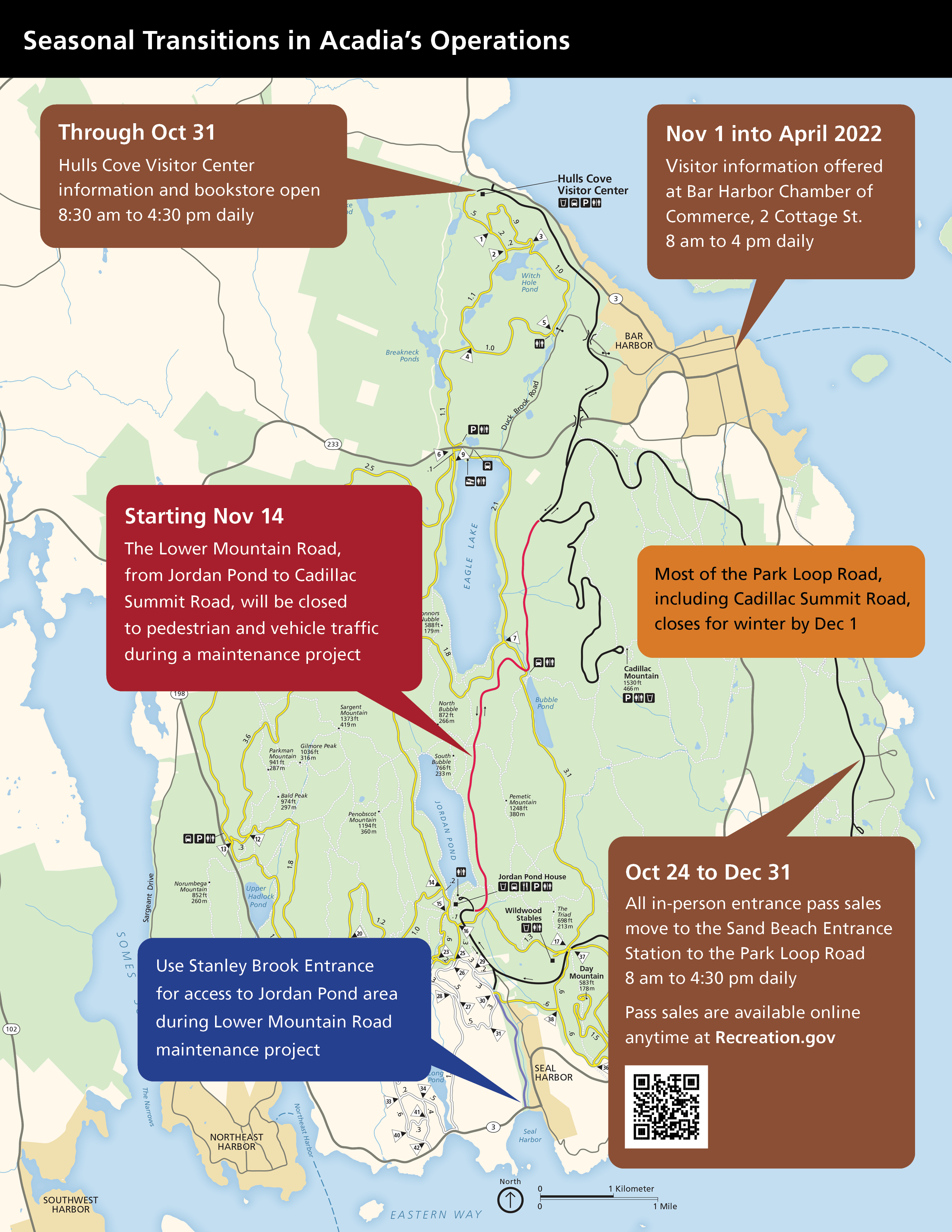 News Release Date:
October 19, 2021
Contact: Christie Anastasia, 207-288-8806
BAR HARBOR, MAINE – As Acadia National Park settles into the fall season and approaches the winter, hours of operation and services will also change. Before venturing into the park, always check the park website for the most current information. You can also download the National Park Service App to have this same information at your fingertips: www.nps.gov/acad/planyourvisit/apps.htm  
Start your visit at the Hulls Cove Visitor Center to speak with park rangers, shop at America's National Parks Gift Shop, and access restrooms. Hulls Cover Visitor Center remains open until Oct 31, hours of operation 8:30-4:30 pm daily.  
Beginning on Nov 1, park ranger information services begin at the Bar Harbor Chamber of Commerce Visitor Center, 2 Cottage Street (at the corner of Cottage and Main Street), hours of operation 8 am to 4 pm daily. There will be a park ranger and/or a chamber employee present to help you plan your trip to the area and the park.  
Entrance passes are needed to visit and enjoy Acadia year-round. Passes can be purchased online anytime at Recreation.gov. Entrance passes are also available for purchase at the Hulls Cove Visitor Center until Oct 23. Those visiting the park and driving through the Sand Beach Entrance Station can purchase passes at that location Oct 24-Dec 31 when the station is staffed.  Learn more about entrance passes at nps.gov/acad/planyourvisit/fees.htm  
Beginning on Nov 14, the section of the Park Loop Road known as "Lower Mountain Road" will close to all visitor access to allow maintenance work to occur in a safe manner (from Jordan Pond North Lot continuing to the entrance for Cadillac Summit Road). During this time, all traffic approaching Jordan Pond must enter and exit at the Stanley Brook Entrance.  
On Nov 15 gravel roads in the park close to motor vehicle traffic. This includes Seal Cove Road, Western Mountain Roads, and the Long Pond Fire Road, among others.  
As a reminder, the Park Loop Road and the Cadillac Summit Road routinely close to vehicles on December 1 of each year, but early winter weather may cause any section of the road to close for the season earlier. A two-mile section from the Sand Beach Entrance Station to Otter Cliff Road and access to the Jordan Pond traditionally remain open. All areas in the park require an entrance pass although vehicle reservations for Cadillac Summit Road are not required after Oct 19. When sections of the Park Loop Road closes, those areas become a snowmobile route. Snowmobiles are permitted on the closed sections of the Park Loop Road and on the unplowed lane between the Sand Beach Entrance Station and Otter Cliff Road. In the event of inclement weather, all sections of the Park Loop Road may be closed to motor vehicles.