News Release
Visitor rescued from fall on Precipice Trail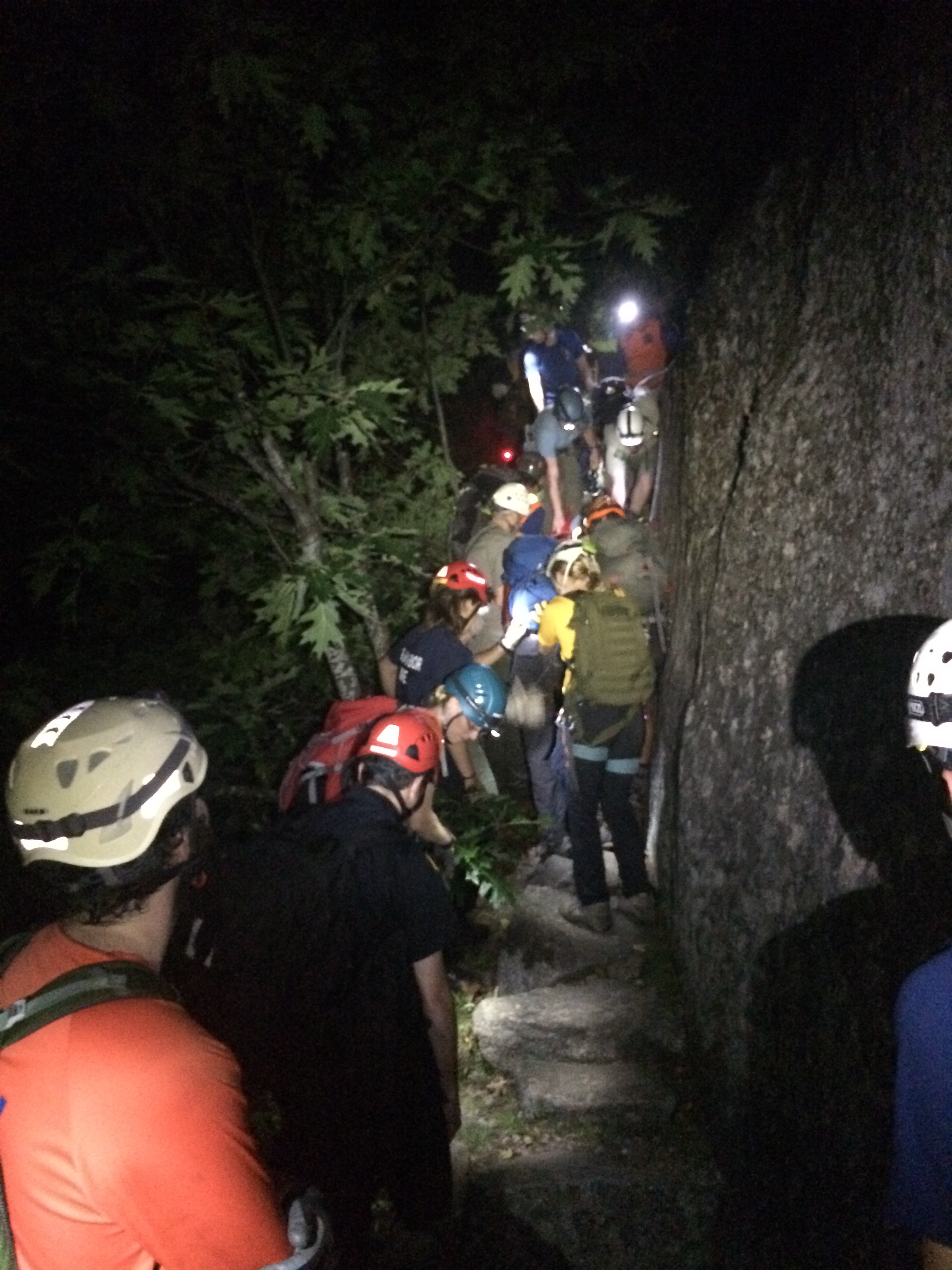 News Release Date:
July 25, 2018
Contact: Christie Anastasia, 207-288-8806
BAR HARBOR, MAINE – On Monday July 23, a 26-year-old male from Portland, ME fell while hiking on the Precipice Trail in Acadia National Park. As he was climbing one of the technical rung sections of the trail, he was reaching up and grabbing a rock above him to step up and pull himself up on the next step. The rock gave way and he fell, with the rock, an estimated 60 feet, somersaulting down. Rangers learned of the incident by 911 calls around 6:00 p.m. When the patient was reached by rescuers his condition included broken bones and lacerations but the injuries were not life threatening.

Due to the heavy fog at the time of the rescue operation, rescuers could not use air support such as a helicopter. A carry out operation for the patient began by stabilizing and preparing the patient for transport utilizing a litter on the Orange and Black Trail. Due to the terrain and exposure, over six belay stations were used. Over the course of 4 hours, the patient was carried to a scree field (area of rock fall deposits) below the intersection of the Precipice Trail and the Orange and Black Trail and then a guiding line (a tensioned rope that allows the litter to hover just above the ground over a difficult point) was used to move the patient to the road. An ambulance was waiting on the road to transport the patient to Mount Desert Island Hospital.

"We are very grateful to all the rescuers who worked together to get this visitor to medical attention," said Superintendent Kevin Schneider. "Having these highly trained and dedicated rescuers makes a significant difference when an accident of this nature occurs."

All rescuers were off the trail by 1:50 a.m. on Tuesday July 24. Thirty-six responders were involved in the rescue including Mount Desert Island Search and Rescue, Acadia Mountain Guides, Bar Harbor paramedics, and Acadia National Park resources.
Last updated: July 25, 2018