News Release
Application open for 2019 Artist-in-Residence Program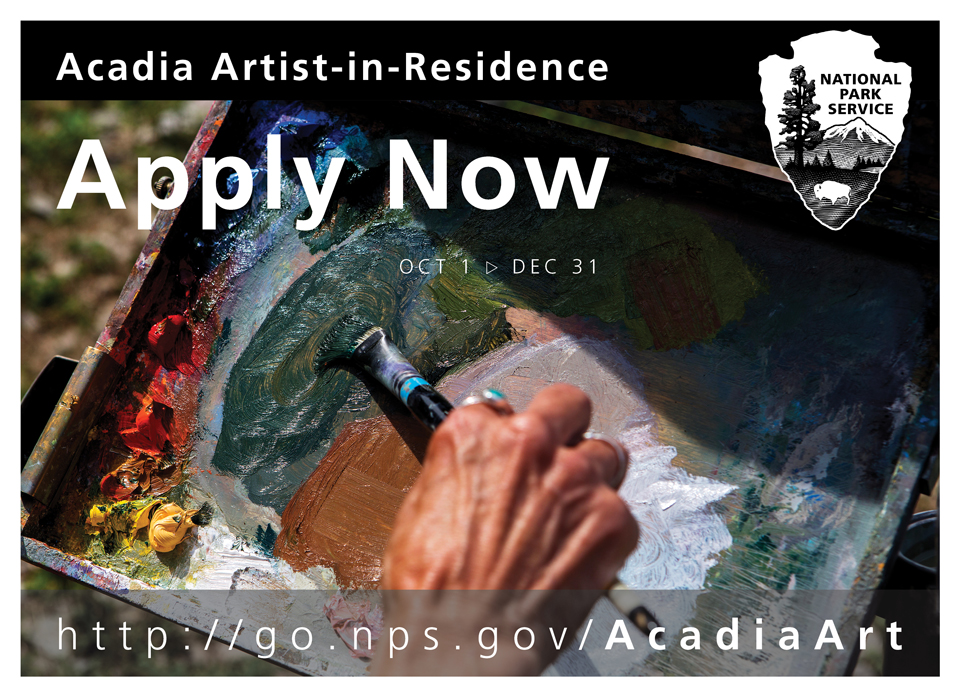 News Release Date:
October 25, 2018
Contact: Christie Anastasia, 207-288-8806
BAR HARBOR, MAINE – The National Park Service invites accomplished professional artists, writers, and others to apply for one of eight opportunities with the 2019 Artist-in-Residence Program. The last day to apply online is Monday December 31.

 "We want people to experience Acadia through the perspectives of artists," said Superintendent Kevin Schneider. "Early national parks owe a part of their establishment to the talents of artists and we want to continue this type of expression."

Selected participants receive two weeks of park-provided housing, such as a ranger cabin on a remote island or an apartment on the Schoodic Peninsula. Artists lead one public outreach presentation and donate within a year one finished work of art that depicts a fresh perspective of Acadia that drawn from their direct experience.

Selected artists travel to and take part in the program at their own expense at the invitation of the park superintendent. Appointed juries review all applications and final notifications are expected by March 31. Participants with their own housing within commuting distance of Acadia can receive further distinction as a "Resident Artist." There are no limits for the dates or extent of the involvement with the program for these specific participants. In addition, resident artists receive an entry pass to visit the park and are eligible to stay in a ranger cabin on a remote island.

An online application process is open to all, but is highly selective. The 2018 program received 189 applications from 39 states and three foreign countries. Six percent of the applicants were from towns in Maine. A $25 non-refundable application fee benefits program operational costs, such as the public display of art maintained in the program collection. Learn more at http://go.nps.gov/AcadiaArt .

Across the country artists work in more than 40 different units of the National Park Service through Artist-in-Residence programs- learn more about these other programs at this website https://www.nps.gov/subjects/arts/index.htm .
 
Last updated: October 25, 2018