News Release
Deputy Secretary Beaudreau and Partners Highlight Great American Outdoors Act Success Story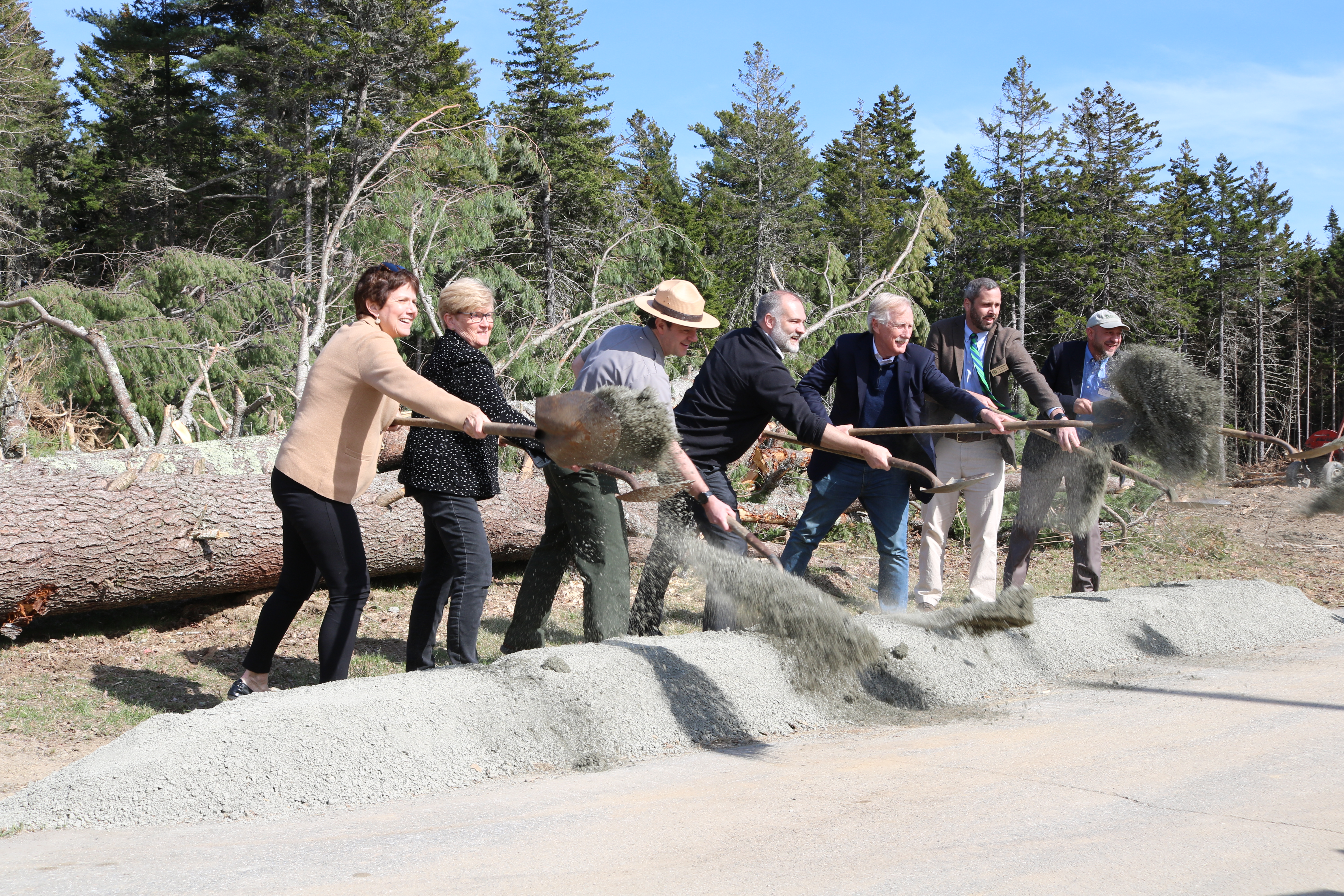 News Release Date:
April 29, 2023
Contact: Amanda Pollock, 207-288-8806
Bar Harbor, Maine – Deputy Secretary of the Interior Tommy Beaudreau visited Acadia National Park today where he joined federal and local leaders to celebrate the groundbreaking of a new year-round maintenance facility at park headquarters in Bar Harbor, Maine, made possible with a new $32.6 million investment from the Great American Outdoors Act (GAOA).
Deputy Secretary Beaudreau, Senator Angus King, Congresswoman Chellie Pingree, and other community leaders celebrated the new building that will allow for more efficient park maintenance operations and improve universal access.
"This moment is nearly 20 years in the making – and it's hard to believe it's finally here," said Acadia National Park Superintendent Kevin Schneider. "We are all eager to see this facility come to life over the next two years. It will allow us to be better stewards of Acadia's diverse built environment: ranging from our historic carriage roads to our visitor centers, and everything in between." 
The 32,000 square-foot maintenance facility will equip the park with workshops, equipment storage, meeting rooms, and offices. The project will also demolish more than 20,000 square feet of unsafe park structures and eliminate $4.4 million of deferred maintenance and repairs. The new maintenance facility is critical to supporting the mission of Acadia National Park and will make it possible for the park to provide frontline services to visitors and protect park resources over the next 60 years. 
This GAOA investment will contribute more than 425 jobs and $92 million to the nation's economy. Local contractor Nickerson & O'Day, Inc. of Brewer, Maine, is expected to start work this spring, with project completion expected in Fall 2024.
Infrastructure funding from GAOA and the Bipartisan Infrastructure Law are part of a concerted effort to address the extensive deferred maintenance and repair backlog in national parks. Supported by revenue from energy development, GAOA's Legacy Restoration Fund provides the National Park Service with up to $1.3 billion per year for five years to make significant enhancements in national parks to ensure their preservation and provide opportunities for recreation, education, and enjoyment for current and future visitors.
Last updated: April 29, 2023