Please read important park alerts by clicking the red tab above before you come to the parks.
---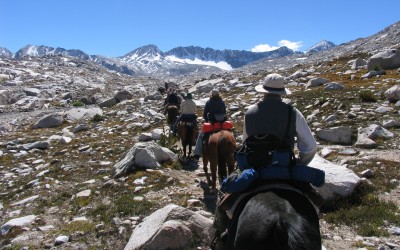 NPS Photo
Stock use refers to travel with horses, mules, burros, and llamas. It is your responsibility to familiarize yourself with the specific regulations and restrictions which apply to the use of these animals in the wilderness. The following documents are provided to assist you with preparing and planning for your stock-supported wilderness trip. The Wilderness Office is also available to assist you. For information regarding commercial stock use, please contact the Commercial Services Office at 559-565-4217 or e-mail us.
Planning Your Stock-Supported Wilderness Trip
---

STOCK USE REGULATIONS & INFORMATION
Stock Users Guide
Includes descriptions of forage areas as well as the site-specific regulations. Download 2014 Stock Users Guide

Stock Use and Grazing Regulations
Site-specific regulations & restrictions listed by individual meadows within their respective river drainage. Download the 2014 Kings Canyon and 2014 Sequoia Stock Use and Grazing Regulations.

Minimum Impact Restrictions
Basic practices to minimize the impact on the land. Download 2014 Minimum Impact Restrictions.

Velvet Grass in the Kern Canyon
Special grazing restrictions for Kern Ranger Station Pastures, Lower Funston Meadow, and Upper Funston Meadow. Download 2014 pdf

Anticipated 2014 Meadow Opening Dates
Expected dates for grazing in meadows based on "dry" year conditions.


---
Contact the Wilderness Office

Phone

(559) 565-3766

Fax

(559) 565-4239

E-mail

SEKI_Wilderness_Office@nps.gov