You May Have Trouble Calling Us

We are experiencing technical problems receiving incoming phone calls. We apologize for the inconvenience. Please send us an email to SEKI_Interpretation@nps.gov or check the "More" link for trip-planning information. More »
The Generals Highway "Road Between the Parks" is OPEN

The section of road between Lodgepole (Sequoia) and Grant Grove (Kings Canyon) will close with the first significant snowstorm after Jan. 6, 2014, and is expected to remain closed through Apr. 15, 2014. Call 559-565-3341 (press 1, 1) for 24-hour status.
Be Prepared! Tire Chains or Cables May Be Required in the Parks at Any Time

All vehicles must carry chains or cables when entering a chain-restricted area. It's the law (CA Vehicle Code, Section 605, Sections 27450-27503). Road conditions may change often. For road conditions, call 559-565-3341 (press 1, 1). More »
Vehicle Length Limits in Sequoia National Park (if Entering/Exiting Hwy 198)

Planning to see the "Big Trees" in Sequoia National Park? If you enter/exit via Hwy. 198, please pay close attention to vehicle length advisories for your safety and the safety of others. More »
Maps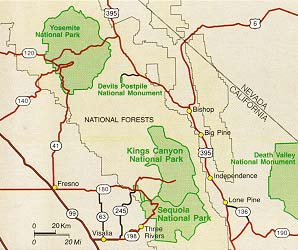 Below is a list of downloadable maps in pdf (Adobe Portable Document Format). To view these maps, you will need Acrobat Reader or the Acrobat plug-in for your browser. Note that some map files are large and may take some time to download.
Legend of Map Symbols (27 kb) PDF file

Legend: definitions explaining the meaning of symbols used on park maps.
Map of Roads within the Parks (4.43 mb) PDF file

The only park areas accessible by road are the western sections. This map includes symbols for facilities as well as some information about road conditions and seasonal openings and closures.
Park Map - all of Sequoia and Kings Canyon (6.21 mb) PDF file

Map of the entire area of both Sequoia and Kings Canyon parks. Roads are shown, but not much detail regarding facilities.
Park Regional Map (585 kb) PDF file

Map of the southern Sierra Nevada including roads connecting Sequoia and Kings Canyon National Parks with Yosemite National Park, Devils Postpile National Monument, and Manzanar National Historic Site.
Range Map of Giant Sequoia and Redwood Trees (28 kb) PDF file

Map of California showing the natural range of giant sequoia trees (all in the Sierra Nevada) and redwood trees (all along the coast).
Park Maps from Harpers Ferry Center

Sequoia and Kings Canyon National Park maps are also available from Harpers Ferry Center.

SNHA
For general wilderness trip planning we recommend either the Tom Harrison "Sequoia and Kings Canyon National Park Recreation Map" or the National Geographic "Sequoia and Kings Canyon National Parks Illustrated" map. These and detailed maps of specific park areas are available from the Sequoia Natural History Association.
more...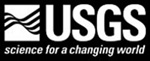 USGS Topographic Maps

Order U.S. Geological Survey topographic maps online.


Did You Know?

The record high temperature in the foothills of Sequoia National Park is 118 degrees F, reached in July, 2007. Three times in the last decade it has hit 114 degrees. Is this one sign of global warming?