Meadow Opening Dates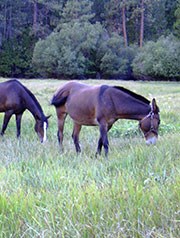 Each year, opening dates for grazing are established for the wilderness meadows of Sequoia and Kings Canyon National Parks. Setting opening dates for the meadows allow the parks to protect biological and scenic resources from unacceptable impacts that may occur when the meadows are too wet.
Because meadows are most susceptible to damage from stock when ground moisture levels are high, opening dates are established based on the amount of precipitation that the wilderness receives over the winter.
Recognizing that commercial outfitters, recreational users, and park operations need to be able to plan trips in advance, we issue bulletins two times during the spring season to keep all stock users informed. The bulletins update current conditions and anticipated opening dates. All bulletins are advisory only, the actual opening dates of specific meadows will be determined in the field. For final opening dates contact the Wilderness Office prior to your trip at seki_wilderness_office@nps.gov.
Opening dates are anticipated based on snowpack in the wilderness. Snowpack is the best indicator of the amount of moisture meadows receive.The park has a series of snow courses that are measured periodically through the winter, with the late April snowpack measurements giving the latest and last estimate of conditions. We are providing this bulletin as tentative information based on late April/early May conditions.

According to the amount of moisture in the snowpack, we categorize the year as one of the following:
Dry (less than 50% of average snowpack)
Normal (51% to 150% of the average snowpack)
Wet (more than 150% of the average snowpack)
Opening dates in wet years are later than dry years.

If you are planning a trip on or near the opening date for a particular area it is your responsibility to contact the parks' Wilderness Office at 559-565-3766 for the latest update on conditions. Note that the opening dates only restrict grazing. Pack trips prior to the opening dates are permitted as long as all feed is packed in and stock remain tied up at all times. For a complete list of meadows, please see the Stock Users Guide.
Your cooperation in managing stock use in Sequoia and Kings Canyon National Parks is appreciated. Together we can continue to protect the natural diversity and beauty of the Sierra wilderness.
Current Meadow Opening Dates
For tentative opening dates for grazing in wilderness meadows, check our May 2020 Grazing Advisory Bulletin.

Little Pete Meadow 39-3 Delayed opening to 7/8
Big Pete Meadow 39-2 Delayed to 7/21
Taboose Pass Meadow 46-5 Delayed to 7/25
Twin Lakes Meadow 56-2 Delayed opening to 7/15
White Fork/Ghost Camp 56-3 Delayed opening to 7/15
Woods Creek Meadow 58-2 Moved up from 7/7 to 7/1
Baxter Creek Meadow 58-3 Delayed opening to 7/15
Junction Meadow 66-3 Delayed opening to 6/30
Upper Vidette Mdw 65-3 Delayed opening to 7/15
Middle Rattlesnake Canyon Mdw 89-9, temporarly closed 8/6
Dusy Creek Meadow 42-1, temporarly closed 8/21
Upper Funston Meadow 86-2, temporalry closed 8/25
Nathan's Meadow 85-10, temporalry closed 8/27
Last updated: August 27, 2020