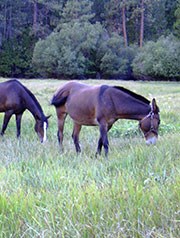 Each year, opening dates for grazing are established for the wilderness meadows of Sequoia and Kings Canyon National Parks. Setting opening dates for the meadows allow the parks to protect biological and scenic resources from unacceptable impacts that may occur when the meadows are too wet.
As meadows are most susceptible to damage from stock when ground moisture levels are high, opening dates are established based on the amount of precipitation that the wilderness receives over the winter.
Recognizing that commercial outfitters, recreational users, and park operations need to be able to plan trips in advance, we issue bulletins two times during the spring season to keep all stock users informed.The bulletins update current conditions and anticipated opening dates. All bulletins are advisory only, the actual opening dates of specific meadows will be determined in the field. For final opening dates call the Wilderness Office prior to your trip at 559-565-3766.
Opening dates are anticipated based on snowpack in the wilderness.The snowpack is the best indicator we have of the amount of moisture the meadows received.The park has a series of snow courses that are measured periodically through the winter, with the late April snowpack measurements giving the latest and last estimate of conditions. We are providing this bulletin as tentative information based on late April/early May conditions.

Current Meadow Opening Dates
For tentative opening dates for grazing in wilderness meadows, check our 2019 April Grazing Advisory Bulletin. Also see updates to opening dates below.
Snowpack measurements in the parks show that there is approximately 178% of the average April 1
snowpack in the San Joaquin and Kings River drainages, 175% in the Kaweah River drainage, and 174% in
the Kern River drainage. Snowpack data is available at http://cdec.water.ca.gov/snow/.

At this time, the parks anticipate that 2019 will be categorized as a wet year for setting opening dates
throughout the parks. Please see the April Grazing Advisory above.

According to the amount of moisture in the snowpack, we categorize the year as one of the following:
1) Dry (less than 50% of average snowpack)
2) Normal (51% to 150% of the average snowpack)
3) Wet (more than 150% of the average snowpack)
Opening dates in wet years are later than dry years.
If you are planning a trip on or near the opening date for a particular area it is your responsibility to contact the parks' Wilderness Office at 559-565-3766 for the latest update on conditions. Note that the opening dates only restrict grazing. Pack trips prior to the opening dates are permitted as long as all feed is packed in and stock remain tied up at all times. For a complete list of meadows, please see the Stock Users Guide.
Your cooperation in managing stock use in Sequoia and Kings Canyon National Parks is appreciated. Together we can continue to protect the natural diversity and beauty of the Sierra wilderness.