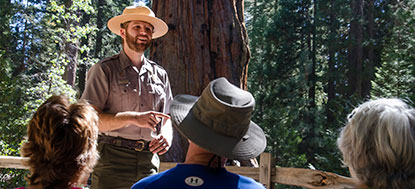 Alison Taggart-Barone
By Mail:
Sequoia and Kings Canyon National Parks
47050 Generals Highway
Three Rivers, CA 93271-9700
By Phone:
559-565-3341
For 24-hour recorded information.
Speak with park staff on weekdays only 8:15 a.m.-4:15 p.m.
We are experiencing technical problems with incoming phone calls. If your call does not go through, we apologize for the inconvenience. Please keep trying to reach us, send a brief email (link below), or check this website for frequently-asked questions.
By Fax:
559-565-3730
By Email:
Email is answered in the order it was received on weekdays only
8:15 a.m.- 4:15 p.m. Due to the large volume of email we receive please allow up to a week, or more, for a reply.

For a faster response, we'll gladly call you back. Just leave your area code and phone number in the body of an email message along with a brief reason for your call.
Information about Job Openings
For information about jobs with the National Park Service and other federal agencies, visit www.usajobs.gov.

If you are seeking a federal job at Sequoia & Kings Canyon National Parks:

On the opening page of the usajobs.gov website, under the heading "SEARCH JOBS" type "SEKI", the park's abbreviation, in the search field boxes labeled "WHAT" or "WHERE." These parks are located in Tulare and Fresno counties.