Plan Your Visit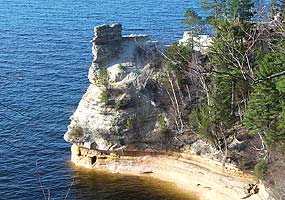 NPS photo by Brenda St. Martin
Welcome to Pictured Rocks National Lakeshore, America's first National Lakeshore.

Unlike any other place on Lake Superior, Pictured Rocks offers the opportunity to explore miles of pristine beaches, hike over 100 miles of trails, and experience the serenity of the northern hardwood forest.

In the spring, a new world appears along trails carpeted with the soft beauty of wildflowers. Summer gives way to warm basking days. Blinking lights of orange, red, and yellow signal the wonder of change in autumn. In the winter, the raw windy beauty of snow frequents the days though periodically the snow blazes forth with sunlight.

Take time to experience and learn about the different worlds of Pictured Rocks, a mosaic of colors, textures, and sights. Enjoy your stay!


Did You Know?

When the 729-foot freighter S.S. Edmund Fitzgerald went down on November 10, 1975, the last land-based communication to the ship was from the Grand Marais Coast Guard Station. This station and the Munising USCG Station are now managed by Pictured Rocks National Lakeshore. More...