Chapel Road

Chapel Road is flooding in a few places. For the 3.5 miles northwest of H58 the road is only passable with a four-wheel drive, high clearance vehicle. All other vehicles are sure to be stuck. With the wintery forecast, conditions will deteriorate.
Interagency Visitor Center schedule

The interagency visitor center in Munising will close at 1:30 p.m. on December 23 and 24. The visitor center will be closed on December 25 and January 1.
Plan Your Visit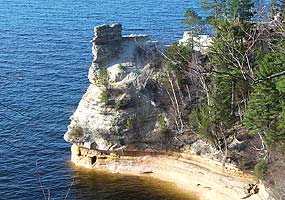 NPS photo by Brenda St. Martin
Welcome to Pictured Rocks National Lakeshore, America's first National Lakeshore.

Unlike any other place on Lake Superior, Pictured Rocks offers the opportunity to explore miles of pristine beaches, hike over 100 miles of trails, and experience the serenity of the northern hardwood forest.

In the spring, a new world appears along trails carpeted with the soft beauty of wildflowers. Summer gives way to warm basking days. Blinking lights of orange, red, and yellow signal the wonder of change in autumn. In the winter, the raw windy beauty of snow frequents the days though periodically the snow blazes forth with sunlight.

Take time to experience and learn about the different worlds of Pictured Rocks, a mosaic of colors, textures, and sights. Enjoy your stay!


Did You Know?

The Grand Sable Dunes are a federally designated Research Natural Area. The five square miles of dunes are an unusual glacial kame terrace with overlying dunes caused by fluctuating lake levels over the centuries. The dunes are located in Pictured Rocks National Lakeshore, near Grand Marais, Mich. More...