Grand Sable Dunes temporary closure to all public entry for visitor safety

Grand Sable Dunes are rapidly eroding into Sable Creek and Lake Superior. The area from the Ghost Forest Trail north to Lake Superior then along the shoreline to the west side of Sable Creek is temporarily closed. Follow closure signs for your safety. More »
Plan Your Visit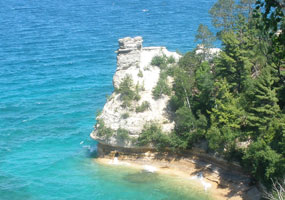 NPS photo / Brenda St. Martin
Welcome to Pictured Rocks National Lakeshore, America's first National Lakeshore.

Unlike any other place on Lake Superior, Pictured Rocks offers the opportunity to explore miles of pristine beaches, hike over 100 miles of trails, and experience the serenity of the northern hardwood forest.

In the spring, a new world appears along trails carpeted with the soft beauty of wildflowers. Summer gives way to warm basking days. Blinking lights of orange, red, and yellow signal the wonder of change in autumn. In the winter, the raw windy beauty of snow frequents the days though periodically the snow blazes forth with sunlight.

Take time to experience and learn about the different worlds of Pictured Rocks, a mosaic of colors, textures, and sights. Enjoy your stay!


Directions
Maps, Road Mileage, Bicycling Information, Shuttle Service
Pictured Rocks National Lakeshore is located on the south shore of Lake Superior in upper Michigan, between the communities of Munising (west) and Grand Marais (east).

The lakeshore is open year-round, 24 hours day,
though many roads are closed by snow in the winter


Fees and Reservations
Permits, America the Beautiful Passes



Where to go when accessibility is on your mind.


Eating and Sleeping
Drive-in Campgrounds, Where to Eat, Lodging


Outdoor Activities, For Kids, Guided Tours,
Schedule of Events, Special Events, Nearby Attractions



Things To Know Before You Come
Your Safety, Campfires and Firewood, Insects,
Getting Around, Weather, Goods and Services,
Pets, Passport Stamps

Brochures
Maps, newspapers, site bulletins


Did You Know?

Located within Pictured Rocks National Lakeshore, the Au Sable Light Station is on the National Register of Historic Places. Constructed in 1874, the station beacon still shines over Lake Superior's frigid waters. The lamp is now solar powered. More...