Little Bighorn Battlefield announces road paving project 2014.

Little Bighorn Battlefield will be resurfacing the park tour road. More »
Plan Your Visit
Little Bighorn Battlefield National Monument is open year round.
Closed on the following holidays: Thanksgiving, Christmas and New Year's Day.
Ranger Interpretive Programs. For scheduled programs click here...
Apsaalooke Tours a one hour guided bus tour in the park by the Crow Tribe. click here.
Custer's "Last Stand" re-enactments are not held at the Little Bighorn Battlefield National Monument and are privately operated.
For re-enactment information contact:
Hardin Chamber of Commerce at (406)-665-1672
The Real Bird family at (406) 620-6392 or (406) 696-3227
HOPE program 2014 announcement. For more information click on "NEWS" on the left box.
National Park Service announces 2014 National Parks Free Fee Admission Days.
For daily and 7 day local and National Weather Forecast click here Weather Forecast
Also visit our neighboring park Bighorn Canyon National Recreation Area
web-site for operating hours and season. Click here... http://www.nps.gov/bica/planyourvisit/hours.htm

The navigation box on the left will help you with your questions and information.

* Directions - Get our GPS location and address.
* Operating Hours and Season - Our open and closing hours during Spring, Summer, Fall and Winter.
* Fees and Reservations - Cost of entrance fees for vehicles: large vans, commercial buses, motorcycles and individual walk in.
* Things to do - If you have one-two or more hours.
* Places to go - Museum and bookstore located in Visitor Center. Self guided walking tours, Last Stand Hill and the 4.5 mile driving tour road.
*Things to Know Before You Come
Pets
RV, Vehicle/Trailer and Commercial Bus parking
Disabled Access
Lost and Found
Place to Stay and Accommodations
Nearby Attractions

Note: In Nearby Attractions some of the Tribal websites are not available at this time.



Did You Know?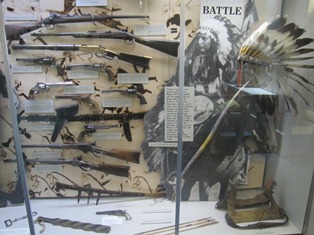 From archeological evidence the warriors who fought in the battle used about 45 different types of firearms, ranging from muzzle loaders, cap and ball to the advanced Henry and Winchester repeaters. Its believed about 10% of the warriors had firearms and the majority fought with their traditional weapons.