Directions
Getting There

By vehicle
Interstate I-90, Crow Agency Exit 510 at Jct 212, Battlefield Tour Road 756

See the park map

Click on this link to view a Little Bighorn Battlefield National Monument Park Map 300 kb PDF
GPS Location
N 45 degrees 34 minutes
W 107 degrees 25 minutes

Little Bighorn Battlefield National Monument
756 Battlefield Tour Road
Crow Agency, MT 59022

By airplane
Billings Logan International Airport is located 65 miles NW
Airport in Sheridan, Wyoming, 73 miles to the South.
Elevation
Little Bighorn Battlefield N.M.Crow Agency, MT
Surrounding area - 3,100 – 3,350


Did You Know?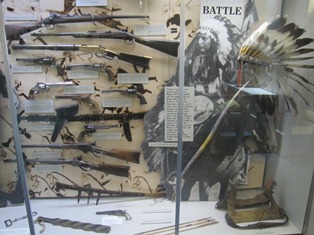 From archeological evidence the warriors who fought in the battle used about 45 different types of firearms, ranging from muzzle loaders, cap and ball to the advanced Henry and Winchester repeaters. Its believed about 10% of the warriors had firearms and the majority fought with their traditional weapons.