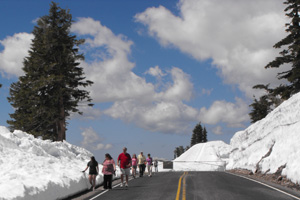 Vehicle Free Days
Saturday, May 2, 2015 | Vehicle-free day handout
Enjoy walking, running, or biking on the park highway vehicle-free! Come prepared for cool weather especially in the early morning and late evening. Don't forget clothing layers, sunscreen, sunglasses, and a hat. Restrooms will be available at various stops along the highway. Water will be available only at the Loomis Museum, Kohm Yah-mah-nee Visitor Center, and Lassen Peak parking area. Leashed pets are permitted on pavement. Read the May 2015 vehicle-free day handout to learn more.
Lassen usually offers a vehicle free weekend in the spring season prior to road opening as well as a new fall vehicle free day. The spring dates are dependent on road clearing which varies from year to year. The fall date also varies from year to year. Previous vehicle free days: October 18, 2014 | May 16-18, 2014 | May 11, 2013. View photos from the park's vehicle free days.