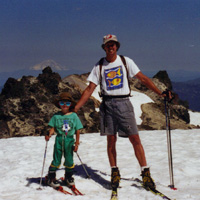 Centennial Ski Celebration
February 27 | Kohm Yah-mah-nee Visitor Center
Celebrate Lassen's long ski history and share memories over a cup of coffee or bowl of chili. In the afternoon, enjoy ski films in the auditorium, chat with ski patrol members, or meet fellow skiers at an outdoor fire pit. Showtimes for McConkey and Days of My Youth (courtesy of RedBull Media House) will be announced soon. Feel free to bring photos or memorabilia to share or send pictures/video to lavo_information@nps.gov.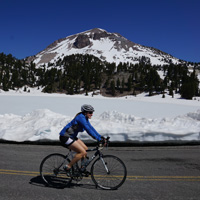 Bike and Hike the Highway
Late spring (dependent on spring snow removal)
Enjoy walking, running, or biking on the park highway before it is open to motorized vehicles for the summer season. Come prepared for cool weather especially in the early morning and late evening. Don't forget clothing layers, sunscreen, sunglasses, and a hat. Restrooms will be available at various stops along the highway. Water will be available only at the Loomis Museum, Kohm Yah-mah-nee Visitor Center, and Lassen Peak parking area. Leashed pets are permitted on pavement. Read the May 2015 vehicle-free day handout to learn more.
Lassen usually offers a vehicle free weekend in the spring season prior to road opening. The dates are dependent on road clearing which varies from year to year. Previous vehicle free days: May 2, 2015 | May 16-18, 2014 | May 11, 2013. View photos from the park's vehicle free days.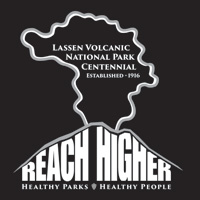 Reach Higher Trail Challenge Kick-Off
June 11 | Park-wide
Earn a commemorative bandana just by hiking and burning calories! Participants can pick up a brochure at an entrance station, the Loomis Museum, or the Kohm Yah-mah-nee Visitor Center. Once you've completed the challenge, bring your brochure to the Loomis Museum or Kohm Yah-mah-nee Visitor Center to receive your free bandana.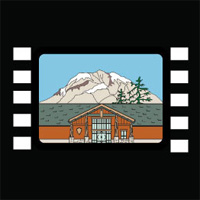 Lassen Summer Film Festival
July 16 - 17, 2016
Kohm Yah-mah-nee Visitor Center, Manzanita Lake area
Discover Lassen through outdoor fun and film at the first Lassen Summer Film Festival. Join us for this free event celebrating Lassen Volcanic National Park and outdoor recreation through film. Check back for the schedule in May.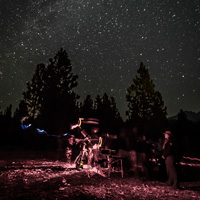 Dark Sky Festival
Friday through Sunday, August 12 - 14, 2016
Join us for this annual event as visitors, park rangers, astronomers, and planetary geologists celebrate all that is out of this world. Special programs, presentations, hikes, and Junior Ranger Night Explorer activities will be offered during the festival. Check back in early July for the 2016 festival schedule.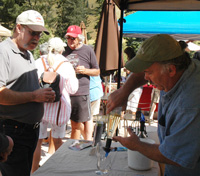 Art & Wine of Lassen
Saturday, September 17, 2016
Celebrate local art, wine, and music at Lassen. Returning for its seventh year, this popular event featuring local businesses is held at the Kohm Yah-mah-nee Visitor Center. Taste wine from local vineyards, sample products from regional entrepreneurs, and enjoy music from local artists. Tasting fee includes a commemorative glass.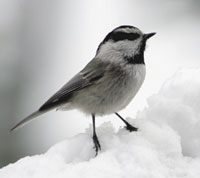 Annual Christmas Bird Count
December 2016
Join in the annual Audubon Christmas Bird Count and be a part of this special contribution to conservation. Volunteers ready to enjoy a beautiful day in the woods are invited to meet at the administration building in park headquarters at 8 am. The bird count will continue through 4:30 pm, however you can participate for an hour or two, or the entire day.
Novice and experienced birders alike are welcome. Be sure to bring a lunch, snow boots, gloves, warm clothes, and binoculars.
Special Centennial Events
Lassen Gateway Coalition Meeting
April 20 | Park Headquarters
Local community tourism and business leaders are invited to celebrate the Lassen and NPS centennials.
Artist-In-Residence Presentations
July-August
Join centennial Artist-in-Residence Melinda Whipplesmith Plank for hands-on demonstrations of her woodblock printmaking technique during her residency at Manzanita Lake.
Alumni of Lassen Gathering
July 22 | Park Headquarters
Current and former park and partner employees as well as Lassen Association and Lassen Park Foundation board members and volunteers are invited to enjoy a day in the park followed by a dinner and special presentation at park headquarters in Mineral. Contact the park volunteer coordinator at (530) 595-6133 to learn more.
Reach the Peak Official Trail Dedication
July 30 | Lassen Peak Trailhead
Join us for an official dedication of the rehabilitated Lassen Peak Trail featuring a special presentation with refreshments followed by a ranger talk on the summit.
Volcano Adventure Camp Ribbon Cutting
August 6 | Volcano Adventure Camp

Commemorate the new Volcano Adventure Camp with a tour of the facility developed to introduce young people to camping and adventures in Lassen Volcanic National Park.
Day in the Park Festival
August 6 | Manzanita Lake area
Celebrate Lassen Volcanic's 100th birthday at this fun festival featuring family activities, displays, music, barbecue, ranger-led programs, and a raffle.


Naturalization Ceremony
August 9 | Manzanita Lake Amphitheater

One hundred new US citizens will take their oath to this country exactly one hundred years from the day Lassen Volcanic National Park was established.
Public Lands Day of Stewardship Projects
September 24 | Park-wide

Show your love of Lassen on national Public Lands Day and participate in a fun service activity. More information will be available late summer. Enjoy free park entrance in celebration of Public Lands Day.
Klamath Network Parks Exhibition
September 30 –January 2, 2017

Turtle Bay Exploration Park Did you know northern California and southern Oregon are home to seven national parks? "Tour" them all at this special centennial exhibit at
Turtle Bay Exploration Park
in Redding.