Park Highway Closed

Due to snow and ice present on the roadway, Lassen National Park Highway is closed between the Kohm Yah-mah-nee Visitor Center (1 mile from the SW entrance) and Manzanita Lake (1 mile inside the NW entrance). More »
Special Events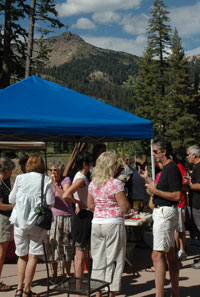 Art & Wine Festival
Saturday, September 28, 2013, 11am - 5pm
Kohm Yah-mah-nee Visitor Center
Wine tastings and art exhibits featuring local wineries, artists, and musicians will be celebrated in style at Lassen Volcanic National Park. Returning for its fourth year, this celebration of local art and wine is located at the Kohm Yah-mah-nee Visitor Center at the Southwest Entrance to the park. Park admission is free September 28, 2013 courtesy of the National Park Service's Fee Free Days. This event features local artists, wineries, and musicians. Local wineries featured in 2011 hailed from nearby Manton, CA, and included Lassen Peak Winery, Alger Vineyards, Mount Tehama Winery, Indian Peak Vineyards, and Ringtail Vineyards & Winery. View photos from the 2012 Art & Wine Festival.

Take a break from the festival and attend a ranger-led program at the Kohm Yah-mah-nee Visitor Center or one mile north of the visitor center at Sulphur Works hydrothermal area. Click here for details.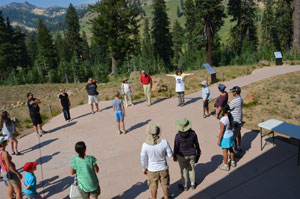 NPS Photo
Dark Sky Festival
Friday, August 9 through Sunday, August 11, 2013

Join us for this annual event as visitors, park rangers, astronomers, and planetary geologists celebrate all that is out of this world. Special programs, presentations, hikes, and Junior Ranger Night Explorer activities will be offered during the festival.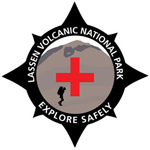 Explore Safely Trail Challenge
All of the 2013 commemorative bandanas have been distrubted.
Earn a free Lassen bandana just by practicing safe hiking! Participants can pick up a brochure at an entrance station, the Loomis Museum, or the Kohm Yah-mah-nee Visitor Center. Once you've completed the challenge, bring your brochure to the Loomis Museum or Kohm Yah-mah-nee Visitor Center to receive your free bandana. View the
2013 challenge brochure
(1.5 MB, pdf)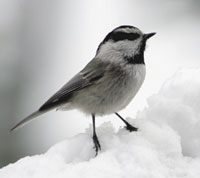 Annual Christmas Bird Count
Friday, December 14, 2012 | Park Headquarters in Mineral | 8 a.m.

Join in the 114th annual Audubon Christmas Bird Count and be a part of this special contribution to conservation. Volunteers ready to enjoy a beautiful day in the woods are invited to meet at the administration building in park headquarters at 8 a.m. The bird count will continue through 4:30 p.m., however you can participate for an hour or two, or the entire day.

Novice and experienced birders alike are welcome. Be sure to bring a lunch, snow boots, gloves, warm clothes, and binoculars.
Did You Know?

The reddish color sometimes observed on top of snow at Lassen Volcanic NP snow is a living organism called snow algae. When snow begins to thaw, these microscopic organisms spring to life. They function as a primary food source and are being studied for their cancer-fighting properties.