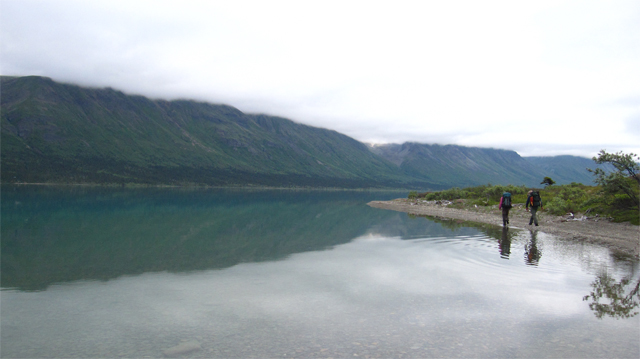 NPS Photo / A. Lindholm
Maps: USGS 1:63 360 series topographic Lake Clark C3
Access: Fly in and out of Upper Twin Lake.
Time: 1-3 days
Difficulty: Moderate trail-less hiking around brushy lake shore then climbing into alpine terrain closer to the pass.
Highlights: Spectacular views of mountains and lakes.
Hazards: Use caution when sidehilling steep scree field. Be alert to wildlife when hiking through brush.
Notes:There are many places to camp in the Low Pass area.
Route description: Route begins from the Proenneke site and follows the lake shore east for about 3 miles. You should be able to discern which drainage will lead to Low Pass because it's the most significant one in the vicinity allowing you to head south from the lake. From the lake shore, select a route that appears least brushy. You may be able to string together a series of meadows to avoid much of the brush. You can stay on the left side of the creek and follow the tundra ridge to the pass. This route crosses a couple steep scree slopes. Alternatively, you can drop into the creek bottom and head up to the pass. Low Pass is very gentle and is surrounded by sweeping alpine tundra. There are many side drainages and ridges to explore. Heading east can lead you over a pass into the Hope Creek valley (see Hope Creek route description).