As a vast and largely undeveloped wilderness, there are countless places to visit in the park; however, listed below are a few areas of particular significance or interest.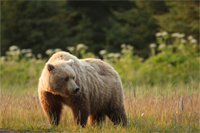 NPS Photo / Kevyn Jalone
Cook Inlet Coast

The park's coastline is across Cook Inlet from the Kenai Peninsula and the communities of Homer, Kenai, and Soldatna. The coastal meadows and streams have world-class Alaska brown bear viewing and fishing.

Silver Salmon Creek - If you are interested in bear viewing or fishing, this is the spot for you. Despite the name, you can find fish other than salmon in Silver Salmon Creek.

Chinitna Bay - At times, visitors are able to see twenty or more brown bears near Chinitna Bay, another fantastic bear-viewing spot in the park.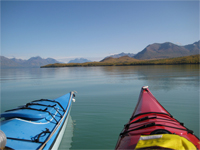 Courtesy M. Richotte
Lake Clark
Lake Clark is centrally located in the park. This spectacular fifty-mile long lake offers fishing and kayaking. The private community of Port Alsworth sits on the southern shore of the lake. Port Alsworth offers visitor services such as lodging, air taxis, guide services, and kayak rentals.

The Tanalian trails network begins in town. Day hikers can chose between hikes to Tanalian Falls, Kontrashibuna Lake, and the summit of Tanalian Mountain. A small park visitor center in Port Alsworth has displays, films of the park and rangers who can help you plan your trip.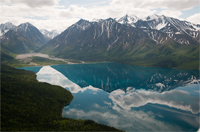 NPS Photo / Kent Miller
Lakes Country
North and south of Lake Clark stunning iridescent and turquoise blue lakes stud the connection between the tundra and the Chigmit Mountains. Base camping, backpacking, and hiking options abound. The famed historic Proenneke cabin is located on upper Twin Lake north of Lake Clark.

Twin Lakes and Richard Proenneke's Cabin
For many people, Proenneke is an icon of wilderness values. Enamored with the wilderness in Alaska, in the 1960s he constructed a cabin on Twin Lakes, using hand tools he also built himself. His journals and self-made film clips served as the inspiration for the documentary One Man's Wilderness, and his cabin remains a huge draw for park visitors.
Learn more about:

NPS Photo / Kent Miller
Chigmit Mountains and Volcanoes


Running north south through the center of the park tower the craggy Chigmit Moutains and Redoubt and Illiamna Volcanoes. Mountaineers will find both challenge and solitude. Flight-seeing through the mountains is available from air taxis along the Kenai Peninsula and in Port Alsworth.


Crescent Lake - Crescent Lake is tucked into the coastal Chigmit Mountains, with spectacular views of Redoubt Volcano, high density bear populations, and strong salmon runs. Alder-filled hillsides rise from the shoreline to towering mountains. Sockeye and silver salmon run upriver to Crescent Lake, making it a great spot to base for fishing; and black and brown bear viewing is also possible in this area.
Other Adventures
Check out
our list of things to do
to get ideas of other activities to enjoy and places to visit while in Lake Clark.