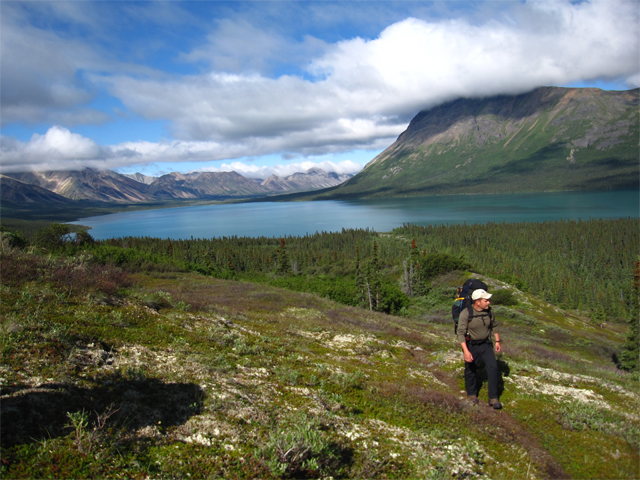 A. Lindholm
Maps: USGS 1:63 360 series topographic Lake Clark C3 & C2
Access: Fly in and out of Upper Twin Lake.
Time: 1-2 days
Difficulty: Gentle to moderate hiking on a trail then through low brush and alpine terrain.
Highlights: Spectacular views of mountains and lakes.
Hazards: It's possible to extend this route up and over a variety of passes. Passes can be very rocky and steep. Be alert to wildlife when hiking through brush.
Notes: The only places to camp along the Hope creek route are in the alpine tundra closer to the end of the valley.
Route description: Route begins on a trail from the Proenneke site leading up the Hope Creek Valley. The Hope Creek Valley is the significant drainage SE of the cabin. The trail fades away after a mile or two. Beyond the trail you'll encounter low brush and alpine hiking. It's possible to do this trip as an out and back, and there are numerous side valleys worth exploring. The Hope Creek Valley eventually climbs more steeply onto rocky moraine and onto a glacier at the head of the valley. You may also want to use the Hope Creek route as a starting point for a longer route that could utilize any number of passes to the west toward Low Pass (see Low Pass route description), southeast into the Upper Kijik drainage, or north into a drainage that flows back to Upper Twin Lake. These passes can be quite rocky and steep.
Hope Creek

3 Photos

Images previewing what hikers can expect during a camping trip along the Hope Creek Route in Lake Clark.