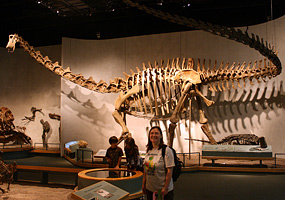 This photo, "That's a long dino," by Frank Reese is available under an Attribution-Noncommercial-Noderivs Creative Common license.
Why is Diplodocus longus a superstar?
The Carnegie Quarry yielded three of the most complete Diplodocus skeletons ever found. Well-preserved adults and juveniles have been found with uncrushed skulls, which are rarely preserved. Skulls are made of thin bone and are mostly hollow to hold soft tissues that cannot be preserved. Fine sediments compress the skull to flatten it the way you might step on an empty tin can. These skulls may be preserved, but some of the three-dimensional structure is lost. The sand-sized sediments in the Carnegie Quarry are fine enough to skulls without compressing them, even with Diplodocus juveniles.