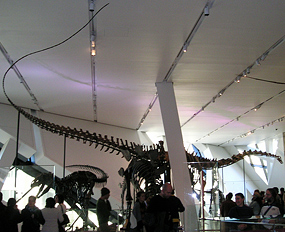 This photo is adapted from "Barosaurus, Galleries of the Age of Dinosaurs, ROM" by odtdevil, available under a Creative Commons Attribution-Noncommercial-ShareAlike license
About Barosaurus lentus:
Barosaurus is a plant eater and the least common of all the sauropods (long-necked dinosaurs) found in the Carnegie Quarry. It is similar to Diplodocus, but has a longer neck and shorter tail. The forelimbs of Barosaurus are longer and more slender than those of the Diplodocus. Unfortunately, no one has ever found a Barosaurus skull so those on display are based on the skulls of other sauropods.