Hornbecks Creek Trail Partial Closure

The trail is closed between the first and second waterfall; a portion of the trail has sloughed off, causing a hazardous condition. The first waterfall is accessible from the 209 trailhead and the second waterfall is accessible from Emory Road.
River Road Closure

Starting on Monday, September 8, River Road will be closed from Park Headquarters to Smithfield Beach while contractors complete pavement repairs. Access to Smithfield Beach will still be possible. More »
Dingmans Falls Area and Road Closed

Dingmans Falls Visitor Center, the boardwalk trail to the falls, and the access road will be closed through September as repairs to the road are made. We anticipate the area reopening in October.
Plan Your Visit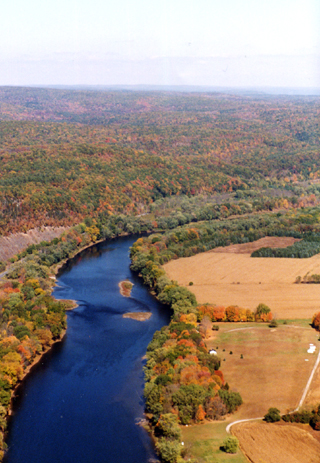 Photo by George Ratliffe
About two hours from New York City or Philadelphia is a 40-mile river valley. Delaware Water Gap National Recreation Area encompasses nearly 70,000 acres along the Middle Delaware National Scenic and Recreational River in Pennsylvania and New Jersey. At the southern end of this park the river cuts an S-shaped pass through the mountains, forming the Delaware Water Gap.
Millions of years of uplift, erosion, and glacial activity gave us the Water Gap, lakes, streams that flow through hemlock- and rhododendron-laced ravines, and the waterfalls that pour off the Pocono Plateau. The crisp, cool air around the waterfalls is refreshing, especially in summer.
In the 1800s resorts flourished throughout the region where city dwellers arrived by carriage or rail, often spending the entire summer away from the urban heat. The Water Gap became a scenic wonder for fashionable travelers.
Today the river and its valley remain a major vacation haven. Although transportation and the lengths of stay may have changed, many who remember family trips, summer camp, or their honeymoon return to reminisce at a favorite site in the park. In 1965 Congress established
Delaware Water Gap National Recreation Area
to preserve this natural and historic area.
Enjoy this rural vacationland.


Did You Know?

... that in the 1750s, the northwest border of New Jersey (now Delaware Water Gap National Recreation Area) was a frontier of the English colonies. In the French & Indian (Seven Years) War, a string of forts protected these settlements. The sites of seven of these outposts are in the park. More...