Tips for Dealing with Crowds
"Thousands of tired, nerve-shaken, over-civilized people are beginning to find out that going to the mountains is going home; that wildness is a necessity"

― John Muir
---
Where and When to Expect Crowds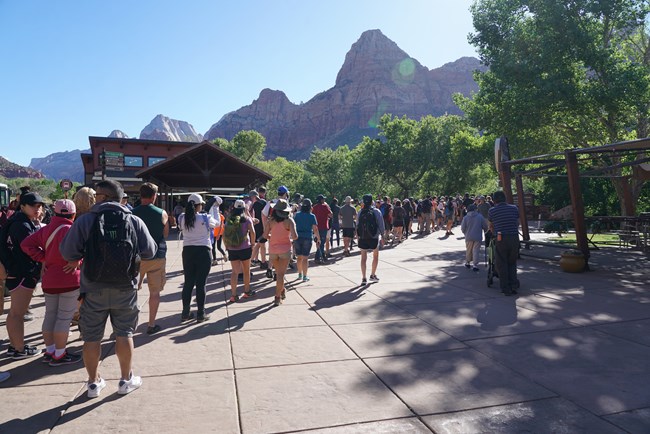 Most of the Year
Zion National Park's warm climate allows for reasonable access to the park all year long. March through November is the busiest time of the year. Within that, holidays and anytime kids are out of school are the busiest of all. The week between Christmas and New Year's is also busy. Weekends can be busier than weekdays but not always and not by much. All parking lots in Zion Canyon are usually full by 9:00AM. Get an early start or plan on parking in the Town of Springdale and using the town shuttle to reach the park.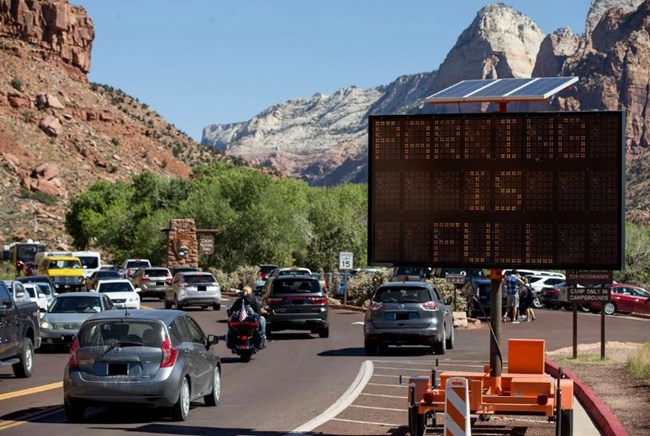 On the Roads
You are likely to encounter congestion and wait times around parking lots, the Zion-Mount Carmel Tunnel, and entrance stations. At times of extreme congestion, traffic will be turned around at the South Entrance. Visitors will need to park in Springdale and use the free town shuttle to access the park. Normal summer operations require only one lane of traffic through the tunnel, which can cause a 15-30 minute delay. When the shuttle is not running, access to the Zion Canyon Scenic Drive may be closed after parking fills. It can take hours to reopen.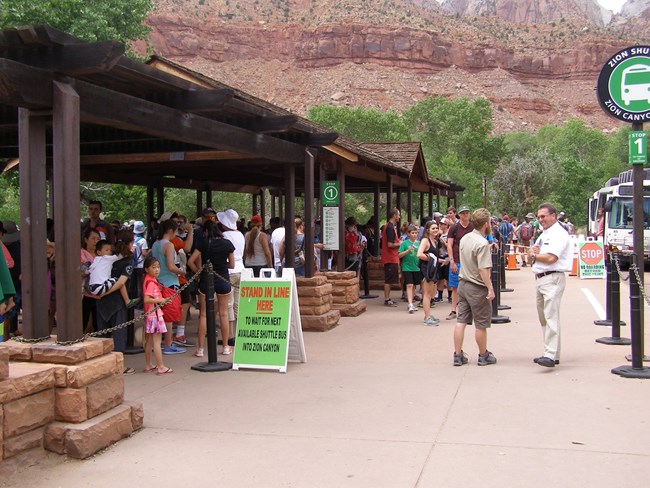 On the Park Shuttles
Depending on where and when you board one of Zion's free shuttle buses you may have to wait 30 minutes or more for an available spot. Shuttles run every few minutes but they fill to standing room only for most of the day. Expect a wait at the Visitor Center in the morning with peak wait times from 8:00AM to noon. Shuttles going up-canyon in the morning fill at the Visitor Center, so it can be challenging to board at the Museum or Canyon Junction. Shuttles going down-canyon in the afternoon are very full as well, making it difficult to board at Court of the Patriarchs or Canyon Junction.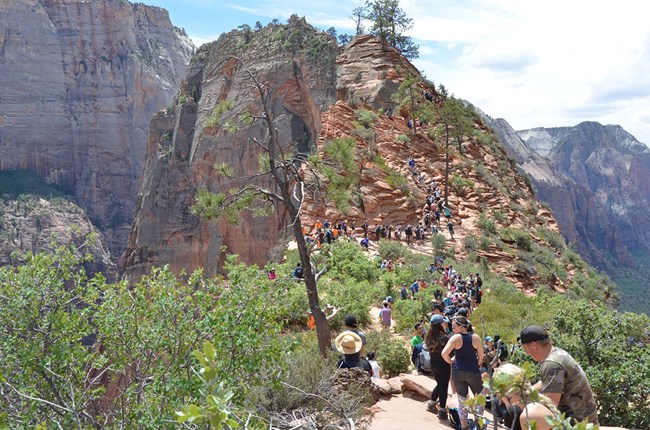 On the Trails
During the busy season in 2017, the Angels Landing Trail averaged more than 1,200 hikers per day. The top 5 most popular hikes in Zion Canyon all average hundreds of hikers per day. With only 90 miles of trails it is hard to avoid the crowds. Less popular trails may help you get away from the crowds for a few miles. More remote, wilderness, or off-trail experiences take much more preparation.
---
Three Tips for Dealing with Zion's Crowds
1. Adjust Your Expectations
Strangers are just friends you haven't met yet. Many visitors report sparking new friendships with their fellow travelers on the trail. Don't expect your trip to be all solitude and be considerate to everyone else looking for peace. Respect other visitors and protect the quality of their experience. Yield to other users on the trail. Avoid loud voices and music near other people. Take the Zion Pledge to learn more about reducing your impact at the park.
2. Have a Backup Plan, or Two
Zion National Park is more than just Zion Canyon. Congestion and crowds can eat into the time you've planned to spend at the park. Floods, rockfall, and wildfires can also close parts of Zion. Being flexible will allow you to get the most out of your visit. If parking is full, don't add to the congestion, just move on to your back up plan or try again later. Visit Zion's trip planning pages to start developing a backup plan.
3. Consider one of Zion's Neighbors
Thinking of your visit as a trip to Canyon Country rather than just to a National Park will open up a whole world of new opportunities. East into Bryce Canyon, West into the Great Basin, South into the Grand Canyon, and North to Cedar Breaks, Zion National Park is surrounded by spectacular scenery and recreation opportunities. We've compiled a list of nearby attractions here.
Last updated: June 22, 2021