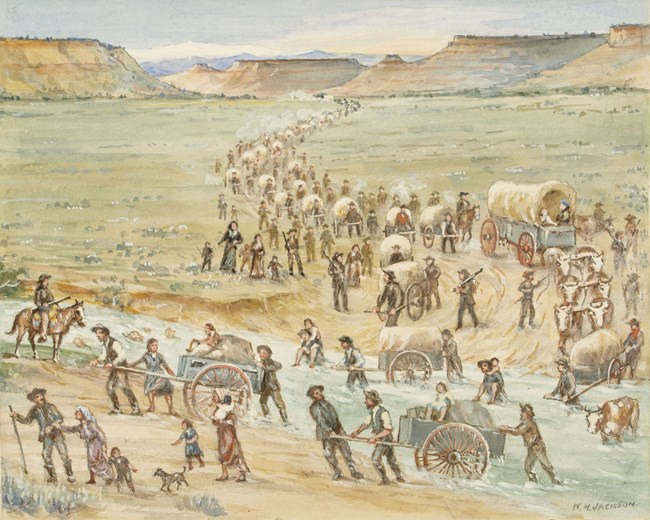 Dramatic landscapes have inspired great art around the world. The unique and awe-inspiring scenery of America's national parks is no exception. In fact, national parks and great artists have always had a special relationship.
Artists struggled to faithfully record unbelievable vistas and natural wonders. Their paintings in turn brought notice to these remarkable areas and inspired others to consider protecting them for generations to come. From the earliest days of Westward Expansion, artists joined explorers and scientists to document the "unknown" lands. Most American's first notion that such places existed was from seeing a painting, either in person or reproduced in a magazine.
The towering cliffs of Zion Canyon were so remote and inaccessible, that the nation was not introduced to this landscape until the turn of the twentieth century. One of the first paintings of Zion was by a veteran of John Wesley Powell's second expedition of the Colorado River, Frederick S. Dellenbaugh.
This early piece is held in the museum collection of Zion National Park. During the summer of 1903, Frederick S. Dellenbaugh visited Zion Canyon and completed a series of paintings. He also completed an article about Zion that appeared in a popular magazine. Through these mediums, Dellenbaugh transported this unknown canyon to visitors to the St. Louis World Fair and into the homes of Scribner's Magazine readers over 100 years ago. Dellenbaugh's images and words: "this great temple of eternity," raised awareness about this majestic canyon and influenced some to petition for its protection as a national park.