Volunteer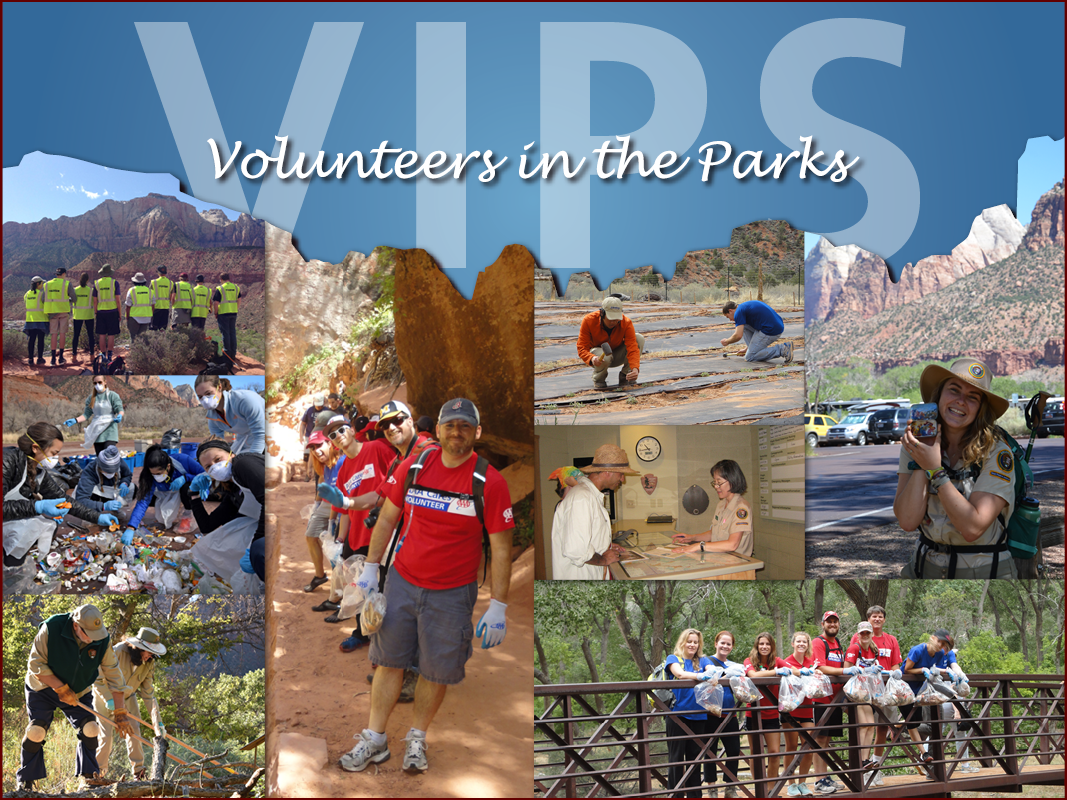 Volunteers play a vital role in the preservation of Zion National Park and are involved in most aspects of park operations. Volunteers staff visitor center desks, manage campgrounds, remove invasive plant species, patrol the backcountry and much more.
Listed below are some of the current volunteer opportunities for Zion National Park. Locals within commuting distance of Zion National Park, please e-mail us for a more comprehensive list of opportunities.
Volunteer Opportunities
Zion National Park offers a variety of volunteer opportunities for individuals and groups who want to donate their time and talents to help preserve this scenic landscape. To learn more about the volunteer opportunities at Zion National Park, select a link below or contact the Volunteer Coordinator.
Current Volunteer Opportunities
How to get started
First, review the current volunteer opportunities. Once you have found an opportunity that interests you, follow either option below to apply.
Option 1: Click "apply online now" in the lower left corner of the volunteer opportunity page on volunteer.gov/gov.
Option 2: Download the volunteer application and mail or email it to the volunteer coordinator. Please specify which position(s) you are applying for and provide detailed information about your experience with references.
Volunteer Application

Volunteer.gov
The National Park Service and many other federal land and resource agencies depend on the work of volunteers. At www.volunteer.gov/gov you'll find a wide range of opportunities across the country with the National Park Service, U.S. Forest Service, Bureau of Land Management, U.S. Fish & Wildlife Service, U.S. Geological Survey, and more.
Volunteer Coordinator's Contact Information
Phone: 435-772-0184
Email: email us

Mailing Address:
Zion National Park
Attn: Volunteer Coordinator
1 Zion Park Blvd.
Springdale, Utah 84767
Opportunties for volunteers from outside of the United States
Due to a lack of housing and administrative requirements, it is extremely rare for Zion National Park to host volunteers who are from outside of the United States. When the park has hosted volunteers from abroad, they have almost always served between November and March (the winter season).

If you live outside the United States and want to learn about volunteering in any national park, please visit the National Park Service International Cooperation website. If you pursue this, please be aware that it often takes a long time to get a J-1 Visa (the kind of work visa you would likely need to volunteer in a national park). Zion National Park does not manage these requests, and you would work directly with our International Affairs Office in Washington, DC.
Last updated: April 24, 2023