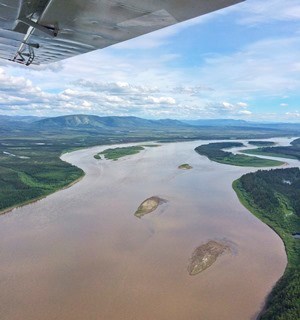 My veg crew field experience was great and it was nice getting out into Yukon-Charley Rivers. The project of taking baseline data for long term vegetation monitoring has been ongoing since 2006 and spans the Central Alaska Network (Yukon-Charley Rivers, Denali, and Wrangell-St Elias National Parks & Preserves). The plan is to go back to these plots in 10 years and observe changes in response to changing environmental conditions, such as a warming climate.
The crew I worked with was based out of the Coal Creek Camp, about 100 miles downriver of Eagle on the Yukon River. We'd hike 1.5-2.5 hours to our spruce forest plots to do the vegetation sampling and then spend around 4 hours on a plot and collect data on vegetation structure and composition. We would set up transects, take pictures, measure species and abundance of vascular and non-vascular plants, core trees, and collect soil data for each plot.
I feel like I learned so much that I don't even know where to begin. I've never worked a 14+ hour day, not showered for 12 days, or been surrounded by so many mosquitoes that I forgot what the sound of silence was like. It was definitely one of the hardest things I've done but I couldn't be happier about it. I learned skills such as plant identification, how to use a compass and GPS, and tree coring and was surrounded by some cool people who love what they do and are just so positive about everything. On one of our days off we had the "CAKN Olympics" and played some pretty intense botany games. Some of the events were the soil probe javelin, blind plant identification, and a measuring tape race.