Winter Road Closures
Tioga Road
Tioga Road closes due to snow, usually from sometime in November through late May or early June. The road closure extends from the Tuolumne Grove, just east of Crane Flat, to Tioga Pass Entrance Station. (Highway 120, the continuation of the Tioga Road outside the park, is often closed in winter from Tioga Pass to five miles west of Lee Vining.)
When the Tioga Road is closed, it is not possible to drive to Tuolumne Meadows or enter Yosemite National Park from the east. All other park entrances, including those along Highway 120 from the west, Hetch Hetchy, Highway 140, and Highway 41, remain open all year.
Additional information:
---
Glacier Point Road
Glacier Point Road closes due to snow, usually from sometime in November through late May or early June. From approximately mid December through March, the first five miles of this road are open to the Badger Pass Ski Area. It is not possible to drive to Glacier Point when the Glacier Point Road is closed.
Additional information:
---
Mariposa Grove Road
Mariposa Grove Road and associated shuttle system close for the season on or about November 30 and reopen no earlier than March 15 (but usually not until sometime in April). The Washburn Trail is always open to hiking, snowshoeing, and skiing, and is the most direct route to Mariposa Grove in winter. The trail is two miles (3.2 km) each way with 500 feet (150 m) of elevation change. The trail may be snowy and/or icy during winter. While all trails within the grove are always open, some trails within Mariposa Grove are marked for winter use (by reflectors on trees).
---
All other park roads, including Wawona Road (Highway 41), El Portal Road (Highway 140), Big Oak Flat Road (Highway 120 from the west), and Hetch Hetchy Road are open all year. However, tire chains may be required late fall through early spring.
Check on current road conditions and chain restrictions by calling 209/372-0200 (press 1 then 1).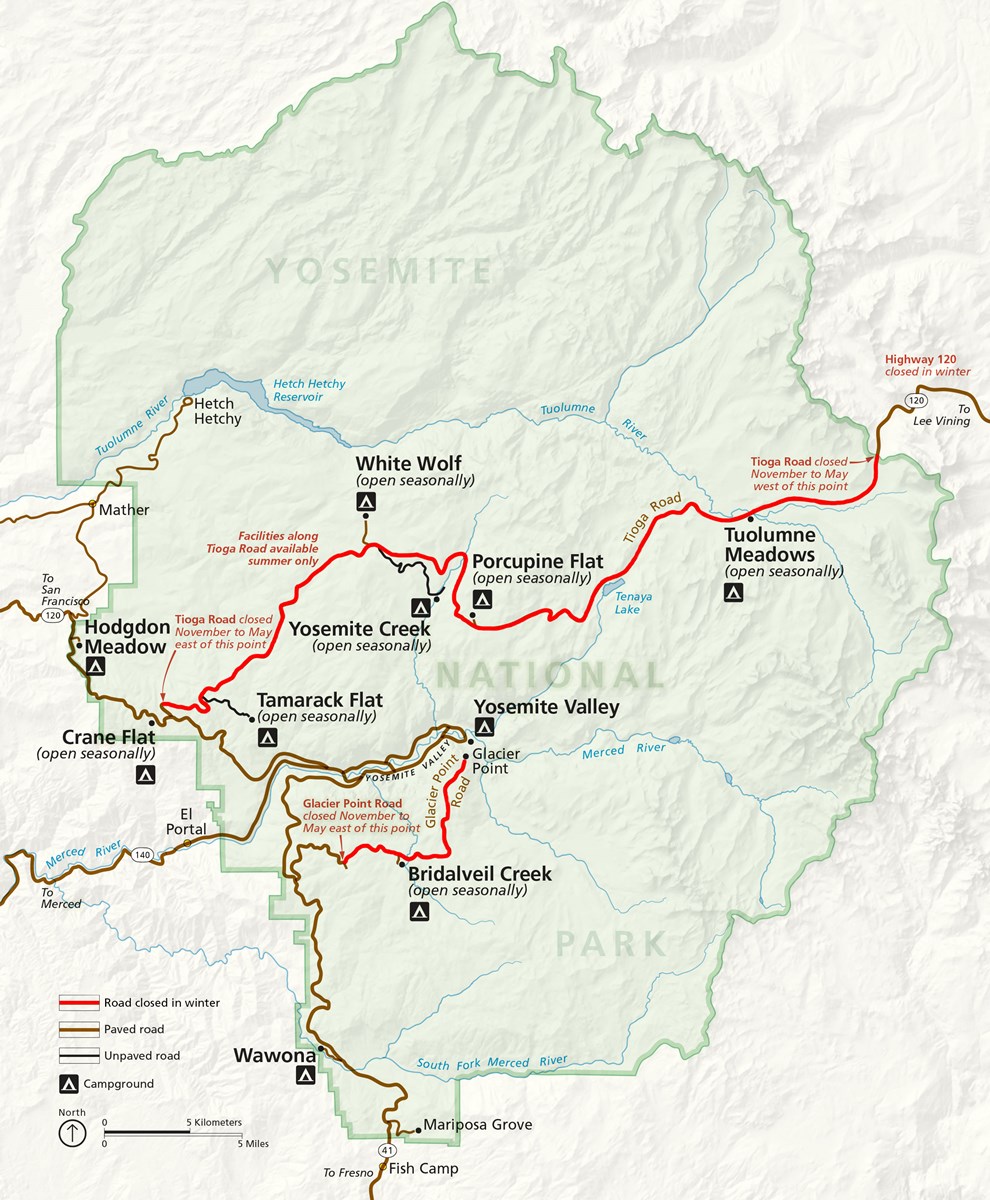 Last updated: June 11, 2020