Winter Activities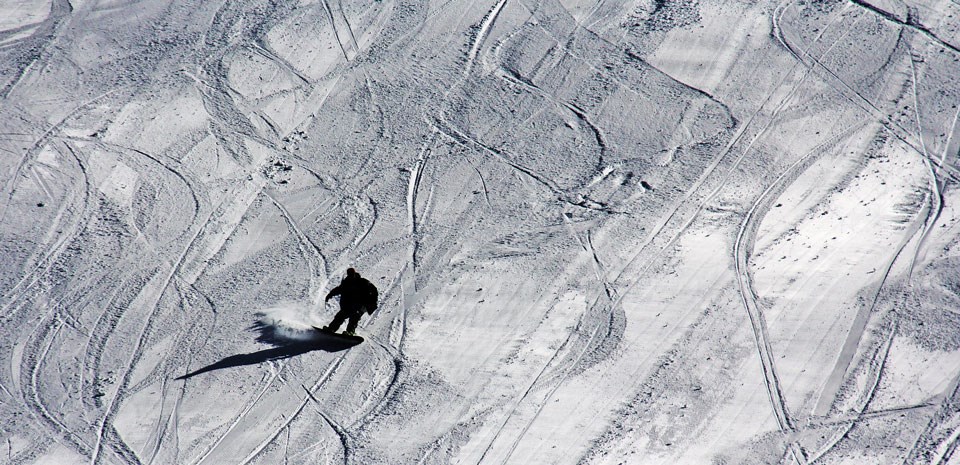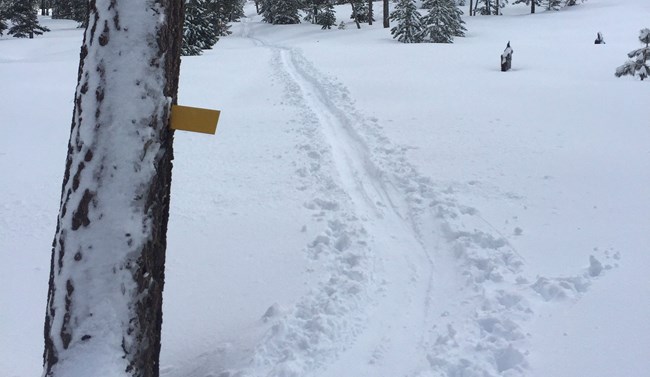 Cross-Country Skiing and Snowshoeing
With a protective layer of snow shielding fragile plants from the impact of human travel, cross-country skiing and snowshoeing provide an eco-friendly and fun way to explore Yosemite's vast landscape.
Although conditions vary from year to year, marked winter routes generally have enough snow from mid-to-late-December through mid-March.
With trails and trail signs often covered by snow, route-finding can become complicated. Winter routes are marked with metal signs and markers attached to trees, which can sometime fall down and become obscured by snow, and pre-existing ski or snowshoe tracks aren't necessarily going where you want to go. Be sure to keep winter wilderness travel tips and safety top of mind as you explore some of the marked winter routes listed below.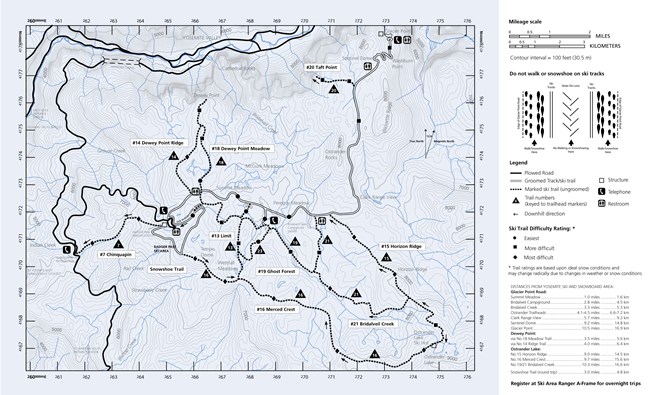 Badger Pass and Glacier Point Road
Badger Pass Ski Area is the center of the largest network of marked winter routes. Some trails have limited grooming, including the Glacier Point Road and the short semi-loop up to Old Badger summit. Longer ungroomed routes lead to the scenic overlook at Dewey Point for a view down into Yosemite Valley. This is also a popular starting point for trips to overnight ski huts at Glacier Point and Ostrander Lake. (Wilderness Permits and/or ski hut reservations are required for overnight stays).
National Park Service rangers lead free snowshoe walks starting from Badger Pass from mid-December through March (conditions permitting). The Yosemite Conservancy and the Yosemite Mountaineering School also both lead guided snowshoe walks. See the calendar for a schedule of current programs.
Badger Pass Ski Area is located on the Glacier Point Road (also known as the Badger Pass Road in winter) five miles (8 km) east of the junction with the Wawona Road (continuation of Highway 41). The base of the ski area is at 7,200 feet (2,200 m). Chains are often required on the roads leading to Badger Pass when it is open (not earlier than mid-December to not later than late March or very early April). Beyond Badger Pass, the Glacier Point Road is closed to car traffic and is groomed for skiing and snowshoeing.
Restroom facilities are available at Badger Pass Ski Area, and there is a pit toilet at Summit Meadow, approximately one mile (2.2 km) from Badger Pass along the groomed Glacier Point Road.
A Note on Etiquette
Along the groomed portion of Glacier Point Road, snowshoers should stay to the edges of the groomed road – outside the parallel ski tracks for classic cross-country skiers. The wide center lane is for skate skiing (a style of cross -ountry skiing that uses a side to side motion like ice skating) and beginner skiers who need the extra space for stopping and turning. The tread of snowshoes (or boots) can create divots and ruin carefully laid ski tracks, creating hazards for skiers.
Rental Equipment and Lessons
Cross-country skis and snowshoes are available from at the Badger Pass Ski Area Nordic Center. You can also get lessons on classic cross-country skiing, skate skiing, and telemark through the Nordic Center.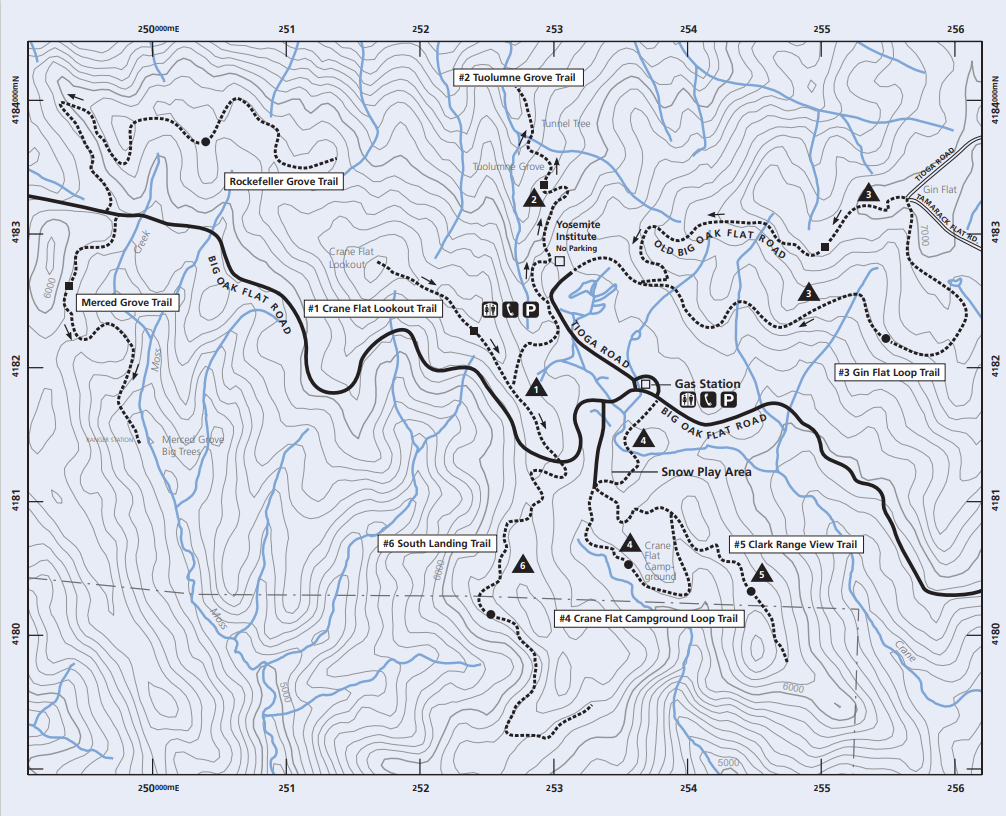 Crane Flat
The Crane Flat area is another popular spot for cross-country skiing and snowshoeing with marked winter routes that range from short scenic out-and-back trips to Crane Flat Lookout (1.5 miles, 2.4 km one way) to a longer tour on the Gin Flat Loop Trail (6.25 mi, 10.1 km, roundtrip). These winter routes are not groomed for skiing.
Crane Flat ski and snowshoe routes start in the Crane Flat area, including from the parking areas for the Tuolumne and Merced Groves of giant sequoias. The trails begin at roughly 6,200 feet (1,900 m). Be sure to check for chain requirements during the winter season.
Vault toilets are available at the Tuolumne Grove and Merced Grove trailheads.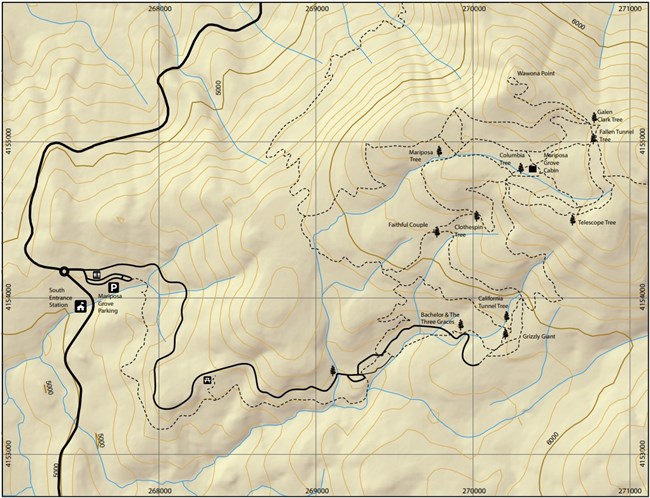 Mariposa Grove of Giant Sequoias
The Mariposa Grove of Giant Sequoias is another popular area for cross-country skiers or snowshoers in good snow years. The Washburn Trail winds from the Mariposa Grove Welcome Plaza through the forest up to the Mariposa Grove Arrival Area. While ideal for snowshoers, it could be challenging for inexperienced skiers, especially once the snowshoe track has been established. Fortunately, you can also ski or snowshoe up (and down) the road where there is more space for both skiers and snowshoers.
Access to the parking area for the Mariposa Grove Welcome Plaza is just north South Entrance. At only about 5,100 feet in elevation (1,500 m), snow is less reliable here than at higher elevations, but will grow deeper as you continue up toward the grove itself.
Restroom facilities are available at the parking area, and a vault toilet is located mid-way along the trail to the Arrival Area.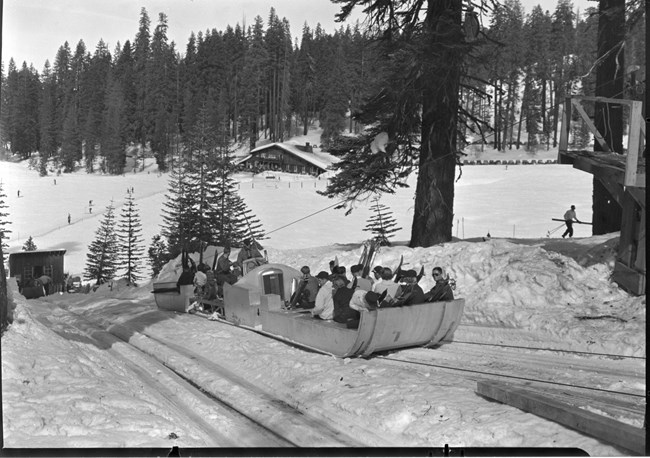 Downhill Skiing and Snowboarding
Badger Pass is home to the oldest downhill skiing area in California. Following a surge in interest in winter sports, the west's first ski lift, called an Upski, was built in 1933. The lift looked more like a large multi-person sled pulled by cables, but people were delighted. The historic lodge opened a few years later in 1935.
Today, the Badger Pass Ski Area offers downhill skiing and snowboarding from mid-December through March (conditions permitting). The Upski has been replaced with chair lifts, but people still love to relax on the deck of the historic lodge to watch people carving the slopes.
Lift tickets, as well as downhill ski and snowboard lessons and equipment rentals are available through Yosemite Hospitality.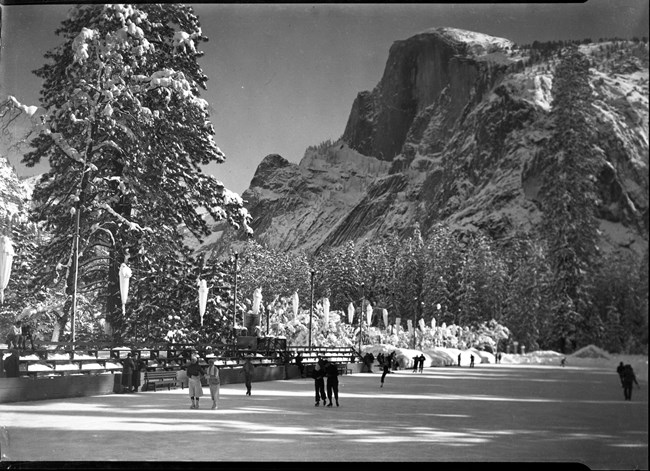 Ice Skating
Ice skating is also part of a long history of winter sports in Yosemite. In 1929 with the prospect of hosting the 1932 Winter Olympics on the horizon, Yosemite's concessioners built the first ice rink in Curry Village. The original 60,000 square-foot rink occupied what is now the Curry Village parking lot. The bid for the Olympics was ultimately unsuccessful, and the outdoor ice skating rink at Curry Village has shifted locations and sizes over the years. However, the experience of gliding across the ice in the shadow of Glacier Point and below Half Dome remains a beloved Yosemite tradition.
The Curry Village Ice Rink is open from mid-November to mid-March, conditions permitting.
Snow Tubing and Sledding
Sledding is not allowed at Badger Pass. However, Yosemite Hospitality operates a snow tubing hill, with inner tubes available to rent for snow sliding so that you don't need to bring your own sled.
There is also a snow play area at Crane Flat, close to the cross-country ski trails, that is open in winter for sledding and other fun snow play when conditions allow.
Please be sure to clean up after yourselves when sledding, including taking any broken sleds with you when you go.
Visit our keyboard shortcuts docs for details
Duration:

7 minutes, 53 seconds
Yosemite has a long tradition of skiing, from California's oldest ski resort to remote backcountry ski huts. Cross-country, Telemark, skate and alpine skiers all come to experience Yosemite in winter.
Last updated: November 15, 2023