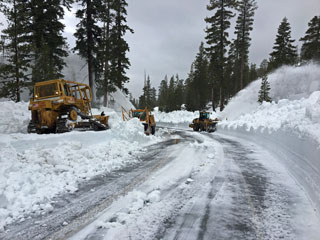 Tioga Road
May 16, 2017 (updated about twice per week)
Plows ended one mile west of May Lake. Crews are progressing from west to east about one mile per day as they plow through snow that is 8 to 10 feet deep.

Forestry crews have begun removal of hazard trees (dead or diseased trees that might fall onto the road) between Crane Flat and White Wolf, and in the Crane Flat Campground.

Glacier Point Road
May 10, 2017
The Glacier Point Road opened for the season on May 11 at 9 am. Check the current conditions page for its current status.

Trails from the Glacier Point Road are very snowy; hikers will need cross-country navigation skills using a map and compass, as well as snowshoes or skis.
Due to snow pack, trails along Glacier Point Road lose their definition. Every year, hikers become lost. Conditions this year are even worse than past years.
As always, leave your hiking plan, including route, destination, and return time with a trusted person. Leave another hiking itinerary in the glove box of your vehicle.
Hiking the Glacier Point area means hiking in winter travel conditions and anyone who hikes it should have good wayfinding skills including a suitable topo map and compass (GPS optional).
Following footprints in the snow or rock cairns is risky; they may belong to someone else—who also got lost.
Always pay attention to your return route and alwaysbe able to return from the way you came.
The Four Mile trail remains closed approximately half way up due to ice sheets.