Visiting in Winter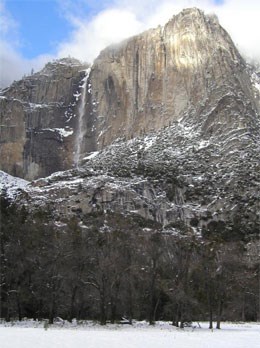 Winter
(December through March)
A season of snow & solitude
While Yosemite Valley and Wawona remain accessible by car all year, the Tioga Road is closed (usually by sometime in November). Once closed for the season, vehicles are not permitted between Crane Flat and Tioga Pass, including in the Tuolumne Meadows area. The road to Glacier Point is also closed (usually sometime in November). However from mid-December though early April, the Glacier Point/Badger Pass Road is plowed to the Badger Pass Ski Area, where both downhill and cross-country skiing are popular. Tire chains are often required on park roads. When they are, you must carry and know how to use them, regardless of the type of vehicle you are driving.
Mariposa Grove Road usually opens by sometime in April, allowing for access to vehicles displaying a disability placard, with free shuttle service between the Mariposa Grove Welcome Plaza (near South Entrance) and the Mariposa Grove. When the road is closed, the Washburn Trail provides a two-mile route (500 feet of elevation gain) to the Mariposa Grove. The trail may be snowy or icy (skis or snowshoes may be appropriate).
Yosemite may be very busy during winter holidays, especially in late December and early January, with traffic congestion and limited parking possible.
Winter in Yosemite is snowy and cold, though sunny and chilly days are not uncommon.
Yosemite Valley & Wawona (4,000 ft / 1,200 m): 53°F (12°C) / 28°F (-2°C)
Hazy or smoky conditions may occur even during winter. In some areas, the park may have prescribed fires to mimic natural fires to promote forest health and reduce the risk of larger fires as conditions allow.
Rivers & Waterfalls
Water levels tend to be low, but once some snow and rain have fallen, Yosemite Falls begins flowing again (though not at springtime levels).
Most of the park is covered in snow during winter, but some trails in Yosemite Valley are often accessible. Backpacking options are very limited.
Winter is a magical time to visit Yosemite, with opportunities for hiking, playing in the snow, and quiet solitude. The silence and beauty of Yosemite in winter is an unforgettable experience.

Duration:

6 minutes, 27 seconds
While most visitors come during the summer months, winter is a special time of year in Yosemite National Park. (2:53)

Duration:

2 minutes, 53 seconds
Last updated: January 10, 2020